A40 TR Headset + MixAmp Pro TR for Xbox One & PC (Refreshed Version)
A40 TR Headset + MixAmp Pro TR for Xbox One & PC (Refreshed Version)
A40 TR Headset + MixAmp Pro TR for Xbox One & PC (Refreshed Version)
A40 TR Headset + MixAmp Pro TR for Xbox One & PC (Refreshed Version)
A40 TR Headset + MixAmp Pro TR for Xbox One & PC (Refreshed Version)
A40 TR Headset + MixAmp Pro TR for Xbox One & PC (Refreshed Version)
A40 TR Headset + MixAmp Pro TR for Xbox One & PC (Refreshed Version)
A40 TR Headset + MixAmp Pro TR for Xbox One & PC (Refreshed Version)
A40 TR Headset + MixAmp Pro TR for Xbox One & PC (Refreshed Version)
A40 TR Headset + MixAmp Pro TR for Xbox One & PC (Refreshed Version)
A40 TR Headset + MixAmp Pro TR for Xbox One & PC (Refreshed Version)
A40 TR Headset + MixAmp Pro TR for Xbox One & PC (Refreshed Version)
A40 TR Headset + MixAmp Pro TR for Xbox One & PC (Refreshed Version)
A40 TR Headset + MixAmp Pro TR for Xbox One & PC (Refreshed Version)
A40 TR Headset + MixAmp Pro TR for Xbox One & PC (Refreshed Version)
A40 TR Headset + MixAmp Pro TR for Xbox One & PC (Refreshed Version)
A40 TR Headset + MixAmp Pro TR for Xbox One & PC (Refreshed Version)
A40 TR Headset + MixAmp Pro TR for Xbox One & PC (Refreshed Version)
A40 TR Headset + MixAmp Pro TR for Xbox One & PC (Refreshed Version)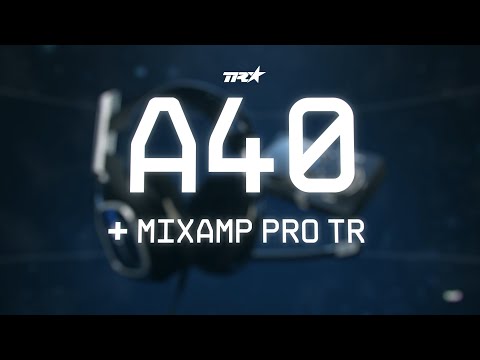 Product highlights:
Paired with MixAmp 2
Xbox Series X|S and PC compatible
Dolby Digital Surround Sound
Tuned with Astro Audio V2
Superior fit & finish
Swappable Boom Microphone
Customizable Speaker Tags
Pay over time for orders over $300 with Affirm.
---
---
---
Need help deciding?
Contact us right now!
Call or chat with one of our experts.
In the box
A40 TR Headset + MixAmp Pro TR for Xbox One & PC (Refreshed Version)
A40 TR Headset + MixAmp Pro TR for Xbox One & PC (Refreshed Version)
A40 TR Headset
MixAmp Pro TR
2.0m A40 Inline Mute Cable
3.0m TOSlink Optical Cable
3.0m Micro-USB Cable
Quickstart Guide
0.5M Daisy Chain Cable
Dolby® Atmos Subscription
A40 TR Headset + MixAmp Pro TR for Xbox One & PC (Refreshed Version)
The ASTRO A40 TR Headset + MixAmp Pro TR for Xbox, PC and Mac is the premier audio solution for esports athletes, content creators and streamers. It meets esports athletes' rigorous standards for audio fidelity, comfort and durability. The MixAmp Pro TR features Dolby® Digital Surround Sound processing and enables lag and interference-free delivery of game sound and voice communication. The A40 TR arrives as an open-back headset featuring a swappable precision mic and customizable Speaker Tags. For loud tournament environments, the headset transforms into a closed-back, noise-isolating headset by adding a Mod Kit (sold separately) with sealed Speaker Tags, synthetic leather ear cushions and a voice-isolating microphone.
All current ASTRO Gaming products designed for Xbox will offer continuous compatibility on Xbox: Series X|S.
Astro Command Center Software
Redefine pro audio for gamers. The free ACC software gives players enhanced control over their voice communication and audio settings. When paired with the MixAmp Pro TR, the A40 Headset delivers pro quality audio from the living room to the Main Stage.
Tuned with ASTRO Audio V2
ASTRO headsets are specifically tuned for gaming. We work closely with developers, pro competitive gamers and streamers to deliver dialogue, music and in-game sounds as they were intended to be heard. ASTRO Audio V2 provides a neutral, smooth and extended frequency spectrum for detailed, true-to-life audioscapes. This means non-fatiguing highs, clear mids and tight distortion-free bass for balanced resolution.
Mod Kit Ready
Features synthetic leather noise-canceling ear cushions, voice isolating mic, padded headband and closed back Speaker Tags.
Dolby Audio
Dolby® Audio delivers cinematic, 3D gaming audio experience, and broadcasts Dolby® out to streaming audiences.
Customizable Speaker Tags
The magnetic Speaker Tag system lets you personalize your pair. Buy special editions or design your own using the Speaker Tag Customizer.
Swappable Boom Microphone
Highly sensitive uni-directional mic that focuses on your voice and minimizes background noise. With the Mod Kit (sold separately), swap to the noise-isolating Boom Microphone for clear voice communications in loud tournament environments.
Superior Fit and Finish
The A40 TR Headset features lightweight yet rugged construction with premium materials for a pressure-free fit that won't overheat your head. The ear cushions feature cloth for maximum comfort, backed with synthetic leather for the best acoustic performance
USB Soundcard Functionality
USB soundcard functionality with game:voice balancing, game and voice streaming. No Optical needed.
Digital Daisy Chain
Faster than the speed of sound, this fully digital connection enables interference and lag-free local voice communications.
Customizable Stream Input
Control what your stream audience hears, including chat and game audio levels. Broadcast from the stream out port in 2-channel Dolby® Surround Sound.
Game:Voice Balance
A feature that ASTRO pioneered, game:voice balancing allows easy adjustment of the ratio of game audio to voice chat players experience.
Ratings and reviews
A40 TR Headset + MixAmp Pro TR for Xbox One & PC (Refreshed Version)
A40 TR Headset + MixAmp Pro TR for Xbox One & PC (Refreshed Version)
---