Arturia KeyLab Essential 49 Controller Keyboard with Knox X Stand, Sustain Pedal and USB Hub Bundle
Arturia KeyLab Essential 49 Keyboard Controller with Knox X Stand, Sustain Pedal and Port 3.0 USB Hub Bundle
Arturia Keylab Essential 49 Controller Keyboard
Knox Gear Adjustable Double X Keyboard Stand
On Stage KSP100 Keyboard Piano Style Sustain Pedal
Knox Gear 3.0 4 Port USB Hub
Arturia Keylab Essential 49 Controller Keyboard
Arturia Keylab Essential 49 Controller Keyboard
Arturia KeyLab Essential 49 Controller Keyboard with Knox X Stand, Sustain Pedal and USB Hub Bundle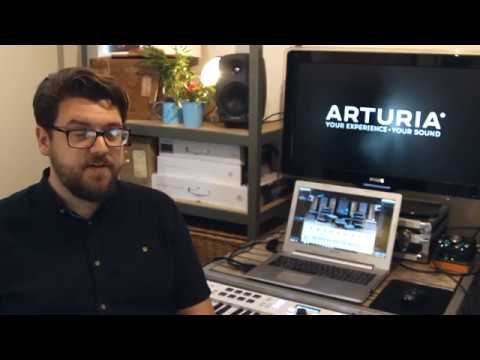 Product highlights:
Functions as a universal MIDI controller
49 keys with velocity
MIDI out, USB, Sustain pedal connectivity
MCU/HUI control compatibility
Compatible with major digital audio workstations
Perfect Analog Lab integration
Ableton Live Lite for recording
UVI Grand Piano model D
Tough enough to take along on a tour
Pay over time for orders over $300 with Affirm.
---
---
---
Need help deciding?
Contact us right now!
Call or chat with one of our experts.
In the box
Knox Gear Adjustable Double X Keyboard Stand
Knox Gear Adjustable Double X Keyboard Stand
2 x Central Cross Bars (One includes a lever)
2 x Long Base Bars (A & B)
2 x Short Base Bars (C & D)
Connector Components
8 x Screws
8 x Round Washers
8 x End Caps
8 x Square Nuts
Allen Wrench
User Manual
1 Year Warranty
On Stage KSP100 Keyboard Piano Style Sustain Pedal (Black)
Knox Gear USB 3.0 Hub - 4 Port USB Hub 3.0 - Powered USB Hub for Mac Laptop, PC, PS4, Xbox, TV
Arturia KeyLab Essential 49 Controller Keyboard with Knox X Stand, Sustain Pedal and USB Hub Bundle
With everything you need to express your musical ideas, take command of your studio, and perform like you've always dreamed, Arturia Keylab Essential 49 Keyboard Controller, powerful, carefully crafted one-stop solution to creating music, convenient enough for new users to enjoy straight out of the box, but with features that experienced producers will love. This bundle from Focus Camera includes Arturia Keylab Essential 49 Controller Keyboard, Keyboard Piano Style Sustain Pedal, Knox X Keyboard Stand and Knox Gear 3.0 4-Port USB Hub.
Knox Gear Adjustable Double X Keyboard Stand
The Knox Gear Adjustable Double X Keyboard Stand is an excellent way to hold your keyboard during practice or shows. Features include a double-braced design for added stability and non-slip caps to ensure that the floors don't scratch. This stand's height is infinitely adjustable and the maximum load weight is 45 pounds. Additionally, this incredibly sturdy and durable stand folds flat for easy storage and transportation.
Sturdy Double-X Design
The Double-X design provides extra support to accommodate even the heaviest instruments. Its reinforced design gives this stand a maximum load weight of 45 pounds, so you can use it with a wide variety of keyboards.
Infinite Adjustability
Many keyboard stands are only adjustable in set increments, but the Knox Gear Double-X Keyboard Stand is infinitely adjustable! This keyboard stand features a special sliding lock that allows the stand to be adjusted to any height between 4" and 38". This makes the keyboard stand ideal for players of any age or height regardless of if they're sitting or standing.
Rubber End Caps Prevent Slippage
The top and bottom bars of the keyboard stand have rubber end caps to further prevent slippage. The top-end caps hold your keyboard in place while the bottom ones grip the ground to prevent sliding on most surfaces.
Minimal Assembly Required
This stand requires minimal assembly to use. It comes with bars, screws, washers, end caps, nuts and Allen wrench. The included manual has instructions and a video on how to put it together.
On Stage KSP100 Keyboard Piano Style Sustain Pedal (Black)
The On Stage KSP100 Keyboard Piano Style Sustain Pedal is perfect when you need a sturdy and responsive control over sustain. This high-quality pedal features a polarity switch making it compatible with virtually any keyboard. The heavy-duty spring allows for better control and durability. The On Stage KSP100 Sustain Pedal is compatible with any electronic keyboard with a 1/4-inch sustain jack, including Yamaha, Casio, Korg Roland, and more. The pedal also features a removable scratch-resistant protective cover, which also doubles as a non-slip grip.
Knox Gear USB 3.0 Hub - 4 Port USB Hub 3.0 - Powered USB Hub for Mac Laptop, PC, PS4, Xbox, TV
Add four USB 3.0 ports to any compatible device with the Knox Gear 4-Port USB 3.0 Hub. On top of incredible performance with data transfer up to 5 gps, the USB hub also features a compact and slim design coated in aluminum housing. Additionally, this 4 port hub also comes with LED indicators to display the power status of each port. Each ports are designed with its own turn on/off switch.
Ratings and reviews
Arturia KeyLab Essential 49 Controller Keyboard with Knox X Stand, Sustain Pedal and USB Hub Bundle
Arturia KeyLab Essential 49 Controller Keyboard with Knox X Stand, Sustain Pedal and USB Hub Bundle
---