Atomos Shinobi 5" HDMI 4K Monitor
Atomos Shinobi 5" HDMI 4K Monitor
Atomos Shinobi 5" HDMI 4K Monitor
Atomos Shinobi 5" HDMI 4K Monitor
Atomos Shinobi 5" HDMI 4K Monitor
Atomos Shinobi 5" HDMI 4K Monitor
Atomos Shinobi 5" HDMI 4K Monitor
Atomos Shinobi 5-Inch HDMI 4K Monitor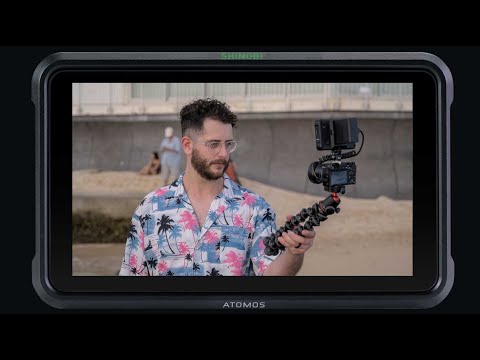 Product highlights:
5-inch 10-bit HDR or SDR display
Anti Reflective coating
Anti-fingerprint technology
Extensive suite of scopes and one-touch operations
Selfie Mirror Mode for vloggers
Analysis view ensures complete control of image
Histograms, waveforms and video scopes
10+ stops of dynamic range in realtime
Allows you to load up to eight custom LUTs
Can be calibrated using X-Rite's i1DisplayPro
1/4-inch-20 mounts on top and bottom of the monitor
Pay over time for orders over $300 with Affirm.
---
---
---
Need help deciding?
Contact us right now!
Call or chat with one of our experts.
In the box
Atomos Shinobi 5-Inch HDMI 4K Monitor
Atomos Shinobi 5-inch HDMI 4K Monitor
12V-15W AC Power Supply
Quick Start Guide
1-Year Warranty
Atomos Shinobi 5-Inch HDMI 4K Monitor
Go anywhere and see everything exactly how you want it with the Atomos Shinobi 5-inch HDMI 4K Monitor. Shinobi, Atomos's first stand-alone small monitor features amazing screen processing technology with a 'run all day' single battery and lasting endurance, 1000nit high-brightness screen, HDR capability and advanced functions that are easy to use. It also features a selfie Mirror Mode for vloggers and a new multi-tool Analysis View that's a cinematographer's dream. You can set up your shots accurately using our advanced histograms, waveforms and video scopes. This monitor is a perfect companion for vloggers, creatives and photographers to improve any photo or video production.
5-inch 1000-nit Screen
With a stunning 5-inch 10-bit HDR or SDR display, the Shinobi monitor allows you to see your images clearly in daylight on the 1000-nit screen featuring a special Anti-Reflective coating and Anti-fingerprint technology. It features a sleek lightweight design which is crafted for maximum efficiency and is one of the lightest 4K monitors on the market, stealthily attaching to any HDMI camera setup.
Revolutionary Features
Shinobi utilizes revolutionary Atomos 10 platform and is packed with an extensive suite of scopes and simple one-touch operations. It includes monitoring tools for focus, framing, and exposure, including Focus Peaking, 4:1 / 2:1 / 1:1 Zoom, Zebra, False Color, Frame Guides, SMPTE Safe Area, Waveform, RGB parade, vectorscope, a new multi-view 'Analysis' view and a flexible 3D and 1D LUT†, Profile and Preset support (upload .cube files via SD Card) and options for anamorphic desqueeze monitoring.
'Analysis' View
We understand how important it is to see what you're shooting at all times. With the Analysis view feature you can simultaneously see what you are shooting, view a waveform, histogram, and vectorscope, ensuring complete control of your image. You can even switch between different options on the fly with a single touch.
HDR in the Field
The Shinobi screen displays a stunning 10+ stops of dynamic range in realtime from Log/PQ/HLG signals. Combined with the unique HDR monitoring features, the Shinobi simplifies the complexities of shooting Log and HDR, helping you to replicate post-production workflows at the moment when it matters the most – while shooting. The technology is being taken care of so you can focus on the story telling.
Realtime LUTs Preview
Apply and compare looks for post-production in SDR or HDR from your favorite LUTs for your camera. This monitor allows you to load up to eight custom LUTs at any time via the SD Card Slot and instantly select between them, maintaining creative intent at all times.
Calibrated True-to-Eye Colors
Calibration is the key to a trustworthy monitor. The Shinobi 5-inch monitor can be calibrated using X-Rite's i1DisplayPro for ongoing accurate HDR and Rec709 monitoring. This ensures accurate monitoring for reliable results. Monitors drift and calibration is the only way to ensure your eyes are not deceiving you.
Designed for Multiple Applications
When attached to your camera, the size and weight of your monitor matters. This lightweight monitor has been shaved down to just 7 oz. The added 1/4-inch-20 mounts on the top and bottom of the monitor allows for ease of cage and adaptor rigging. It features center mount battery th makes balancing easy and maneuverability instant. The Shinobi monitor is compatible with most cameras, smartphones and HDMI-ready devices.
Ratings and reviews
Atomos Shinobi 5-Inch HDMI 4K Monitor
Atomos Shinobi 5-Inch HDMI 4K Monitor
---