beyer4.jpg
Beyerdynamic Xelento Wireless Audiophile Tesla In-Ear Headset
Beyerdynamic Xelento Wireless Audiophile Tesla In-Ear Headset
Beyerdynamic Xelento Wireless Audiophile Tesla In-Ear Headset with Blueotooth connection
Beyerdynamic Xelento Wireless Audiophile Tesla In-Ear Headset
beyer5.jpg
beyer6.jpg
Beyerdynamic Xelento Wireless Audiophile Tesla In-Ear Headset
Beyerdynamic Xelento Wireless Audiophile Tesla In-Ear Headset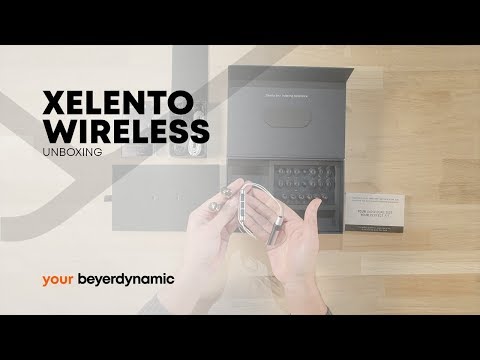 Product highlights:
In-ear, wireless via Bluetooth headphones
High-resolution sound for an audiophile lifestyle on the go
Precise, miniature Tesla technology drivers
Comfortable, ergonomically designed casing and eartips
Elegant, engraved faceplates and silver-plated cables
Integrated 3-button remote and hands-free microphone
Long battery life up to five and a half hours
---
Need help deciding?
Contact us right now!
Call or chat with one of our experts.
In the box
Beyerdynamic Xelento Wireless Audiophile Tesla In-Ear Headset
Beyerdynamic Xelento Wireless Audiophile Tesla In-Ear Headset
1.3m Pluggable (MMCX) Bluetooth Connection Cable with Remote Control / Microphone, USB-A to Micro USB 4-pole Mini Jack (3.5mm)
7 x Pair of Silicone Eartips (Size XS-3XL)
3 x Pair of Foam Eartips (Type Comply TX-500, Size S/M/L)
Clip for Battery Pack
Cable Clip
Storage Case
Pair of Spare Protective Grilles
Quick Start Guide
2 Year Limited Manufacturer Warranty
Beyerdynamic Xelento Wireless Audiophile Tesla In-Ear Headset
The Xelento Wireless by Beyerdynamic is a portable and unique piece of musical jewelry. Xelento Wireless is an elegant in-ear headset that puts you in the musical moment without burdening you with distracting cables. These high end in ear headphones feature miniaturized Tesla technology and Qualcomm aptX HD for first-class Bluetooth capabilities, two features that bolster their status as premium audiophile earphones. And they're not only beautiful and high quality – with abilities unique among Bluetooth in ears – but also super comfortable to wear. The Beyerdynamic Xelento Wireless In-Ear Headset is all about suiting the true audiophile way of living.
For Mobile Lifestyle
Xelento Wireless sets the standard for audiophile earbuds, providing striking sound quality and listening pleasure on the go. With a built-in three-button remote control, a hands-free microphone and an up to five and a half hour batter life, these Beyerdynamic headphones give you the flexibility to easily listen to music or make and take calls without constant recharging. This headset complements a mobile lifestyle without compromise on sound or comfort.
Wired or Wireless
What was once impossible is now possible with the Bluetooth capabilities of the Xelento Wireless. The Qualcomm aptX HD codec allows for superior sound and unparalleled Bluetooth transmission. This advanced technology allows you to forgo the mess of cables and go mobile yet maintain a high resolution sound. Yet the Xelento Wireless can be used with a cable should you choose. The MMCX connectors allows you to detach the Bluetooth cable and switch it out for a cable that features an included remote control. With little effort, you can switch between wireless and wired as you prefer.
Hi-Res Audio
The Xelento Wireless is Hi-Res Audio certified, meaning it can handle high-resolution audio files. Your audio files retain all their musical details when played back. Hi-Res Audio with Xelento Wireless can be enjoyed only with the wired connection.
Tesla Technology
Beyerdynamic is pioneering the use of Tesla technology in its audiophile headphones. It developed a miniaturized version of the Tesla driver specifically for the Xelento series. This version is just as extraordinary as the larger archetype on which it was based. As Tesla headphones, the Xelento Wireless earbuds are multifaceted and offers best in class precision.
Your Comfort
Beyerdynamic did not forget about comfort when designing the Xelento Wireless. To the contrary, they designed every detail with wearing comfort in mind. Its ergonomically shaped casings and eartips are built to conform to your ear while ensuring ambient noise attenuation. The cable runs behind the ear, while the connecting cable and additional support clips are well balanced to provide the optimal wearing experience.
Elegant
These hi-fi headphones are put together using the best materials and exquisite workmanship. The silver-plated cable, aluminum battery casing and the engraved decorative faceplates are delicately constructed with elegance in mind. Xelento Wireless features silver-plated conductors for the purest possible playback. These audiophile headphones feature a transparent sleeve that diminishes cable noises while being skin-friendly and flexible. That adds to the headset's wearing comfort and harmonious appearance. Meanwhile, the dial of these high-end headphones is adorned with an individual engraved serial number. This engraving is delicately done by a German face manufactory that specializes in engraving premium clock dials. This is just one of the many details that makes Xelento not just a headset, but a piece of fine jewelry.
Ratings and reviews
Beyerdynamic Xelento Wireless Audiophile Tesla In-Ear Headset
Beyerdynamic Xelento Wireless Audiophile Tesla In-Ear Headset
---