Blackmagic Design Pocket Cinema Camera 6K (Canon EF) with 128GB Cards, Case, and Accessory Bundle
Blackmagic Design Pocket Cinema Camera 6K (Canon EF) w/extreme pro 128 case & Batt Accessory Bundle
fe94f9951b104835a7edef5c931e91ac8e383dc2844ae56393e76179815120df-c24d802d5c78a7a3.jpg
Blackmagic Design Pocket Cinema Camera 6K (Canon EF)
Lexar 128GB Professional 1667x Class 10, UHS-II, U3 Memory Card (2-Pk)
Koah Weatherproof Hard Case with Customizable Foam (13 x 11 x 6 Inch)
(Knox Gear Nylon-Braided 4K HDMI to HDMI Cable (6-Foot)
b9d8b5d8c42a02fec18f14f396abe7402eb195be510749dc621e50e167cd27fb-15f3f13edc4490d4.jpg
Blackmagic Design Pocket Cinema Camera 6K (Canon EF)
Blackmagic Design Pocket Cinema Camera 6K (Canon EF)
Blackmagic Design Pocket Cinema Camera 6K (Canon EF)
Blackmagic Design Pocket Cinema Camera 6K (Canon EF) with 128GB Cards, Case, and Accessory Bundle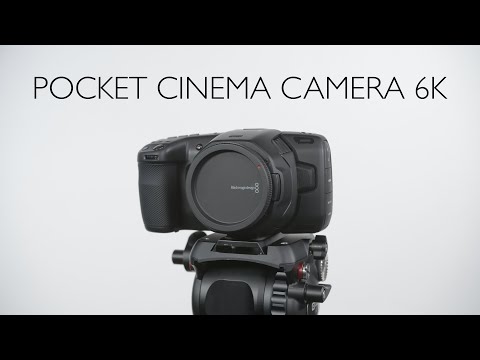 Product highlights:
6144 x 3456 Super 35 sensor and Canon EF lens mount
Supports still frame capture up to 21.2 megapixel
Records up to 6144 x 3456 (6K) video at 50 fps
Built-in 5-inch touchscreen allows accurate focus
Supports remote camera control via Bluetooth
Built-in SD, UHS-II, and CFast card recorders
Up to 25600 ISO for incredible low-light performance
Wide 13 stops of dynamic range for film looks
Records full resolution up to 60 or 120 fps windowed
Incredible quality Blackmagic RAW recording
Starting at $185/mo or 0% APR.
---
---
---
Need help deciding?
Contact us right now!
Call or chat with one of our experts.
In the box
Blackmagic Pocket Cinema Camera 6K G2
Blackmagic Pocket Cinema Camera 6K G2
Lens Turret Dust Cap
Camera Strap
30W Power Supply with Locking Connector and International Adapters
NP-F570 Battery
NP-F Series Battery USB Charger
Welcome Booklet
DaVinci Resolve Studio activation Key
Limited 1-Year Warranty
Koah Weatherproof Hard Case with Customizable Foam (10 x 9 x 7 Inch)
Steren 517-312BK 12-Feet High-Speed HDMI Cable, Audio Return Channel, 18Gbps Video Bandwidth
Koah 2-Pack Rechargeable 3350mAh Batteries and Dual USB-C LCD Charger for Sony NP-F570
2 x Koah Rechargeable Batteries for NP-F570
Koah Dual USB-C Charger with LCD Display for Sony NP-F570 Battery
Koah 3-Year Warranty
Kingston 128GB SDXC Canvas Go Plus 170MB/s Read Memory Card (SDG3/128GB)
Kingston 128GB SDXC Canvas Go Plus 170MB/s Read Memory Card (SDG3/128GB)
Limited Lifetime Warranty
Blackmagic Design Pocket Cinema Camera 6K (Canon EF) with 128GB Cards, Case, and Accessory Bundle
Blackmagic Design Pocket Cinema Camera 6K (Canon EF)
The Blackmagic Pocket Cinema Camera 6K features a Super 35 size sensor, 13 stops of dynamic range and dual native ISO up to 25,600 for HDR images and incredible low light performance. External controls give quick access to essential functions, while the large 5-inch touchscreen makes it easy to frame shots, focus accurately and change camera settings. Features include built-in SD/UHS‑II or CFast 2.0 recorders for Blackmagic RAW or ProRes recording as well as a USB-C expansion port for recording externally to disks, plus EF lens mount, built-in microphones, XLR input, full sized HDMI, 3D LUT support, Bluetooth, and more.


Blackmagic Pocket Cinema Camera 6K G2
The Blackmagic Pocket Cinema Camera 6K G2 features a 6144 x 3456 super 35 high-resolution HDR sensor, dual native ISO, an EF lens mount, and direct recording to USB-C discs. It is a handheld 6K digital film camera with premium cutting-edge technology. This robust edition features a touchscreen that can be adjusted and a bigger battery for longer battery life. You can even add an optional OLED viewfinder.
Lightweight Carbon Fiber Polycarbonate Composite
The Blackmagic Pocket Cinema Camera's sophisticated design fits a remarkable amount of high-end digital film features into a handheld, miniature design. The camera has a multifunction handgrip with all controls for recording, ISO, WB, and shutter angle at your fingertips. It is made of a lightweight carbon fiber polycarbonate composite. The sensor is made to minimize thermal noise because it is a sophisticated digital film camera, enabling cleaner shadows and a higher ISO. Additionally, the huge 5-inch LCD enables precise focus at 4K and 6K HD. You also receive a heavy-duty lens mount, a built-in speaker, 4 shockproof microphones, and a retractable battery door.
Multifunction Grip with Fingertip Controls
The ergonomic design of the multifunction handgrip places crucial controls like the ISO, WB, and shutter buttons right at your fingertips. Even a scroll wheel for rapid iris changes is located under your index finger! You don't need to search through menus on a tiny screen to discover a command because there are other controls in addition to those available on a DSLR. The Blackmagic Pocket Cinema Camera includes user-assignable function keys that enable buttons for high frame rate, focus zoom, false color, and more. It also has easy-to-reach recording and still buttons that are situated exactly where you expect.
High-Resolution Cinematic Digital Film Sensor
The native resolution of the 6K models is 6144 x 3456. The 13 stops of dynamic range with dual native ISO up to 25,600 produce superb low-noise photographs in all lighting circumstances, whether you're shooting in direct sunlight or with absolutely no light at all. Additionally, the 6K models have a bigger Super 35 sensor, which enables shooting with anamorphic lenses and a shallow depth of field. All models allow for windowed shooting at 120 fps or up to 60 fps in full resolution.
Shoot Incredible High Dynamic Range Images
Dynamic range, which is expressed in stops, is the separation between an image's lightest and darkest areas. Due to their extraordinary 13 stops of dynamic range, pocket cinema cameras can capture more detail in an image's brightest and darkest tones than ordinary video cameras.
Dual Gain ISO for Exceptional Low Light Performance
The sensitivity of the image sensor is measured by ISO in digital film. Accordingly, it is feasible to shoot with natural light even at night because the higher the ISO number, the more sensitive to light the camera is. The Pocket Cinema Cameras have dual gain ISO up to 25,600, which means they are designed to keep the sensor's whole dynamic range while minimizing grain or noise in photos. For scenes with on-set illumination, the native ISO of 400 is perfect. When photographing in dimly lit areas, the secondary high base ISO of 3200 is ideal.
Post Production Friendly File Formats
Blackmagic Pocket Cinema Camera records using standard open file formats so you don't have to waste time transcoding media. You can use the included DaVinci Resolve Studio or any other post-production software you like because the files are compatible with all of them
Blackmagic Raw
Blackmagic RAW is a ground-breaking new format made to maintain the caliber of the sensor data from your camera as it was originally intended to be captured. Due to the extreme compression, noise, and strange artefacts added by video formats like H.264, the original sensor detail is permanently lost. Through the whole production process, from the camera to edit, color, and mastering, Blackmagic RAW solves this issue and provides you with breathtaking images with outstanding clarity and color. Additionally, it records camera settings as metadata so you can edit photos afterward and change the ISO, white balance, and exposure settings without sacrificing image quality.
Large 5-Inch LCD Monitor
The LCD screen on the Pocket Cinema Camera 6K G2 and Pro models has a more sophisticated HDR display and can be rotated up and down to make it simple to watch your picture from any position. Additionally, the HDR display on the 6K Pro variant is 1500 nits bright, making it perfect for usage outside in direct sunshine.
4 Built-in Microphones and Professional Audio Inputs
You won't ever need to carry around a separate sound recorder again because of the professional, high-fidelity audio recording integrated in. A tiny XLR input with 48 volts of phantom power is available on Blackmagic Pocket Cinema Cameras to connect professional microphones like booms and lapel mics. With the 6K Pro model's two small XLR connections, you can record two distinct audio tracks with two microphones without utilizing an additional mixer. The four built-in mics can capture high-quality sound in any environment thanks to their low noise floor, shock, and wind resistance, and shock resistance.
Power from Batteries,12V DC, and Recharge via USB‑C
The 6K G2 and 6K Pro models use larger NP-F570 batteries. A Locking DC power connector is used so you won't have to worry about losing power during a shoot. Plus the included AC plug pack can power the camera and charge the battery simultaneously. You also get a set of international socket adapters for worldwide use. Even the USB-C expansion port can trickle charge the battery, so you can use portable battery packs, mobile phone chargers, or laptops.
Koah Weatherproof Hard Case with Customizable Foam (10 x 9 x 7 Inch)
This Weatherproof Hard Case from Koah comes with customizable foam that lets you store and protect a wide range of equipment like action cameras, camera bodies, lenses, or ammunition. Plus, the fully customizable foam interior provides an extra level of shock resistance, ensuring further safety of your valuable optics and electronics. This hard case complies with the highest protection standards and is constructed from impact- and UV-resistant polypropylene material.
Completely Weatherproof Design
The Koah Weatherproof Hard Case comes with an IP67 rating to provide complete protection against dust and debris. It is also waterproof when submerged in up to 1 meter of water for up to 30 minutes. Additionally, it utilizes a pressure relief valve that allows for gradual pressure equalization, while its ergonomic, rubber-covered handle provides reliable grip in any weather condition.
Steren 517-312BK 12-Feet High-Speed HDMI Cable, Audio Return Channel, 18Gbps Video Bandwidth
Steren 12-Feet High-Speed HDMI Cable supports resolutions beyond standard 1080p, up to 4Kx2K. It also supports high video bandwidth of up to 18Gbps. This cable features an ethernet data channel to share a high-speed network connection. This cable is HDMI High-Speed with Ethernet Certified and is full 3D resolution capable. It also supports an audio return channel (ARC) and all digital audio formats with up to 32 audio channels.
Koah 2-Pack Rechargeable 3350mAh Batteries and Dual USB-C LCD Charger for Sony NP-F570
With the Koah 2-Pack Rechargeable 3350mAh Batteries and Dual USB-C LCD Charger for Sony NP-F570 you can be sure you always have enough power to make it through the shoot. The Koah rechargeable lithium-ion battery and charger kit includes two batteries for the Sony NP-F570 and one dual Type-C charger with LCD display. The Koah Rechargeable Battery Two-Pack and Charger Kit Compatible with NP-F570 allows you to quickly charge two NP-F570 camera batteries at the same time.
More Power
The NP-F570 battery features 3350mAh and is rated at 7.4V for a long run time. Equipped with premium lithium-ion cells to provide maximum battery life, the batteries also come with a 3-year manufacturer warranty. The Koah batteries are completely compatible with all Sony original equipment, including the Sony charger.
Dual Charger
The dual charger features a USB Type-C port that can be employed universally. This charger features an easy-to-read LCD display that shows the charge status. The unit is compact, portable, lightweight, and suitable for travel. The Dual USB-C Charger features an input power of 5V 2.4A and an output power of 8.4V/1000mA, 8.4V-600mA. The charger works with original Sony batteries.
Kingston 128GB SDXC Canvas Go Plus 170MB/s Read Memory Card (SDG3/128GB)
Kingston 128GB SDXC Canvas Go Plus is for adventurers who are always on the go chasing the perfect moment to capture. With superior transfer speeds of up to 170MB/s, the Canvas Go! Plus SD card accelerates your workflow and efficiency so that you'll have more time to take your creativity onto the next adventure.
Seamless and Consistent
With U3 and V30 speed performance, shoot stunning 4K Ultra-HD videos without worrying about slow speeds and dropped frames, or shoot sequential burst-mode photography that's seamless and consistent. View the world as your canvas and take your creativity and inspiration on the road with the Canvas Go! Plus SD.
Ratings and reviews
Blackmagic Design Pocket Cinema Camera 6K (Canon EF) with 128GB Cards, Case, and Accessory Bundle
Blackmagic Design Pocket Cinema Camera 6K (Canon EF) with 128GB Cards, Case, and Accessory Bundle
---