Blue Microphone Yeti USB Mic (Silver) with Knox Gear Pop Filter and USB Hub
Blue Microphone Yeti USB Microphone (Silver) with Knox Gear Pop Filter and USB Hub
blue yeti (silver) 7.png
KN-PF2.jpg
Knox Gear 3.0 4 Port USB Hub
blue yeti (silver) 6.jpg
blue yeti (silver) 5.jpg
blue yeti (silver) 8.jpg
blue yeti (silver) 9.jpg
blue yeti (silver) 3.jpg
Blue Microphone Yeti USB Mic (Silver) with Knox Gear Pop Filter and USB Hub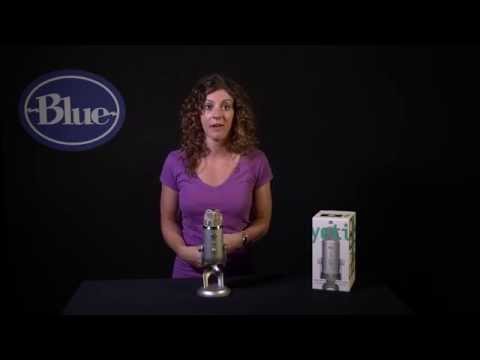 Product highlights:
The ultimate professional USB microphone
Three condenser capsules can record almost any situation
Gain control, mute button, zero-latency headphone output
Unique positionable design
Hassle-free setup and recording
Cardioid, bidirectional, omnidirectional and stereo
Perfect for vocals, instruments, Podcasting and more
Plug 'n Play - Mac and PC compatible
Pay over time for orders over $300 with Affirm.
---
---
---
Need help deciding?
Contact us right now!
Call or chat with one of our experts.
In the box
Blue Microphones Yeti Premium Multi-Pattern USB Microphone With Blue Voice (Silver)
Blue Microphones Yeti Premium Multi-Pattern USB Microphone With Blue Voice (Silver)
Quick Start Guide
Limited 2-Year Warranty
Knox Gear Pop Filter for Yeti Microphones
Knox Gear Universal 7-Port 2.0 USB Hub
Knox Gear Universal 7-Port 2.0 USB Hub
One Year Failsafe Warranty
Blue Microphone Yeti USB Mic (Silver) with Knox Gear Pop Filter and USB Hub
The Blue Yeti USB Microphone employs a unique, tri-capsule design and the ability to capture audio in up to 16-bit, 48 kHz resolution. This studio-quality microphone is highlighted by a mic with an integrated headphone amp that's backed by an independent gain control for latency-free monitoring. Other features include microphone gain control, an instant mute function and an included stand that allows for pivoting in a variety of angles for ideal placement. This Focus Camera bundle gives you a Blue Microphone Yeti USB Microphone (Silver), Knox Gear Pop Filter for Yeti Microphones, and Knox Gear 4-Port USB 3.0 Hub.
Blue Microphones Yeti Premium Multi-Pattern USB Microphone With Blue Voice (Silver)
Create unparalleled recordings with your computer using Blue's best-selling family of Yeti USB microphones. Now with Blue Voice software, you can craft the perfect broadcast vocal sound and entertain your stream audience with enhanced effects, advanced voice modulation and HD audio samples.
Versatile
Four different pickup patterns offer incredible flexibility so you can record vocals for music, podcasts, Twitch streaming, YouTube videos, or even cryptozoology lectures in ways that would normally require multiple microphones. Whether you're recording at home, on the road, or in the Himalayas, Yeti helps you produce studio-quality recordings every time.
Total Recording Control With Yeti
Yeti features studio controls for headphone volume, pattern selection, instant mute and microphone gain putting you in charge of every level of the recording process. If you're experiencing distortion or feedback while recording an especially loud source like the deafening sound of an avalanche simply adjust the microphone's sensitivity with the gain control. Or if you want to take a break in the middle of a podcast, use the instant mute button.
3.5 mm Headphone Jack
Yeti computer microphone comes equipped with a 3.5-millimeter headphone jack that allows you to listen to what you're recording in real-time, without latency delays that mean no more hearing a note 3 seconds after you played it. You can adjust the volume of your headphones using the control on the front of the microphone.
Innovative Design Makes Recording Easy
Yeti doesn't mind getting pushed around it lets you adjust and pivot the microphone in relation to the sound source, which optimizes your sound quality. Once you've achieved the desired angle, simply hand-tighten the set knobs to secure it in place. Yeti is a side-address condenser microphone, so you can capture the best sound by going face-to-face with it. The microphone can also be folded down for easy portability, or removed completely from its base for mounting directly on a mic stand or Radius II shockmount.
Start Recording Quickly
Yeti was designed with a convenient, no-hassle workflow in mind. Set up in seconds with the included desktop microphone stand or connect directly to a mic stand. Adjust microphone gain, pick-up pattern, headphone volume, or mute/unmute with easy-to-reach controls. And record in comfort with Yeti's side-address operation just speak, sing or play into the Yeti on the same side as the Blue logo to capture pro-sound.
Knox Gear Pop Filter for Yeti Microphones
The Knox Gear Pop Filter for Yeti Microphones is a guard used by amateurs and professionals to achieve clearer audio recordings by eliminating 'popping' sounds from P's and B's. It also keeps saliva from hitting the microphone. The included gooseneck clamp enables the filter to be placed in a variety of positions.
An Inexpensive Way to Improve Audio Quality
Whether you're a professional or amateur, adding a pop screen to your recording set up is a cheap and easy way to improve the audio quality of your recordings immediately. Pop screens diffuse wind and gusts of air expelled from your mouth when you speak to help eliminate the loud thuds that can occur when air hits the microphone. Eliminating these noises makes your recorded audio sound clearer and more professional to listeners!
Designed Specifically for Yeti Microphones
This pop screen is specially designed for use with the Blue Microphones Yeti. The Yeti's base is a non-standard design so traditional pop guard clamps can be difficult to attach to it. The clamp for this pop guard is flat instead of curved so it will sit directly against the Yeti's stand. Padding on both surfaces of the clamp protects your microphone from scratches and damage.
Fully Adjustable Gooseneck Arm
The pop screen is mounted on a flexible gooseneck arm that allows you to position it however you want. For extra support and stability during recording, the arm can be bent around the stand and mic. The arm is roughly 14 inches long so you can position the screen as close or as far away from the mic's surface as you'd like.
Large Surface Area
The screen is 6 inches in diameter and will diffuse bursts of air even if the source isn't directly in front of the microphone. This means you can conduct interviews with people who are sitting next to you without worrying about either of you causing pops or thuds. The large screen will also protect your Yeti microphone from saliva that might be expelled from your mouth as you talk.
Knox Gear Universal 7-Port 2.0 USB Hub
With the Knox Gear Universal 7 Port 2.0 USB Hub you can quickly and easily add multiple peripherals to your computer. Expand your computer's connectivity and combat clutter with this handy 7-port USB 2.0 hub, featuring individual power switches that help preserve battery life. Each port features a separate LED that indicates the power status. The USB hub supports Windows 10.7, Vista, XP, 2000/ Mac OS X 10.2 and higher/ Linux 9.
Ratings and reviews
Blue Microphone Yeti USB Mic (Silver) with Knox Gear Pop Filter and USB Hub
Blue Microphone Yeti USB Mic (Silver) with Knox Gear Pop Filter and USB Hub
---