blue SNOWBALLICEBK 3.png
blue SNOWBALLICEBK 1.jpg
blue SNOWBALLICEBK 2.jpg
Blue Microphones Snowball iCE USB Microphone (Black)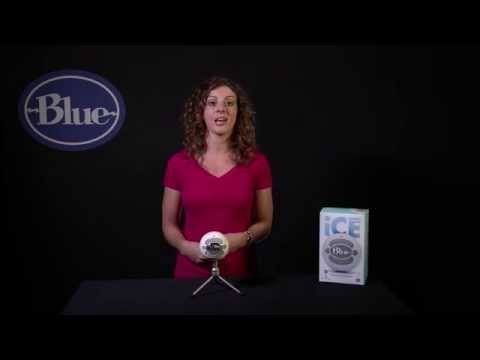 Product highlights:
Crystal Clear audio on your computer
Cardioid pickup pattern
Great for capturing vocals, music, podcasts, and more
Skype certified
Compatible with almost any software
Plug and Play with Mac or PC
Pay over time for orders over $300 with Affirm.
---
---
---
Need help deciding?
Contact us right now!
Call or chat with one of our experts.
In the box
Blue Microphones Snowball iCE USB Microphone (Black)
Blue Microphones Snowball iCE USB Microphone (Black)
Desktop Adjustable Stand
USB Cable
User Guide
Blue Microphones Snowball iCE USB Microphone (Black)
Snowball iCE is the fastest, easiest way to get high-quality sound for recording and streaming. Powered by a custom cardioid condenser capsule, Snowball iCE delivers crystal-clear audio quality that's light-years ahead of your built-in computer microphone. It's even Skype certified, which guarantees great-sounding results no matter how or where you use it—at home or the office.
Capture Your Voice with Stunning Quality
Capturing audio from a built-in computer microphone is like walking on thin ice—it may work for a while, but you'll ultimately be left out in the cold. Enter Snowball iCE—the fast, easy and reliable way to get great-sounding audio for all your projects. Snowball iCE has a custom condenser capsule that delivers crystal-clear audio quality that no computer microphone can match. And with its cardioid polar pattern, it's one of the most versatile USB microphones around.
Incredible Sound for Skype, Twitch and More
Snowball iCE is Skype certified for guaranteed performance. So whether you're conducting a virtual interview via Skype, streaming live gameplay on Twitch, or nurturing a relationship across the globe, you'll be heard loud and clear with Snowball iCE.
Improve the Sound of Audio Projects
A good computer microphone is the key to quality results. So start your next project equipped with the ease and versatility that only a Snowball can provide. Add CD-quality audio to recordings for YouTube, SoundCloud and more. Improve audio quality on Skype, Twitch, FaceTime, or any other voice software. Create podcasts and add narration to home movies. You can even record instruments, vocals and entire bands with stunning quality.
Use Your Favorite Software
Snowball iCE is all about making it easier for you to complete the projects you love. That's why it's designed to work with any software on any computer—just plug in and begin. You don't even need any drivers. Don't let your creativity cool off—get started quickly and easily with Snowball iCE and bring your projects to life.
Get Started Quickly and Easily
With Snowball iCE, quick and easy recording is finally a reality. Simply mount Snowball iCE on the included adjustable stand, plug the USB cable into your Mac or PC and that's it. You're ready to sit back and start recording crystal-clear audio for any project.
Ratings and reviews
Blue Microphones Snowball iCE USB Microphone (Black)
Blue Microphones Snowball iCE USB Microphone (Black)
---