Blue Microphones Yeti Slate USB Microphone Bundle with Over-Ear Headphone and Knox Gear Pop Filter
Blue Microphones Yeti Slate USB Microphone Bundle with Over-Ear Headphone and Knox Gear Pop Filter
054eece7ce3524d07a1b42fdce3b285b66cb17ba5ae9747af28406ec08f6dd3f-b8375bbed7a51dc2.jpg
86cc36940ee85653ec56d94f72eb80472e1787eb6f8dddfdecdfe21a29dd7490-69c66abbc1faf3e7.jpg
b21fd5b3a6701a75022ba68358e4e50560d83329aafac0a3ba74e181e441779f-e89ff91ca782387c.jpg
4c5455680e481a3bd67b984b2b720196671cbf02f6bdb8757b53a3f898b81939-51f84ca6563cdf8b.jpg
a895de682a13ea31a483b6b615679f76e4adc441b3539ed7f6ebbf6aa1505c6a-16f2fe6fe991d60c.jpg
Blue Microphones Yeti Slate USB Microphone Bundle with Over-Ear Headphone and Knox Gear Pop Filter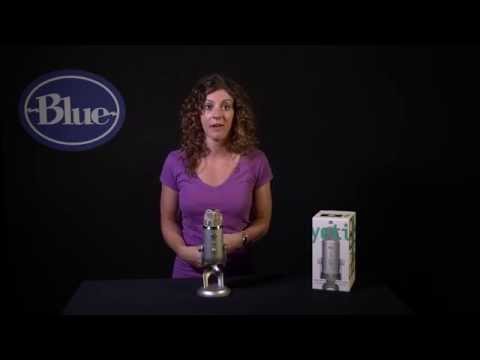 Product highlights:
The ultimate professional USB microphone
Three condenser capsules can record almost any situation
Gain control, mute button, zero-latency headphone output
Unique positionable design
Hassle-free setup and recording
Cardioid, bidirectional, omnidirectional and stereo
Perfect for vocals, instruments, Podcasting and more
Plug 'n Play - Mac and PC compatible
Pay over time for orders over $300 with Affirm.
---
---
---
Need help deciding?
Contact us right now!
Call or chat with one of our experts.
In the box
Logitech Blue Yeti USB Microphone (Slate)
Logitech Blue Yeti USB Microphone (Slate)
Limited 2-Year Warranty
Knox Gear TX-100 Closed-Back Studio Monitor Headphones
Knox Gear TX-100 Closed-Back Studio Monitor Headphones
1/4-Inch Adapter
Limited 1-Year Manufacturer's Warranty
Knox Gear Pop Filter for Broadcasting and Recording Microphones
Blue Microphones Yeti Slate USB Microphone Bundle with Over-Ear Headphone and Knox Gear Pop Filter
The Blue Yeti USB Microphone employs a unique, tri-capsule design and the ability to capture audio in up to 16-bit, 48 kHz resolution. This studio-quality microphone is highlighted by a mic with an integrated headphone amp that's backed by an independent gain control for latency-free monitoring. Other features include microphone gain control, an instant mute function and an included stand that allows for pivoting in a variety of angles for ideal placement. This bundle from Focus Camera includes the Blue Yeti USB Microphone (Slate), Knox Gear TX-100 Closed-Back Studio Monitor Headphones, and Knox Gear Pop Filter for Yeti Microphones.
Logitech Blue Yeti USB Microphone (Slate)
The Logitech Blue Yeti USB Microphone lets you craft the perfect broadcast vocal sound and entertain your stream audience with enhanced effects, advanced voice modulation, and HD audio samples. Four different pickup patterns offer incredible flexibility so you can record vocals for music, podcasts, Twitch streaming, YouTube videos, or even cryptozoology lectures in ways that would normally require multiple microphones. Whether you are recording at home, on the road, or in the Himalayas, Yeti helps you produce studio-quality recordings every time.
Broadcast Vocal Effects
With new advanced Blue Voice software, Yeti makes it easier than ever to achieve professional on-stream sound quality using enhanced broadcast vocal effects, advanced voice modulation, and HD audio samples
Pattern Mode
The cardioid mode is perfect for podcasting, twitch streaming, music recording, voiceovers, and instruments. It records sound sources that are directly in front of the microphone, delivering rich, full-bodied sound. The stereo mode uses both the left and right channels to capture a wide, realistic sound image ideal for recording acoustic guitar or choir and immersive experiences like ASMR videos. The omnidirectional mode picks up sound equally from all around the mic. It's best used in situations when you want to capture the ambiance of 'being there' like recording a band's live performance, a multi-person podcast, or a conference call. The bidirectional mode records from both the front and rear of the microphone that is good for recording a duet or a two-person interview.
Total Recording Control with Yeti
Yeti features studio controls for headphone volume, pattern selection, instant mute, and microphone gain putting you in charge of every level of the recording process. If you're experiencing distortion or feedback while recording an especially loud source like the deafening sound of an avalanche, simply adjust the microphone's sensitivity with the gain control. Or if you want to take a break in the middle of a podcast, use the instant mute button. The Yeti computer microphone comes equipped with a 3.5-millimeter headphone jack that allows you to listen to what you're recording in real-time, without latency delays, which means no more hearing a note 3 seconds after you played it. You can adjust the volume of your headphones using the control on the front of the microphone.
Innovative Design makes Recording Easy
Yeti doesn't mind getting pushed around, it lets you adjust and pivot the microphone in relation to the sound source, which optimizes your sound quality. Once you have achieved the desired angle, simply hand-tighten the set knobs to secure it in place. Yeti is a side-address condenser microphone, so you can capture the best sound by going face-to-face with it. The microphone can also be folded down for easy portability, or removed completely from its base for mounting directly on a mic stand or Radius II shock mount.
Start Recording Quickly
Yeti was designed with a convenient, no-hassle workflow in mind. Set up in seconds with the included desktop microphone stand or connect directly to a mic stand. Adjust microphone gain, pick-up pattern, headphone volume, or mute/unmute with easy-to-reach controls. And record in comfort with Yeti's side-address operation, just speak, sing or play into the Yeti on the same side as the Blue logo to capture pro-sound.
Accessorize Your Studio
Transform your desktop into a broadcast studio with Compass broadcast boom arm, Radius III shockmount, and Yeti USB microphone. With professional features, studio sound quality, and sophisticated on-camera looks, you have everything you need for professional podcasting, game streaming, and voice-over work.
Knox Gear TX-100 Closed-Back Studio Monitor Headphones
Introduce your ears to a world of crystal-clear, expansive, high-fidelity audio with the TX-100 Closed-Back Studio Monitor Headphones from Knox Gear. These adjustable over-ear headphones are engineered for exceptional comfort, superior sound quality, and convenient portability anywhere you go. These headphones include a 1/4-inch adapter and feature an extra-long 10-foot cord for versatility.
Noise Blocking Closed-Back Design
Experience a crystal-clear high-fidelity audio soundscape with these closed-back headphones from Knox Gear. The TX-100s isolate your ears from unwanted external noise, preserving your bubble (and maybe your sanity) in loud environments. Closed-back headphones are the ideal listening companion when you want to isolate the most amount of external noise possible while keeping your focus dedicated solely to your audio of choice. The closed ear cups reduce the amount of outside sound that can seep in, making them the perfect choice for commuting and general noisy environments.
Powerful Bass with Clear Mids and Highs
Knox Gear headphones are engineered for maximum dynamic range and superior sound quality. 50 mm speaker unit drivers are coupled with neodymium magnets to deliver deep, rich bass, clear treble and vocals, and crisp high tones.
For Recording, Music Production, Gaming
No matter what your passion is, Knox Gear is the gear for your ears. Trusted by both audiophiles and professionals in the industry. The TX-100s are the perfect headphones for studio recording, production, gaming, and pure musical enjoyment.
Creating Better Soundscapes
Powerful 50mm drivers and neodymium magnets combine to enhance the full spectrum of your audio experience – from deep, lush basses and clear, wide mids to crisp, artifact-free high-ranges.
Comfort Makes the Difference
You won't perform at your best or properly enjoy your music with hard, uncomfortable over-ears or earbuds. That's why we've designed the TX-100 with super soft, ear-pampering ear pads and an elastic headband that adjusts to fit comfortably over any hairstyle, hat, or head shape. Whether you need headphones for all-day head-grooving, long hours in the studio, or a marathon gaming session, Knox Gear is here.
Knox Gear Pop Filter for Broadcasting and Recording Microphones
The Knox Gear Pop Filter for Broadcasting and Recording Microphones is a guard used by amateurs and professionals to achieve clearer audio recordings by eliminating 'popping' sounds from P's and B's. It also keeps saliva from hitting the microphone. The included gooseneck clamp enables the filter to be placed in a variety of positions.
An Inexpensive Way to Improve Audio Quality
Whether you're a professional or amateur, adding a pop screen to your recording set up is a cheap and easy way to improve the audio quality of your recordings immediately. Pop screens diffuse wind and gusts of air expelled from your mouth when you speak to help eliminate the loud thuds that can occur when air hits the microphone. Eliminating these noises makes your recorded audio sound clearer and more professional to listeners!
Clamp Fits Most Microphone Stands
This pop screen's clamp is designed to fit most microphone stands and boom arms. The clamp's curved base wraps around mic stands to hold it in place and the rubber screw pad contours to the surface of what it's in contact with. Padding on both surfaces of the clamp protects your microphone from scratches and damage.
Fully Adjustable Gooseneck Arm
The pop screen is mounted on a flexible gooseneck arm that allows you to position it however you want. For extra support and stability during recording, the arm can be bent around the stand and mic. The arm is roughly 14 inches long so you can position the screen as close or as far away from the mic's surface as you'd like.
Large Surface Area
The screen is 6 inches in diameter and will diffuse bursts of air even if the source isn't directly in front of the microphone. This means you can conduct interviews with people who are sitting next to you without worrying about either of you causing pops or thuds. The large screen will also protect your microphone from saliva that might be expelled from your mouth as you talk.
Ratings and reviews
Blue Microphones Yeti Slate USB Microphone Bundle with Over-Ear Headphone and Knox Gear Pop Filter
Blue Microphones Yeti Slate USB Microphone Bundle with Over-Ear Headphone and Knox Gear Pop Filter
---