Blue Microphones Yeti Professional Multi-Pattern USB Microphone (Red)
Blue Microphones Yeti Professional Multi-Pattern USB Microphone (Red)
Blue Microphones Yeti Professional Multi-Pattern USB Microphone (Red)
Blue Microphones Yeti Professional Multi-Pattern USB Microphone (Red)
Blue Microphones Yeti Professional Multi-Pattern USB Microphone (Red)
Blue Microphones Yeti Professional Multi-Pattern USB Microphone (Red)
Blue Microphones Yeti Professional Multi-Pattern USB Microphone (Red)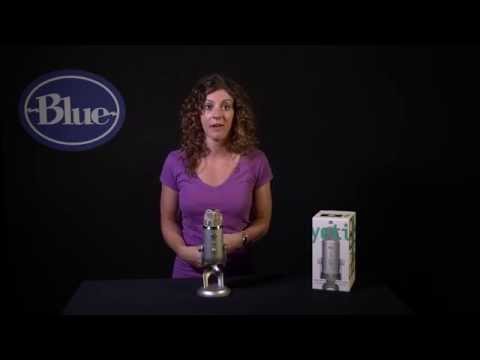 Product highlights:
The ultimate professional USB microphone
Three condenser capsules can record almost any situation
Gain control, mute button, zero-latency headphone output
Unique positionable design
Hassle-free setup and recording
Cardioid, bidirectional, omnidirectional and stereo
Perfect for vocals, instruments, Podcasting and more
Plug-and-Play - Mac and PC compatible
Pay over time for orders over $300 with Affirm.
---
---
---
Need help deciding?
Contact us right now!
Call or chat with one of our experts.
In the box
Blue Microphones Yeti Professional Multi-Pattern USB Microphone (Red)
Blue Microphones Yeti Professional Multi-Pattern USB Microphone (Red)
Adjustable Stand
USB Cable
User Manual
Limited 2-Year Warranty
Blue Microphones Yeti Professional Multi-Pattern USB Microphone (Red)
The Blue Yeti USB Microphone employs a unique, tri-capsule design and the ability to capture audio in up to 16-bit, 48 kHz resolution. This studio-quality microphone is highlighted by a mic with an integrated headphone amp that's backed by an independent gain control for latency-free monitoring. Other features include microphone gain control, an instant mute function and an included stand that allows for pivoting in a variety of angles for ideal placement.
Versatile Applications
A versatile microphone that's great for recording vocals, podcasts, music, interviews and even college lectures, depending on your sound source, this foldable microphone also allows the listener to select between stereo, cardioid, omnidirectional, or bi-directional polar patterns for optimal results. Additionally, the Yeti is Mac and Windows compatible and includes a USB cable which lets you plug it in and record.
Total Recording Control with Yeti
Yeti features studio controls for headphone volume, pattern selection, instant mute and microphone gain—putting you in charge of every level of the recording process. If you're experiencing distortion or feedback while recording an especially loud source—like the deafening sound of an avalanche—simply adjust the microphone's sensitivity with the gain control. Or if you want to take a break in the middle of a podcast, use the instant mute button. The microphone comes equipped with a 3.5-millimeter headphone jack that allows you to listen to what you're recording in real-time, without latency delays—that means no more hearing a note 3 seconds after you played it. You can adjust the volume of your headphones using the control on the front of the microphone.
Innovative Design Makes Recording Easy
Yeti doesn't mind getting pushed around—it lets you adjust and pivot the microphone in relation to the sound source, which optimizes your sound quality. Once you've achieved the desired angle, simply hand-tighten the set knobs to secure it in place. Yeti is a side-address microphone, so you can capture the best sound by going face-to-face with it. The microphone can also be folded down for easy portability, or removed completely from its base for mounting directly on a mic stand or Radius II shockmount.
Hassle-Free Setup
Simply plug Yeti into your computer's USB port with the included USB cable, calibrate it with your operating system, and you're ready to record—rain, shine or snow. Yeti offers driver-free operation, while the Yeti Pro requires easy-to-install drivers, available from Blue.
Start Recording Quickly
Who needs a learning curve? Yeti was designed with a convenient, no-hassle workflow in mind. Set up in seconds with the included desktop stand or connect directly to a mic stand. Adjust microphone gain, pick up pattern, headphone volume, or mute/unmute with easy-to-reach controls. And record in comfort with Yeti's side-address operation.
Four Different Pattern Modes for Versatile Recording
The stereo mode uses both the left and right channels, and is ideal for capturing a realistic, general sound image. Well-suited for podcasts, vocals, or game streaming, the cardioid mode records sound sources that are directly in front of the microphone. It delivers a rich, full-bodied sound. The omnidirectional mode picks up sound equally from all directions. It's best used in situations when you want to capture the ambience of 'being there'—like a live recording of a band's performance. Bidirectional mode records from both the front and the rear of the microphone. It's ideal for capturing the nuance of a musical instrument, or recording an interview between two people.
Ratings and reviews
Blue Microphones Yeti Professional Multi-Pattern USB Microphone (Red)
Blue Microphones Yeti Professional Multi-Pattern USB Microphone (Red)
---