BOSS WL-60 Large LCD Plug-and-Play Simplicity Compact Durable 25-Hour Runtime Guitar Wireless System
BOSS WL-60 Large LCD Plug-and-Play Simplicity Compact Durable 25-Hour Runtime Guitar Wireless System
BOSS WL-60 Large LCD Plug-and-Play Simplicity Compact Durable 25-Hour Runtime Guitar Wireless System
BOSS WL-60 Large LCD Plug-and-Play Simplicity Compact Durable 25-Hour Runtime Guitar Wireless System
BOSS WL-60 Large LCD Plug-and-Play Simplicity Compact Durable 25-Hour Runtime Guitar Wireless System
BOSS WL-60 Large LCD Plug-and-Play Simplicity Compact Durable 25-Hour Runtime Guitar Wireless System
BOSS WL-60 Large LCD Plug-and-Play Simplicity Compact Durable 25-Hour Runtime Guitar Wireless System
BOSS WL-60 Large LCD Plug-and-Play Simplicity Compact Durable 25-Hour Runtime Guitar Wireless System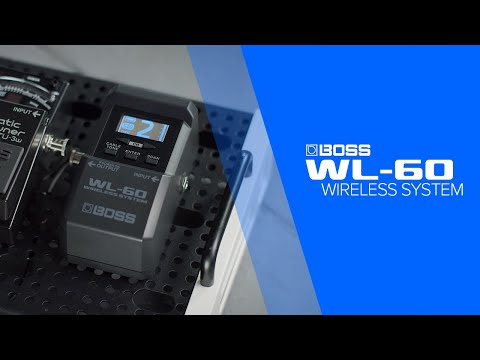 Product highlights:
BOSS's acclaimed high-performance wireless technology
Runs for up to 25 hours on regular alkaline batteries
Large LCD and dedicated panel buttons
Stompbox-size receiver fits easily on your pedalboard
Compact, lightweight, and durable
Includes two selectable cable tone simulation options
Short high-quality cable included
Rugged bodypack transmitter
Convenient DC output on receiver
Instrument input for using a standard cable
Pay over time for orders over $300 with Affirm.
---
---
---
Need help deciding?
Contact us right now!
Call or chat with one of our experts.
In the box
BOSS WL-60 Large LCD Plug-and-Play Simplicity Compact Durable 25-Hour Runtime Guitar Wireless System
BOSS WL-60 Large LCD Plug-and-Play Simplicity Compact Durable 25-Hour Runtime Guitar Wireless System
Leaflet Using The Unit Safely
Transmitter
Guitar Cable
4 x Rubber Foot
2 x Alkaline Battery (AA, LR6)
Owner's Manual
BOSS WL-60 Large LCD Plug-and-Play Simplicity Compact Durable 25-Hour Runtime Guitar Wireless System
BOSS WL-60 Guitar Wireless System offers a great tone, ultra-low latency, and effortless setup, this has made it easier than ever for musicians to go wireless. The BOSS WL-60 system is a great fit for serious stage performers, bridging plug-and-play simplicity with fast user-guided control. The compact receiver is tailor-made for pedalboards and features a large visual display and direct-access buttons to quickly scan and select the best wireless channel. Rounding out the system is a rugged bodypack transmitter, which is compatible with nearly any instrument and runs for up to 25 hours on regular alkaline batteries.
Lightning-Fast BOSS Wireless Performance
Equipped with BOSS's acclaimed high-performance wireless technology, the WL-60 delivers exceptional sound quality with wide dynamic range. The system provides rock-solid audio performance with absolutely no drop-outs while class-leading low latency of just 2.3 ms delivers a great playing feel with no lag whatsoever. Up to 14 WL series systems can be used simultaneously in one space, allowing multiple musicians to enjoy wireless freedom at the same time.
Visual Feedback Puts You in Control
With the WL-60's automatic scanning feature and informative display, the channel-selection process is virtually effortless, eliminating the complicated procedures required with other systems. All 14 channels are shown at one time during the scan process, giving you a complete overview of the current wireless conditions. This makes it simple to optimize performance for any stage situation, ensuring that you always have the very best tone. And when one or more bandmates are also using WL-60 systems, it's quick and easy to assign each one to its own unique channel.
Ready to Play in Seconds
Using the receiver's large LCD and dedicated panel buttons, setting up the WL-60 to play is amazingly fast and efficient. Simply press the Scan button, then wait for a moment as the 14 wireless channels are automatically scanned and the clearest are indicated. Next, select the desired channel on the receiver, power on the transmitter and match the channel, and then you're ready to rock. In addition to making set up a breeze, the WL-60's LCD also provides constant visual feedback on channel selection, wireless strength, and other parameters.
Rugged Bodypack Transmitter Works with Any Guitar or Bass
Compact, lightweight, and durable, the included WL-60T Transmitter mounts easily on your belt or instrument strap. Up to 25 hours of runtime is provided with two alkaline AA batteries, which can be swapped out in seconds during the heat of a gig. Using the display and selector buttons, you're able to adjust the operation channel from your playing position. And since the WL-60T connects to your instrument via a short standard cable (included), it works with nearly any guitar or bass. It's also possible to purchase additional WL-60T units for backup or outfitting multiple-stage instruments
Just Another Pedal on Your Board
The receiver in the WL-60 system is the same size as a standard BOSS compact pedal and can be powered just like your other stomps, making it an easy addition to any pedalboard setup. Simply place it at the beginning of your chain and connect the receiver's output to the first pedal. And thanks to the regular 1/4 inch input jack, you can always connect via a traditional guitar cable when needed without having to re-patch or remove the receiver from your board.
Cable Tone Simulation
The WL-60 includes two selectable cable tone simulation options that reproduce the natural capacitive effect that's introduced when using a guitar cable with standard passive pickups. You can also bypass the effect when cable tone simulation is not desirable, such as when using an acoustic/electric guitar with an onboard preamp or an instrument with active pickups.
Pedal Power Distribution
When the WL-60 receiver is powered via a BOSS PSA-S adaptor, it becomes a power distribution center for other stomps on your board. By using an optional PCS-20A daisy-chain cable, you're able to power a number of BOSS compact pedals at the same time.
Battery-Powered Operation for Mobile Gigging
When performing on the street or playing gigs that require quick setup and teardown, running your pedals on battery power is often the best way to fly. The WL-60 lets you go wireless as well, with the receiver providing clear, cable-free operation for up to seven hours on two AA alkaline batteries.
Ratings and reviews
BOSS WL-60 Large LCD Plug-and-Play Simplicity Compact Durable 25-Hour Runtime Guitar Wireless System
BOSS WL-60 Large LCD Plug-and-Play Simplicity Compact Durable 25-Hour Runtime Guitar Wireless System
---