DJI Air 3 Drone Fly More Combo with RC 2
DJI Air 3 Drone Fly More Combo with RC 2
DJI Air 3 Drone Fly More Combo with RC 2
DJI Air 3 Drone Fly More Combo with RC 2
DJI Air 3 Drone Fly More Combo with RC 2
DJI Air 3 Drone Fly More Combo with RC 2
DJI Air 3 Drone Fly More Combo with RC 2
DJI Air 3 Drone Fly More Combo with RC 2
DJI Air 3 Drone Fly More Combo with RC 2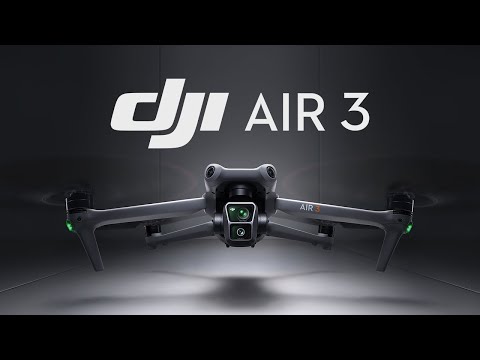 Product highlights:
1/1.3 CMOS Medium Tele & Wide-Angle Dual Primary Cameras
46-Min Max Flight Time
Omnidirectional Obstacle Sensing
DJI O4 20km HD Video Transmission
Dual-Camera 48MP Photos
Dual-Camera 4K/60fps HDR Videos
---
Need help deciding?
Contact us right now!
Call or chat with one of our experts.
In the box
DJI Air 3 Drone Fly More Combo with RC 2
DJI Air 3 Drone Fly More Combo with RC 2
1 × DJI Air 3
1 × DJI RC 2 Remote Controller
3 × DJI Air 3 Intelligent Flight Battery
6 × DJI Air 3 Low-Noise Propellers (Pair)
1 × DJI Air 3 Gimbal Protector
1 × Type-C to Type-C PD Cable
1 × DJI Air 3 Battery Charging Hub
1 × DJI Shoulder Bag
DJI Air 3 Drone Fly More Combo with RC 2
The DJI Air 3 Drone Fly More Combo with RC2 includes the camera drone with the DJI RC 2 remote, two additional Intelligent Flight batteries, low-noise propellers, a gimbal protector, a Type-C to Type-C PD cable, a battery charging hub, and a shoulder bag to conveniently carry the drone and its accessories wherever you go.
Wide Angle or Zoom, Do it All
When capturing landscapes, switch to the expansive FOV of the wide-angle camera, and to get detailed shots of any subject, switch back to the 3x medium telephoto camera.
True-to-Life Details with the 48-Megapixel Camera
The DJI Air Drone's dual cameras capture vivid images with crisp details, so you can conveniently crop for the ones who need it.
Naturally Well-Lit Images
The two 1/1.3-inch CMOS sensors on the DJI Air drone allow direct output of 4K/60 fps HDR video without the need for cropping, thanks to its dual native ISO. This delivers brighter pictures with vivid hues for stunning results. The dual cameras also support 10-bit D-Log M and 10-bit HLG color modes. The 10-bit D-Log M mode keeps highlights and shadows intact, offering more flexibility in the post-production process. Eliminating the need for color grading, the 10-bit HLG mode achieves high-quality results.
Maximum Flight Time with Advanced Charging
The DJI Air 3 Drone gives you a maximum of 46 minutes of flying time, which is an increase of 48 percent compared to its predecessors. This gives you the opportunity to adjust compositions and capture the perfect shots in one flight's time. The battery charging hub that comes with the DJI Air Fly More Combo features a power transfer function. All you need to do is press and hold the function button to successfully transfer the power remaining in multiple batteries to the one with the maximum charge. This gives you the advantage of having a fully charged battery when you are unable to recharge the draining ones.
APAS 5.0 Technology Allows Smoother Flights
The Air 3 Drone features Omnidirectional Obstacle Sensing that keeps the drone aware of its environment when in flight. The built-in APAS 5.0 technology detects obstacles and encourages smoother movements to ensure a safe flight. This advanced feature offers peace of mind to newbies so they can operate their aerial time with utmost confidence.
Enhanced Transmission Power
The DJI Air 3 features next-generation O4 HD video transmission, which allows enhanced transmission performance and gives the user a range of 20 kilometers to explore. The 1080p/60fps max-quality live feed offers smooth operation and clear views.
Fret Not About Losing It
The drone plans an optimized flight route during Smart RTH, which is recalled during Advanced RTH while keeping in mind the obstacles it encountered for a quick and safe flight back home.
Intelligent Shots Every Time
The DJI Air 3 features FocusTrack which keeps the subject in the frame's center. When zooming in on subjects, the 3x medium tele camera keeps track of the spatial compression, allowing well-planned shots.
Range of Creative Camera Movements
A wide range of creative camera movements like the Rocket, Dronie, Circle, Helix, Boomerang, and Asteroid are allowed by the QuickShots feature.
Superior Vertical Shots
The DJI Drone Air 3 allows 2.7K vertical shooting with its dual cameras. This gives a dynamic look to landscape or vertical subject shots. The 4:3 aspect-ration CMOS sensors leave enough space for crops to be able to keep their 2.7K resolution quality intact. Optimized for viewing on smartphones, such images are all set to be shared on social media, eliminating the need for cropping.
Performs A Range of Camera Movements
From capturing multiple clips and performing a range of camera movements to adding music and effects to dramatically change the captured footage, MasterShots lets you do it all.
Let Your Creativity Loose with a Host of Features
Capture time-lapse images using four options, namely Free, Circle, Course Lock, and Waypoint. These options can capture footage at a high-quality 4K in horizontal format and 2.7 K for vertical shots. Record a video that is 4 times slower with the Slow Motion feature for a 4K/100 fps recording. Night Mode allows the capture of noise-free 4K/30 fps footage even in dimly lit conditions using your DJI Air 3. SmartPhoto 3.0 automatically selects among HDR, hyperlight, and scene recognition the one that best suits the environment, to produce excellent images. Using the HDR DNG format, your drone camera can record a larger dynamic range. The feature QuickTransfer on the DJI Air 3 allows you to download photos and videos from the aircraft directly to your phone using a wireless connection, which saves time and effort and gives you the freedom to stay on top of your social media game.
One-Tap Dose of Creativity
Add a dash of creativity to your footage using the LightCut app. Connect to your DJI Air 3 drone wirelessly from your smartphone using the LightCut app to explore a range of options to edit and customize your videos. The advantage of not requiring you to download the footage for editing saves you a lot of time and storage space on your phone. The One-Tap Edit allows you to select clips depending on your flight path and helps you choose from templates and audio effects that best suit your footage, lending a cinematic feel to your videos.
Plan Flight Routes In Advance
With the addition of the Waypoint Flight feature in the DJI Air 3, you can plan flight routes way ahead of time. What's more, is that you can select shooting actions for the drone prior to its flight. This results in ease of performing complicated camera movements to give you breath-taking results. These routes can be saved for future use.
Ratings and reviews
DJI Air 3 Drone Fly More Combo with RC 2
DJI Air 3 Drone Fly More Combo with RC 2
---