DJI Osmo Mobile 3 Smartphone Gimbal
DJI Osmo Mobile 3 Smartphone Gimbal
DJI Osmo Mobile 3 Smartphone Gimbal
DJI Osmo Mobile 3 Smartphone Gimbal
DJI Osmo Mobile 3 Smartphone Gimbal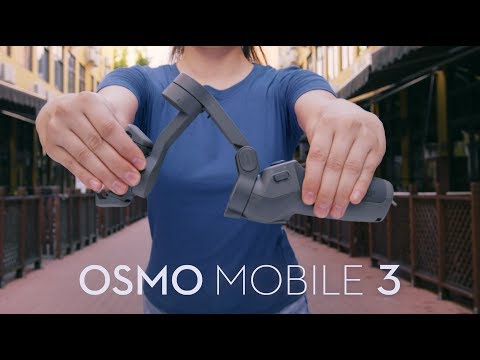 Product highlights:
Foldable and portable design
Lets you record stabilized handheld footage
Gesture Control and Quick Roll functionality
Hyperlapse Hype technology with ActiveTrack 3.0
Story and Sport modes
120-degrees per second controllable speed
Panorama, Timelapse, and Slow Motion shooting modes
Pay over time for orders over $300 with Affirm.
---
---
---
Need help deciding?
Contact us right now!
Call or chat with one of our experts.
In the box
DJI Osmo Mobile 3 Smartphone Gimbal
DJI Osmo Mobile 3 Smartphone Gimbal
Osmo Mobile 3 (Built-in Battery)
Power Cable
Storage Pouch
Wrist Pad
4 x Anti-slip Pads
DJI Osmo Mobile 3 Smartphone Gimbal
The Osmo Mobile 3 is a foldable gimbal for smartphones with intelligent functions providing stable and smooth footage. It brings back the most-loved features from the previous Osmo model along with some improvements. For starters, it now supports larger smartphones, is lighter than its predecessor, and can now be controlled by the DJI Mimo app.
Eliminate Shake
With a 3-axis gimbal that effectively reduces shaky footage, Osmo Mobile 3 delivers a super-smooth, stabilized image. A lightweight, ultra-responsive design reacts to your movements in real time, letting you focus more on the moments at hand.
Foldable Fun
A sleek, foldable design allows the Osmo Mobile 3 to be taken anywhere. Weighing just 405g, it is portable, light, and incredibly convenient to toss in a backpack for your next adventure. Standby mode allows you to use your smartphone when the gimbal is folded, enabling you to start shooting again in no time.
Ergonomic Grip
Thanks to its intelligent design, Osmo Mobile 3 can be held for long periods of time. A comfortable grip fits perfectly in your hand, enabling you to create without any limitations.
One-tap Templates
Story mode provide multiple templates that transform your footage in seconds by automatically adding movement, music, and other effects for a polished result.
Edit and Share Quickly
After customizing your video with a variety of music templates, transition effects, and filters, share your work easily on social media and video platforms.
Gestures and Selfies
A simple gesture is all it takes to snap a selfie or begin recording. Both the front and rear camera can recognize Gesture Control, which makes shooting your solo travels and group shots a walk in the part.
ActiveTrack 3.0
To capture scenes that require fast movement, simply press the trigger, make a gesture, or select a subject on your smartphone to start tracking. ActiveTrack 3.0 incorporates deep learning and computer vision algorithms, resulting in a smooth and reliable tracking technology.
Hyperlapse Hype
The powerful combination of electronic image stabilization (EIS) and gimbal stabilization is perfect for shooting Hyperlapse videos. Enable ActiveTrack 3.0 for a truly unique Hyperlapse creation that tracks your subject while recording.
Creative Shooting Modes
The Panorama mode lets you capture entire scenes with automatic 3x3 and 180-degree panoramas. The Timelapse mode condenses time and movement for stunning results. The Slow Motion technology ensures that you never miss out on any detail.
Handy Convenience
Say goodbye to time-consuming steps. Osmo Mobile 3 is able to shoot from any angle with the M button and trigger. Explore useful functions like Quick Roll, which allows you to transition from the portrait to landscape mode.
Buttons for Advanced Control
Enable most operations with a single hand thanks to the joystick, intuitive button combinations, and access to the Quick Menu.
Dolly Zoom
Dolly Zoom is a fantastic way to add an extra touch of cinematic flair to your footage. Thanks to a zoom slider that allows customizable speed, you can now re-create the famous "Hitchcock effect" with your mobile device.
Keep Up with Sport Mode
Sport mode has been redesigned with fully optimized algorithms that let the Osmo Mobile 3 easily capture fast-paced action. From the dynamic movements of a basketball game to your dog chasing a squirrel, never miss a moment.
DJI Mimo
For a complete film-making experience, use Osmo Mobile 3 with the DJI Mimo app. Complete with helpful tutorials, convenient templates, and intelligent modes, DJI Mimo allows you to explore more functions and push your creativity.
Ratings and reviews
DJI Osmo Mobile 3 Smartphone Gimbal
DJI Osmo Mobile 3 Smartphone Gimbal
---