DJI Avata FPV Drone
DJI Avata FPV Drone
DJI Avata FPV Drone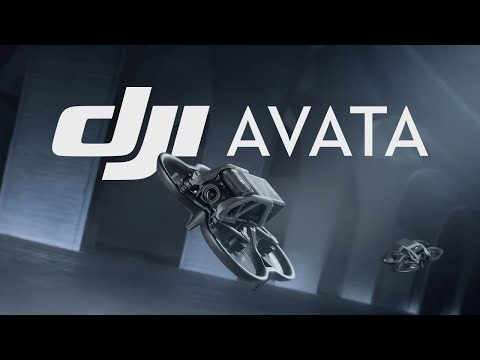 Product highlights:
Immersive flight experience
Intuitive motion controller
4K stabilized video
Palm-sized and agile
Built-in propeller guard
HD low-latency transmission
---
Need help deciding?
Contact us right now!
Call or chat with one of our experts.
In the box
DJI Avata FPV Drone
DJI Avata FPV Drone
DJI Avata
DJI Avata Intelligent Flight Battery
3 x DJI Avata Propellers (Pair)
DJI Avata Power Adapter
DJI Avata Gimbal Protector
Type-C to Type-C PD Cable
Screwdriver
4 x Screws (M2 x 7)
DJI Avata FPV Drone
Flight is made possible for everyone by using Avata in conjunction with goggles and a motion controller. Take advantage of unparalleled safety and control while enjoying the rush of total immersion. Accept your spontaneity and take pictures of your surroundings. Some of us have wings from birth.
DJI Avata - Where Agility Meets Toughness
The DJI Avata is nimble in confined spaces and is lightweight and compact. Its design was intended for you to be assertive in every way. Avata can bounce back, stay in the air, and continue flying even if it collides with an object thanks to the included propeller protection.
DJI Goggles 2 and DJI Motion Controller
Use the optional DJI Motion Controller and DJI Goggles 2 to improve your Avata experience. With DJI Goggles 2, experience next-level comfort and convenience. You now fly with excellent clarity thanks to Micro-OLED screens that are smaller, lighter, and more compact. DJI FPV Goggles V2 is also supported by DJI Avata. You can control intuitive flying with the DJI Motion Controller. The simple-to-use controls offer a different way to fly.
The Perfect Package
The DJI Goggles 2 are lightweight and nimble. They are convenient to stow, comfortable to wear, and ideal for prolonged use thanks to their foldable antenna and lightweight construction. You can always be ready for an immersive flight because of the two-hour battery life and extremely quick charging times.
1080p Micro-OLED Screens
With the DJI Avata and Goggles 2, experience every flight. Two HD Micro-OLED panels with a refresh rate of up to 100 Hz and superb clarity are provided. The goggles create an immersive world with endless potential by displaying a fluid full-screen live feed right in front of your eyes.
Diopter Adjustment
Diopter adjustments for the DJI Goggles 2 are available from +2.0 D to -8.0 D for improved comfort and vision. When using or storing the diopter, lock the adjustment knob to secure it and prevent unintentional touches.
A Breakthrough in FPV Visuals
The DJI Avata features a 1/1.7-inch CMOS sensor and an f/2.8 aperture, enabling 4K ultra-wide-angle shooting. It provides amazing images that will keep your audience on the edge of their seats together with high-grade imaging performance.
155-degree Super-Wide FOV
The average field of view (FOV) of camera drones is 84 degrees. With a 155-degree FOV, the DJI Avata takes things to the next level. As a result, the sights produced by this enlarged perspective are more powerful and intense.
Smooth Shooting
Utilize RockSteady 2.0 and HorizonSteady to keep your film steady while you swoop and dive. By minimizing camera wobble and assuring smooth ultra-HD footage, these flagship technologies unleash a world of cinematic possibilities.
Agile in the Editing Room
Shoot in D-Cinelike mode to enter a world of color. Make your video stand out with sophisticated color grading in post-editing, and elevate your work to masterful status.
Your Rugged Companion
Avata uses a brand-new, cutting-edge design that is created with convenience in mind. It is lighter, smaller, and easier to carry.
Be Bold. Fly Far
You may be brave since the DJI Avata was built to last. You'll feel more secure because of the sturdy frame's lower chance of damage. The amazing flying time of up to 18 minutes is made possible by the revolutionary ducted aerodynamic design, which maximizes power effectiveness.
Soar and Explore
Discover amazing ways to record video while freely rediscovering your surroundings. The versatility of the DJI Avata in diverse situations provides a world of artistic possibilities.
Fly Where Others Can't
Film in previously unreachable locations as you maneuver between branches, under bridges, and through passageways to get genuinely original footage.
Turtle Mode
If Avata rolls over, just engage Turtle mode with a few quick presses to see it resume operation.
Downward Obstacle Sensing System
Avata has downward binocular vision and ToF infrared detection in addition to the built-in propeller protection for even greater safety. These sensors enable Avata to fly low to the ground or indoors. They also identify impediments below.
Who Said Safety Isn't Fun
Experience the trip with less flight phobia. You can stop suddenly by pressing the Emergency Brake button on the motion controller. Additionally, when the battery runs out of power or the signal is lost, RTH assistance provides you with additional security.
Low-Altitude Flight
Experience low-altitude flight with Avata and glide safely dangerously close to the earth. This results in a unique perspective that is thrilling thanks to the extremely wide FOV.
Halt and Hover
If you come upon a circumstance that necessitates a sudden halt, press the Emergency Brake button. Avata will remain stationary when hovering, lowering the possibility of mishaps.
Transmission You Can Depend On
Avata has 2T2R omnidirectional antennae and DJI's top-of-the-line O3+ video transmission for unmatched flight stability and responsiveness. Even in areas with interference, your goggles will provide a clear and fluid real-time picture.
Master Your Moves
The DJI Avata is compatible with a variety of remote controls, each of which opens up new possibilities. The flight simulator is ideal for honing your abilities or exploring the various control options, which will enhance the visual effects and present you with novel alternatives.
Ultimate Precision
To accomplish complex flight motions, reliable aerial photographic effects, and a varied visual language for filming, use the DJI FPV Remote Controller 2 in Manual mode.
Ratings and reviews
DJI Avata FPV Drone
---