BZBGear 12G-SDI 1x2 Splitter/Distribution Amplifier
BZBGear 12G-SDI 1x2 Splitter/Distribution Amplifier
BZBGear 12G-SDI 1x2 Splitter/Distribution Amplifier
BZBGear 12G-SDI 1x2 Splitter/Distribution Amplifier
BZBGear 12G-SDI 1x2 Splitter/Distribution Amplifier
BZBGear 12G-SDI 1x2 Splitter/Distribution Amplifier
BZBGear 12G-SDI 1x2 Splitter/Distribution Amplifier
BZBGear 12G-SDI 1x2 Splitter/Distribution Amplifier
BZBGear 12G-SDI 1x2 Splitter/Distribution Amplifier
BZBGear 12G-SDI 1x2 Splitter/Distribution Amplifier
BZBGear 12G-SDI 1x2 Splitter/Distribution Amplifier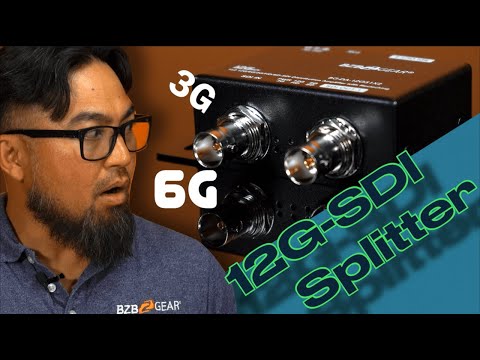 Product highlights:
Splits single SDI source up to 2 SDI displays or devices
LED indicators signal lock and video rate
Interlocked power supply
Buffered and re-locked outputs
Split and extend a 4K signal up to 230 feet
Locking connectors prevent accidental unplugging
Send a 3G-SDI signal up to 594 feet
Great for use in the field
Eliminate jitter and increase transmission distance
Durable metal structure
Pay over time for orders over $300 with Affirm.
---
---
---
Need help deciding?
Contact us right now!
Call or chat with one of our experts.
In the box
BZBGear 12G-SDI 1x2 Splitter/Distribution Amplifier
BZBGear 12G-SDI 1x2 Splitter/Distribution Amplifier
5V Power Adapter
User Manual
Limited 1-Year Warranty
BZBGear 12G-SDI 1x2 Splitter/Distribution Amplifier
The BZBGear 12G-SDI 1x2 Splitter/Distribution Amplifier is a 1x2 12G-SDI splitter and distribution amplifier. This device can split an SD, HD, 3G, 6G, or 12G-SDI video source up to two SDI outputs simultaneously.
Functionality
For any situation where range, quality, consistency, and reliability are all factors, this unit is the correct choice. Whether you need to connect additional displays for video feed monitoring, distribute a 4K signal over a long distance, or daisy chain and cascade multiple units to build a large-scale video distribution solution, the BG-DA-12GS1X2 will help you get the job done.
Signal
Each output from the BG-DA-12GS1X2 is buffered independently and re-clocked eliminating signal disruption and making it possible to extend signal transmission to greater distances. With automatic input cable equalization, 12G-SDI signal can be transmitted up to 70 meters, 6G up to 100 meters, and up to 180 meters for 3G connections.
Video Transmission
The device has a maximum SDI bandwidth of 11.88 Gbps to support high-quality video transmission with low latency when splitting the video into multiple outputs.
LED Indicators
Installers can also utilize the device's LED indicators that show the status of the signal lock and current video rate to reduce the amount of time system configuration is needed.
Design
The device's design is built around quality and durability. With an interlocking power supply and SDI connectors as well as a metal housing with mounting brackets, this device is built to last while maintaining reliable video transmission.
Ratings and reviews
BZBGear 12G-SDI 1x2 Splitter/Distribution Amplifier
BZBGear 12G-SDI 1x2 Splitter/Distribution Amplifier
---