BZBGear 4K UHD HDMI 2.0 2x2 Video Wall Processor with Audio and IP/RS232 Control
BZBGear 4K UHD HDMI 2.0 2x2 Video Wall Processor
BZBGear 4K UHD HDMI 2.0 2x2 Video Wall Processor
BZBGear 4K UHD HDMI 2.0 2x2 Video Wall Processor
BZBGear 4K UHD HDMI 2.0 2x2 Video Wall Processor
BZBGear 4K UHD HDMI 2.0 2x2 Video Wall Processor
BZBGear 4K UHD HDMI 2.0 2x2 Video Wall Processor
BZBGear 4K UHD HDMI 2.0 2x2 Video Wall Processor with Audio and IP/RS232 Control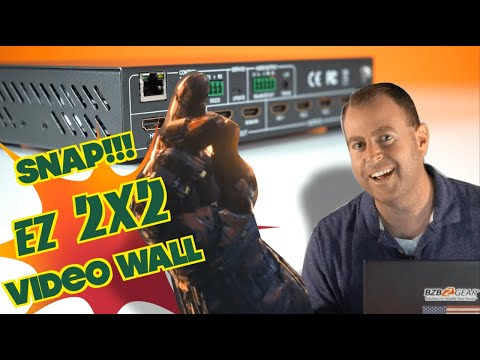 BZBGear 4K UHD HDMI 2.0 2x2 Video Wall Processor with Audio and IP/RS232 Control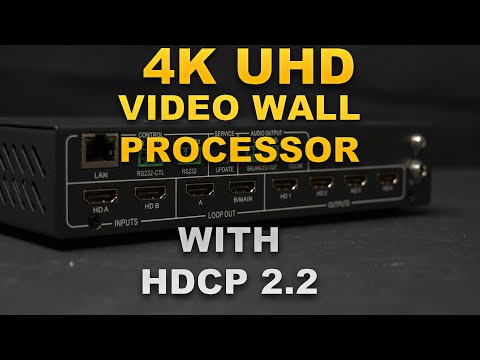 Product highlights:
Inputs support Up To 4K at 60Hz
Supports up to two HDMI inputs
TCP/IP, RS-232, HDMI CEC, and PC Software control
3.5mm and balanced analog audio outputs
HDMI 2.0 and HDCP 2.2 compliant
180-degree rotation
Dual-mode Bezel compensation
Human-body model ESD protection
Video wall resolutions up to 3840x2160 at 60Hz
Sturdy, metal case construction
Starting at $118/mo or 0% APR.
---
---
---
Need help deciding?
Contact us right now!
Call or chat with one of our experts.
In the box
BZBGear 4K UHD HDMI 2.0 2x2 Video Wall Processor with Audio and IP/RS232 Control
BZBGear 4K UHD HDMI 2.0 2x2 Video Wall Processor
2V/3A Power Adapter
5-pin Phoenix Connector
3-pin Phoenix Connector
Limited 3-Year Warranty
BZBGear 4K UHD HDMI 2.0 2x2 Video Wall Processor with Audio and IP/RS232 Control
The BZBGear 4K UHD HDMI 2.0 2x2 Video Wall Processor is a 2x2 video wall processor. It is a great option for retail signage, entertainment venues, sports bars, and restaurants.
Functionality
Thanks to its high quality at 4K at 60Hz resolution, the BG-UHD-VW24 stands out as a great choice for businesses in need of beautiful video walls. This processor is also a flexible platform, enabling operators to switch between sources for each display in matrix switch mode.
Resolution
The BG-UHD-VW24's maximum input resolution is 4K at 60Hz and has four 1080p at 60Hz HDMI outputs.
Compliance
This device is compliant with both HDMI 2.0 and HDCP 2.2. These HDMI connections support 2.0 channel, 5.1 channel, PCM, Dolby, AC3, and DTS audio formats. Operators can also loop out the HDMI A/B signal for devices connected to each output.
Premium Sound
For sound, a balanced 5-pin phoenix connector and 3.5-millimeter stereo TOSLINK audio output are both available for audio extraction.
Connectivity
The connectivity features offered by the BG-UHD-VW24 make it perfect for any small to medium sized business needing industry-compliant hardware to support 2x2 video walls. The system gives enough room for added flexibility as well, such as audio de-embedding and looping out.
Control
For controlling the unit, itself, there are several control methods, including PC Utility software, RS-232, HDMI CEC, or a web-based interface. The PC Utility can provide input and output adjustments for the video wall, including dual-mode bezel compensation and 180-degree image rotation. The PC Utility software also allows for 16 available predefined EDID options.
Great Fit
The BG-UHD-VW24 can support 2x2 video walls, but it can also create two 2x1 video walls as well. The versatility of this video wall processor makes it a great fit for any user needing 2x2 or 2x1 video walls, enabling them to find a solution that fits their needs.
Ratings and reviews
BZBGear 4K UHD HDMI 2.0 2x2 Video Wall Processor with Audio and IP/RS232 Control
BZBGear 4K UHD HDMI 2.0 2x2 Video Wall Processor with Audio and IP/RS232 Control
---