Canon imagePROGRAF Pro-6100S Large Format Production Printer with Multifunction Roll System
Canon imagePROGRAF Pro-6100S Printer
Canon imagePROGRAF Pro-6100S Printer
Canon imagePROGRAF Pro-6100S Printer
Canon imagePROGRAF Pro-6100S Printer
Canon imagePROGRAF Pro-6100S Printer
Canon imagePROGRAF Pro-6100S Large Format Production Printer with Multifunction Roll System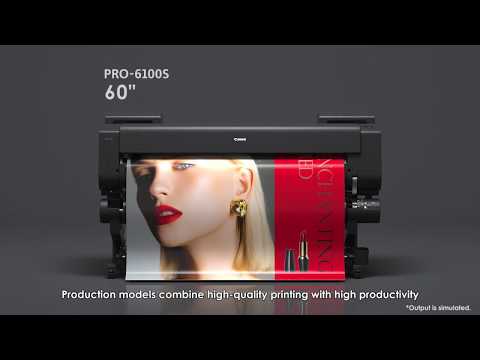 Product highlights:
L-COA PRO high-speed image processing engine
8-color microencapsulated LUCIA PRO pigment ink system
1.28-inch wide print head with 18,432 nozzles
Anti-clogging FINE technology generates fast print speeds
Built-In Color Calibration function
Intelligent media loading and remaining media estimation
Sub-ink tank system helps eliminate any wasted ink
Wi-Fi connectivity for wireless printing
Direct USB thumb drive printing for both PDF and JPEG
Large 4.3-inch LCD touch screen panel for easy operation
Starting at $920/mo or 0% APR.
---
---
---
Need help deciding?
Contact us right now!
Call or chat with one of our experts.
In the box
Canon imagePROGRAF Pro-6100S Large Format Production Printer with Multifunction Roll System
Canon imagePROGRAF Pro-6100S Large Format Production Printer with Multifunction Roll System
Multifunction Roll Unit with Tools (Separate Box)
Stand
Tools and Screws
US AC Power Cable
Print Head PF-10
330ml Starter Ink Tanks (MBK/BK/C/M/Y/PC/PM/GY)
2-Inch Roll Holder with 3-Inch Core Adapters
Quick Set-Up Guide
Safety and Environmental Sheet
Printer Stand Setup Guide
Print Head Alignment Sheet
User Manual
USB Connection Sheet
Software Discs (Windows Drivers, PosterArtist Lite - 32/64 bit)
Sample media (12 Sheets of Heavy Weight Coated HG Paper A4 Size)
Call Center Notice Card (USA)
User Registration Card
Printer and Print Head Warranty Cards (USA and Canada)
Canon USA Media Compatibility Sheet
imageWR Service Terms Leaflet
Canon imagePROGRAF Pro-6100S Large Format Production Printer with Multifunction Roll System
The 8-color 60-inch imagePROGRAF PRO-6100S Printer from Canon exceeds expectations for speed and color consistency in a large format production printer. The use of a 1.28-inch wide 12-channel integrated compact print head, LUCIA PRO ink set , a high-precision mechanical platform and the L-COA PRO high-speed image processing engine achieves a balance between high-speed printing and exceptional print quality. The imagePROGRAF PRO-6100S has been designed to include intelligent technology for advanced media handling, increased security features, borderless printing and improved operational design.
Intelligent Media Loading
The imagePROGRAF printer can load and recognize paper without the need for human intervention. Simply set the roll holder in the printer and let the media automatically feed into the print. The built-in multi-sensor measures the surface reflection and the media thickness to determine media type, without the need to manually enter it.
Remaining Media Estimation
Accurately measure the remaining media on a roll, without the need to print a bar code to save both ink and media.
Operation Panel
The large 4.3-inch LCD operation panel utilizes smart phone touch screen technology for easy operation. The top three most-used commands: Load, Feed and Cut, now have their own buttons below the operation panel for ease of use.
Enhanced Security
The imagePROGRAF PRO-6100S is developed with advanced security features, including support of secure PIN printing to protect data and the ability to disable printing, increasing administrative control of end-user printing.
LUCIA PRO Ink Set
The LUCIA PRO ink set adopts 8-color microencapsulated pigment inks. These inks help you achieve fantastic color reproduction, image clarity, and fine lines ideal for creating vivid posters and advertising displays.
PF-10 Print Head
The PF-10, a 1.28-inch wide print head with 18,432 nozzles equipped with anti-clogging FINE technology generates fast print speeds while reducing the possibility of clogging. Ink ejection conditions are precisely checked by 27 sensors, and if a clog is detected, another nozzle will provide back-up. To enhance print performance, the 8-colors utilize all 12 ink channels in the print head. The LUCIA PRO ink is arranged in a mirror layout on the print head, symmetrically arranging the most important colors: C, M, Y, and MBK.
L-COA PRO High-Speed Image Processing Engine
The imagePROGRAF printers are powered by the L-COA PRO high-speed image processing engine. With three processing chips, this high-precision control engine performs the processing of massive image data, and controls the optimal ink layout that produces high resolution prints.
Color Calibration
The color calibration function is designed to produce consistent color reproduction. This new printer includes an upgraded, built-in color densitometer that offers precise calibration and color matching. Using a three-color LED and condenser lens the sensor enables accurate recalibration of the device, allowing you to maintain a low average printer-to-printer color difference. The color calibration is finished quickly after a few simple steps on the printer's operation panel. A single color calibration performed with one type of media is used to make adjustments on the other Canon supported media.
High Precision Mechanical Platform
The unibody structure provides a strong platform for stable print head scanning, resulting in precise ink droplet placement. The perfect combination of speed and high-quality printing is achieved with this new design.
Multifunction Roll System
The optional Multifunction Roll System, which also utilizes Canon's new intelligent media handling, is a versatile media handling solution system that enables either a second roll of media to be loaded on the printer, or the unit can be configured as a bi-directional media Take-up unit.
Print From USB Thumb Drive
PDF and JPEG files can be directly printed on the imagePROGRAF PRO-6100S from a USB thumb drive. Simply input the thumb drive into the USB port on the printer, preview the image on the operation panel, and print.
Wi-Fi Connectivity
A first for the imagePROGRAF large format printers, Wi-Fi connectivity is now standard with this PRO series printer.
Sub-Ink Tank System
The Sub-Ink Tank System allows all of the available ink in a tank to be used before having to replace it, helping eliminate any wasted ink. The empty tanks can also be replaced on-the-fly without stopping the printer. This is extremely useful during your long print jobs.
Multipositional Basket
The imagePROGRAF PRO-6100S features a multipositional basket that can be freely adjusted to enable various output positions and options like a catch basket, flatbed Stacking, and slope (can be used to display a print).
500GB Hard Drive
A built-in 500 GB hard drive within the printer increases productivity by relieving workload from the host Mac or PC, while providing a large capacity for print job data storage and retrieval. This 500 GB hard drive enables job data to be stored in protected mailboxes for easy access via web browser or at the printer for job re-printing. The embedded hard disk is ideal for medium to large workgroups to share a printer efficiently with multiple users, offering sample job storage space.
Device Management Console Software
The Device Management Console software, ideal for fleet management, lets you perform color calibrations remotely. This software lets you monitor the printer status of up to 50 units from any location in the world, be notified via email when an error has occurred, or check the amount of ink left in the printers without ever having to leave the comfort of your desk.
Ratings and reviews
Canon imagePROGRAF Pro-6100S Large Format Production Printer with Multifunction Roll System
Canon imagePROGRAF Pro-6100S Large Format Production Printer with Multifunction Roll System
---