Canon RF 5.2mm f/2.8L Dual Fisheye 3D VR Lens
Canon RF 5.2mm f/2.8L Dual Fisheye 3D VR Lens
Canon RF 5.2mm f/2.8L Dual Fisheye 3D VR Lens
Canon RF 5.2mm f/2.8L Dual Fisheye 3D VR Lens
Canon RF 5.2mm f/2.8L Dual Fisheye 3D VR Lens
Canon RF 5.2mm f/2.8L Dual Fisheye 3D VR Lens
Canon RF 5.2mm f/2.8L Dual Fisheye 3D VR Lens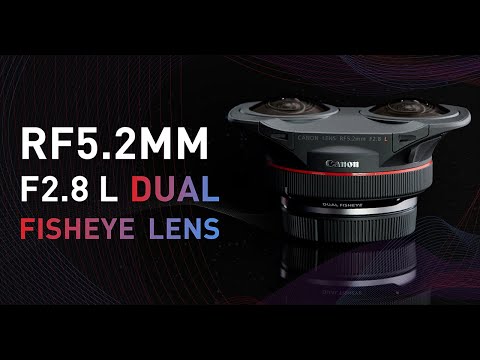 Product highlights:
5.2mm Focal Length
Aperture: f/2.8 – f/16 (1/3 stops, 1/2 stops)
60mm distance between right and left lenses
Canon RF Mount
Full-frame format
Lens Construction: 12 elements in 10 groups
Two UD glass elements
Canon Super Spectra Coating
Canon Sub-wavelength Structure Coating
Fluorine Coating on the front surface
7 aperture blades
Manual focusing system
Dust and Water resistance
---
Need help deciding?
Contact us right now!
Call or chat with one of our experts.
In the box
Canon RF 5.2mm f/2.8L Dual Fisheye 3D VR Lens
Canon RF5.2mm F2.8 L Dual Fisheye Lens
Lens Case LS1014
Lens Cap 5.2
Lens Dust Cap RF
Hexagon Wrench
Canon RF 5.2mm f/2.8L Dual Fisheye 3D VR Lens
Add a whole other dimension to your story with the (Canon RF 5.2mm f/2.8L Dual Fisheye 3D VR Lens. This lens is which is part of the EOS VR system. Paired with the EOS R5 and one of Canon's VR software solutions, you can create a captivating 3D experience when viewed on a compatible head mount display. With a compatible VR headset, viewers can take in the scene with its wide field of view just by moving their heads.
The RF5.2mm F2.8 L Dual Fisheye Lens is one of the first digital interchangeable lenses with the ability to capture 3D 180 degree VR imagery to a single recording. These can be recorded at up to 8K DCI 30p and 4K DCI 60p. With its compact, sleek, folded optical design, this dual L-series lens can combine imagery onto a single image sensor, providing amazing results into a single file. Now you can easily swap from traditional stills to stereoscopic 3D capture, eliminating the need to sync and stitching files giving you seamless workflow. It is lightweight and easy to carry and has a durable design with dust and water resistance.
Give a new dimension to your story
The RF5.2mm F2.8 L Dual Fisheye lens gives you the ability to create an immersive 3D experience. When imagery captured with this lens is viewed on compatible head mount displays such as the Oculus Quest 2 and more, a viewer can feel like they are a part of the story that you create. The lens with its folded optical design and separate left and right optical systems so can capture stereoscopic 3D imagery with a 190-degree field of view to a single full-frame image sensor.
VR with ease
This lens is a powerful and convenient solution to traditional VR systems. Traditional systems record 3d scenes with two separate fisheye lenses onto two different cameras or sensors giving you two different files. This lens saves you time and energy by eliminating a lot of post-production issues such as image-stitching, audio sync, encoding, and more.
EOS VR System
Canon's EOS VR System is comprised of this lens plus an EOS R5 camera with updated firmware (version 1.5.0 or later) optimized for stereoscopic 3D 180° VR shooting and a paid subscription-based software (Canon's EOS VR Utility or EOS VR Plug-in for Adobe Premiere Pro – both currently in development.
Camera Firmware, Apps, and Utilities
To improve the user's experience with the RF5.2mm F2.8 L Dual Fisheye lens, special features have been added to the firmware to optimize VR shooting. The new firmware will enable features such as Magic Window which is an on-screen overlay that assists the user in framing the central position. You can also magnify at 6x and 15x magnification. You can even swap between both lenses with a single tap of the info button. The Canon Camera Connect and EOS Utility further support the features mentioned above and also allows you to remotely view and record content. The EOS VR Utility, a standalone software application, or the EOS VR Plug-in for Adobe Premiere Pro assists with the conversion of fisheye to equirectangular imagery and processes and exports at various resolutions according to your needs. The EOS VR Utility and VR plugin both are in development.
190-degree field of view
With an impressive 190° optical field of view, this provides the viewer the ability to change their viewing angle within the recorded scene, allowing them to look around with the use of a compatible head mount display.
Convenient Workflow
Canon's EOS VR Utility software can easily convert footage from dual fisheye to an equirectangular file that can be exported in various file formats and resolutions. For Adobe users, the EOS VR Plug-in allows for equirectangular conversion to be done within the Adobe Premiere Pro.
Large Aperture
The RF5.2mm F2.8 L Dual Fisheye Lens is designed with dual optical systems with coordinated electronically controlled apertures. These provide a highly adaptable aperture range – allowing you to go from a bright f/2.8 aperture in low light shooting to a deep depth of field of f/16 for more control of your exposure in brighter environments.
Ratings and reviews
Canon RF 5.2mm f/2.8L Dual Fisheye 3D VR Lens
Canon RF 5.2mm f/2.8L Dual Fisheye 3D VR Lens
---