Casio Privia PX-S7000 88-Key Digital Piano (Harmonious Mustard) with Morphing AiR Sound Source
Casio Privia PX-S7000 88-Key Digital Piano (Harmonious Mustard)
Casio Privia PX-S7000 88-Key Digital Piano (Harmonious Mustard)
Casio Privia PX-S7000 88-Key Digital Piano (Harmonious Mustard)
Casio Privia PX-S7000 88-Key Digital Piano (Harmonious Mustard)
Casio Privia PX-S7000 88-Key Digital Piano (Harmonious Mustard)
Casio Privia PX-S7000 88-Key Digital Piano (Harmonious Mustard)
Casio Privia PX-S7000 88-Key Digital Piano (Harmonious Mustard)
Casio Privia PX-S7000 88-Key Digital Piano (Harmonious Mustard)
Casio Privia PX-S7000 88-Key Digital Piano (Harmonious Mustard)
Casio Privia PX-S7000 88-Key Digital Piano (Harmonious Mustard)
Casio Privia PX-S7000 88-Key Digital Piano (Harmonious Mustard) with Morphing AiR Sound Source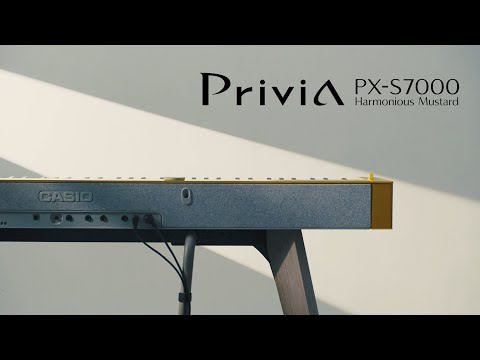 Casio Privia PX-S7000 88-Key Digital Piano (Harmonious Mustard) with Morphing AiR Sound Source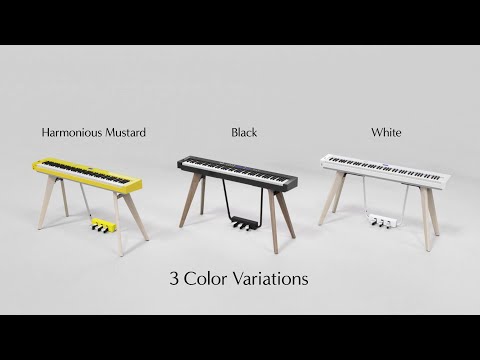 Product highlights:
Fully integrated design with clean, simple lines looks chic
Designed to fit seamlessly into any interior style
Spatial Sound System technology uses 4 full-range speakers
Stunningly authentic acoustic grand piano tones
Smart Hybrid Hammer Action Keyboard
Tactile pedals close in feel to an acoustic grand piano
Top panel LED illumination to display
Transparent acrylic music stand included
Pedal unit and metal frame match the body color of the piano
Space-saving form with a front-to-back depth of just 242 mm
---
Need help deciding?
Contact us right now!
Call or chat with one of our experts.
In the box
Casio Privia PX-S7000 88-Key Digital Piano (Harmonious Mustard) with Morphing AiR Sound Source
Casio Privia PX-S7000 88-Key Digital Piano (Harmonious Mustard)
Wireless MIDI and Audio Adapter (WU-BT10)
Stand
Fixed 3-Pedal Unit
Key Cover
Music Stand
AC Adapter (AD-E24250LW)
Limited 1-Year Warranty
Casio Privia PX-S7000 88-Key Digital Piano (Harmonious Mustard) with Morphing AiR Sound Source
The Casio Privia PX-S7000 88-Key Digital Piano is a true work of craftsmanship that redefines the standard of digital pianos. This model combines integrated aesthetics with built-in pedals and stands that can be appreciated from any angle, with Casio's innovative sound technologies and the authentic touch of a grand piano. Feel the quality and beauty of the PX-S7000 and discover a new level of harmony it brings to your life.
Design
It is designed to fit seamlessly into any interior style. Clean lines and design simplicity look great from any angle and echo the traditional aesthetics and quality of an acoustic piano, including the integrated stand and pedals. The Stand is finished in wood grain with lines that match the piano itself. The color of the speaker fabric matches the body color. This digital piano includes a transparent acrylic music stand. The pedal unit and metal frame all match the body color of the piano, as does the included piano cover. Its flat top panel features an LED touch ring, touch buttons, and a backlit LCD. This is a space-saving Casio with a front-to-back depth of just 242 mm.
Sound Source
Multi-Dimensional Morphing AiR Sound Source produces a wide range of exceptionally detailed and playable tones, including grand piano tones that include the rich resonances of the acoustic instrument. The overtones generated by the piano strings for each of the 88 keys and the resulting complex body resonances are faithfully produced to create a beautifully rich and vivid piano tone. The piano tone subtly changes over time and with every nuance of the player's style, from the softest of touches to powerful, spirited playing. Open String Resonance and Aliquot (additional strings in the upper octaves that are not struck by the hammer, but sympathetically vibrate for a richer tone) Resonance modeling.
Sound System
Casio's new Spatial Sound System technology uses four independently driven full-range speakers to produce a sound capable of filling your performance space. The speaker support structure is constructed from a rigid wood/resin composite material. The outer speakers are equipped with Side Enhancing Diffusers that help produce a wider sound despite the compact size of the piano. The Surround function creates a natural, expansive aural experience by adjusting the individual output of the four speakers, each tuned for a particular element of sound in space (selectable from three types). The Hall Simulator/Reverb function recreates the acoustic properties of concert halls and other performance spaces producing a realistic sense of presence. The piano Position function adjusts the sound elements from each speaker according to the location of the digital piano (mounted on the stand, near a wall, in the center of the room, or on a table).
Tones
There are 400 built-in tones, including acoustic, electric pianos, organs, strings, and more. It includes a group of a carefully crafted acoustic piano and electric piano tones as heard on specific well-known hit songs.
Keyboard
The Smart Hybrid Hammer Action Keyboard allows for highly expressive playing from soft to forceful touch through a combination of advanced physical keyboard mechanisms and digital control technology. Like an acoustic grand piano, the key mechanism uses the weight of the hammers so that the keys feel light when played softly but still responsive when played forcefully. White keys are made from a high-quality spruce wood/resin composite material for a natural feel and premium finish. White keys are finished to recreate the natural grain of ivory, while the black keys feature a new matte finish that closely resembles ebony wood in both looks and feel. The 88-Key Digital Scaling technology means that volume is individually controlled for each key in response to how hard it is played, with the touch weight varying along the length of the keyboard, like a grand piano. Ten-step Hammer Response setting allows you to adjust the timing of the sound relative to how the key is struck and which register is being played, like an acoustic piano. Three levels of Key Off Response control how quickly the sound decays when a key is released. A slightly more legato or staccato feel can be selected to suit the song. The Key Off Simulator controls how quickly the sound fades after a key is released depending on how quickly the key is released. This attention to the finest nuances of how a grand piano responds to the player's expression is typical of the PX-S7000.
Real-Time Control
Two assignable EX buttons allow real-time switching of settings or calling up Casio Music Space app functions while playing, and the Assignable Control button for real-time tone variation while playing. Pitch Bend Wheel to smoothly raise or lower the pitch of currently sounding notes. A commercially available expression pedal can be connected and assigned tone parameters for real-time control.
Experience
Arpeggiator for playing arpeggiated chords and other musical phrases from keys held down. When using Layer or Split, the arpeggiator can be switched on/off independently for each part. The Layer function helps with the layering of two different tones across the entire keyboard. The Split function for splitting the keyboard between upper and lower zones with different tones assigned to each. It features a Duet function for splitting the keyboard into two zones of the same register. Registration allows you to save and recall a snapshot of the piano's current settings, including tone, layer, split, and effect settings. The Piano Remote Controller in the Casio Music Space app can be used to set tone and effect parameters. Metronome function with various patterns from basic click and bell sounds to 20 different drum patterns. Tempo can be set numerically as BPM or by tempo markings such as Moderato.
Ratings and reviews
Casio Privia PX-S7000 88-Key Digital Piano (Harmonious Mustard) with Morphing AiR Sound Source
Casio Privia PX-S7000 88-Key Digital Piano (Harmonious Mustard) with Morphing AiR Sound Source
---