Celestron Astro Fi 90 mm Wi-Fi Refractor Telescope Bundle
Celestron Astro Fi 90 mm Wi-Fi Refractor Telescope Bundle
Celestron Astro Fi 90 mm Wi-Fi Refractor Telescope
Celestron Astro Fi 90 mm Wi-Fi Refractor Telescope
Celestron Astro Fi 90 mm Wi-Fi Refractor Telescope
d68334bc1a3e9ce47b875c544d9c6562c7b3169689518044feb1aa8a0257ed44-54b98b402076eccd.jpg
Celestron NeXYZ Universal 3-Axis Smartphone Adapter
Focus Photo and Video Backpack
Celestron Astro Fi 90 mm Wi-Fi Refractor Telescope Bundle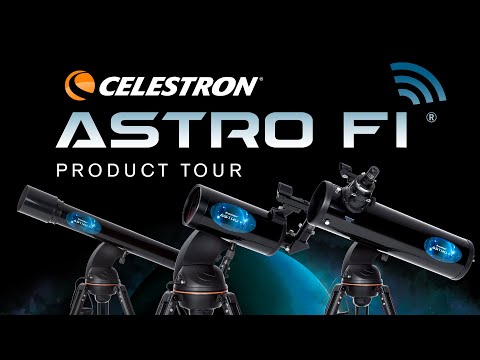 Product highlights:
90 mm refractor
Control SkyPortal app with smart phone or tablet
Slews to object on your device screen
Creates its own wireless connection
SkyAlign technology
Starting at $46/mo or 0% APR.
---
---
---
Need help deciding?
Contact us right now!
Call or chat with one of our experts.
In the box
Celestron Astro Fi 90 mm Wi-Fi Refractor Telescope
Celestron Astro Fi 90 mm Wi-Fi Refractor Telescope
90mm Refractor OTA
Tripod with Accessory Tray
StarPointer Finderscope and Bracket
10mm Kellner Eyepiece (1.25 inch)
25mm Kellner Eyepiece (1.25 inch)
1.25 inch Star Diagonal
Small Dust Cap for Focuser
Large Dust Cap for Objective Lens
Battery Pack (Batteries not Included)
Two Year Warranty
Celestron NeXYZ Universal 3-Axis Smartphone Adapter
Celestron NexYZ 3-Axis Universal Smartphone Adapter
2 x Expandable Adapter Rings for Microscope Eyepieces
Limited 2-Year Warranty
Celestron 94306 PowerSeeker Accessory Kit
15 mm Kellner Eyepiece - 1.25"
9 mm Kellner Eyepiece - 1.25"
#80A Blue Filter - 1.25"
#25 Red Filter - 1.25"
Moon Filter - 1.25"
Microfiber Cleaning Cloth
Carrying Case
Celestron Astro Fi 90 mm Wi-Fi Refractor Telescope Bundle
Innovative WiFi technology powers the Astro Fi, but it's the optics inside the telescope tube that make it a Celestron. This bundle from Focus Camera includes the Celestron Astro Fi 90 mm Wi-Fi Refractor Telescope, a smartphone adapter, an accessory kit, and a professional backpack.
Celestron Astro Fi 90 mm Wi-Fi Refractor Telescope
Innovative WiFi technology powers the Astro Fi, but it's the optics inside the telescope tube that make it a Celestron. For over 50 years, they've led the industry in optical technology - and they put that experience into the Astro Fi 90. This 90 mm refractor with fully coated optics offers dazzling views of craters on the Moon, the rings of Saturn, the Great Red Spot on Jupiter, the Orion Nebula, the Hercules Globular Cluster and so much more.
Trusted Celestron Optics
Celestron is not only changing the way you experience astronomy, but they're also changing the way you interact with the night sky. The Astro Fi 90 mm Refractor is a fully featured telescope that can be controlled with your smart phone or tablet using the free Celestron SkyPortal app. Celestron's SkyPortal app replaces the traditional telescope hand control for a 100% wireless experience. Just hold your smart device up to the night sky. When you find an object you'd like to view, tap the screen. Your Astro Fi telescope automatically slews to the object, while the screen displays information about it. It's never been more fun to explore the universe!
Wireless
The Astro Fi 90 creates its own wireless connection, so it can communicate with your device even in remote locations where WiFi or cellular networks aren't available. Getting ready to observe is quick and painless thanks to Celestron's award-winning SkyAlign technology. Center any three bright objects in the eyepiece, and your telescope calculates its position. You can even generate a Sky Tour of all the best celestial objects to view based on your exact time and location.
Celestron NeXYZ Universal 3-Axis Smartphone Adapter
The Celestron NexYZ 3-Axis Universal Smartphone Adapter is a great first step into the world of astroimaging or digiscoping. This adapter provides you everything you need to capture sharp, detailed images and video. NexYZ fits any eyepiece from 35 to 60mm in diameter, including telescopes equipped with 1.25 or 2 inch eyepieces, spotting scopes, monoculars, and binoculars. It also attaches to microscopes with the addition of an included adapter ring, which takes the usable diameter down to 25mm, the size of a standard microscope eyepiece.
Compatibility
NexYZ accommodates a wide range of smartphones including the larger devices like the iPhone 11 Plus and latest Samsung Galaxy devices. The phone platform is fully adjustable and can fit any device—usually with the case still on. The secure platform stands up to the weight of these heavier devices with ease, thanks to NexYZ's strong metal spring and threaded twist lock.
3-Axis Adjustment
What makes NexYZ's patented design different from other smartphone adapters? It's the three-axis adjustment. Most adapters rely on you placing your phone perfectly on the platform and only offer limited adjustment in two axes. But NexYZ gives you the power to place your phone on the platform, center it over the eyepiece with the X and Y knobs, and then move up or down over the eyepiece until you have the entire field of view in your shot.
Quick Adjustment
And even though this adjustment is ultra-precise, it's still quicker and easier to use than other adapters. From start to finish, the process only takes about 30 seconds, including the time it takes to insert the phone into NexYZ, attach NexYZ to an eyepiece, start the camera app, and center the camera over the eyepiece using the knobs. You can also switch your image from portrait to landscape simply by turning the padded eyepiece clamp and readjusting the X-, Y-, and Z-axis to realign your phone with the eyepiece.
Easy To Use
Switching phones, eyepieces, or optical instruments, requires only slight adjustments to re-center the camera over the new eyepiece. If multiple people want to capture a shot through your optic, NexYZ's simple spring-loaded clamps make it easy to remove one device and replace it with another in seconds. NexYZ is the ideal solution for star parties and group bird walks where everyone wants their own shot of the action.
Celestron 94306 PowerSeeker Accessory Kit
This economical seven-piece accessory kit enhances the performance of the Celestron PowerSeeker, or most any other telescope. The kit includes two full-size 1.25" eyepieces, three eyepiece filters, a cleaning cloth, and a case. Inside the plastic, foam-lined carry case you'll find these accessories.
Eyepieces
The 15 mm and 9 mm eyepieces can be used in any telescope with a 1.25" focuser. Each eyepiece is fully coated to improve light transmission and protect the optics. The 15 mm Kellner eyepiece offers a nice medium magnification view in most telescopes, and the 9 mm provides high magnifications, great for the Moon and planets, especially when seeing conditions are good. The Celestron PowerSeeker Accessory Kit is a great way to see more with any telescope.
Filters
Colored filters can be used to bring out details on a celestial body's surface or cloud structure. All of the filters can be used on any 1.25" eyepiece with the proper filter threads. The #80A is a medium-blue filter that enhances the contrast of the cloud belts on Jupiter and the polar ice caps on Saturn. It can also increase contrast on the Moon, but will color shift The #25 filter is a red filter that define the polar ice caps on Mars. The #25 Red filter blocks much of the light, so it is best used on bright objects with a large aperture telescope. The Moon filter blocks a portion of the light from the Moon so the detail are sharper and better highlighted
Cleaning Cloth & Case
The microfiber cleaning cloth is the best and fastest way to clean your optics, as it leaves no residue. The black plastic carry case has die-cut foam inside to protect and cushion each of the included accessories.
Koah Sling Camera Bag
The Sling Camera Bag from Koah is a semi-soft camera backpack that fits one DSLR camera and up to three lenses and accessories. Designed with efficient organization in mind, this compact camera bag packs a lot into its portable frame.
Spacious yet Compact
The Koah Sling Camera Bag features a spacious, padded main compartment with adjustable padded dividers. The bag also comes with an additional zippered accessory organizer for holding gear like a spare battery, charger, HDMI cable, and memory card.
Ergonomic Design
With the adjustable padded shoulder strap and sturdy design, you can take the Sling Camera Bag with you virtually anywhere. It also features an ergonomic cushioned handle for extra comfort.
Ratings and reviews
Celestron Astro Fi 90 mm Wi-Fi Refractor Telescope Bundle
Celestron Astro Fi 90 mm Wi-Fi Refractor Telescope Bundle
---