DJI RSC 2 Gimbal Stabilizer
DJI RSC 2 Gimbal Stabilizer
DJI RSC 2 Gimbal Stabilizer
DJI RSC 2 Gimbal Stabilizer
DJI RSC 2 Gimbal Stabilizer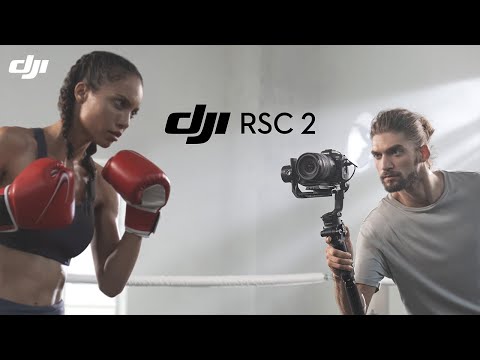 Product highlights:
Designed for Mirrorless & DSLR Cameras
6.6 lb Payload for Camera & Accessories
Foldable into Underslung Mode
1" OLED Screen
DJI Titan Stabilization Algorithm
2 x NATO Mounts
SuperSmooth Feature for Long Lenses
Support for RavenEye 1080p Transmitter
Standard & Portrait Modes
Creative Functions Such as Roll 360
---
Need help deciding?
Contact us right now!
Call or chat with one of our experts.
In the box
DJI RSC 2 Gimbal Stabilizer
1 x Gimbal (Built-In Battery)
1 x USB-C Charging Cable (40 cm)
1 x Lens Support
1 x Multi-Camera Control Cable (USB-C, 30 cm)
1 x Multi-Camera Control Cable (Sony Multi, 30 cm)
1 x Multi-Camera Control Cable (Micro-USB, 30 cm)
1 x Multi-Camera Control Cable (Mini-USB, 30 cm)
2 x Hook-and-Loop Strap
2 x D-Ring Camera Mounting Screw 1/4-inch-20
1 x Screw 1/4-inch-20
1 x Camera Riser
1 x Extended Grip/Tripod (Plastic)
DJI RSC 2 Gimbal Stabilizer
The DJI RSC 2 is designed for mirrorless and DSLR cameras and supports up to 6.6 lb camera and accessories loads. The motors of the RSC 2 are 50% more powerful than those of the Ronin-SC, which is the predecessor of this redesigned gimbal. A key feature of the RSC 2 is a foldable design that allows for switching to underslung mode.
The gimbal head folds down from the gimbal handle, and you can then flip the gimbal around and use it underslung for low-angle shots, without having to attach or detach anything. The gimbal handle remains built-in and has built-in batteries that provide up to a 14-hour runtime. The batteries can be charged via the handle while the gimbal is being used in operation (except in extreme high/low temperatures). The handle supports PD and QC 2.0 fast-charging protocols and can be recharged in approximately two hours using an 18W fast charger, not included. The foldable design of the gimbal also allows for easier transport and storage.
The RSC 2 also features a 1-inch OLED black-and-white screen and has a horizontal dial on the front for focus adjustments with the same hand you hold the gimbal with. On each side of the gimbal handle is a NATO mount with M4 threads for attaching dedicated accessories such as an optional briefcase handle.
The RSC 2 uses the DJI Titan stabilization algorithm, an improved version over their previous one that provides better stabilization and fluidity. There's also a built-in feature called SuperSmooth that complements the algorithm when working with up to 100mm zoom lenses. SuperSmooth compensates for micromovements and increases torque to achieve smooth motion with long lenses.
Ratings and reviews
DJI RSC 2 Gimbal Stabilizer
DJI RSC 2 Gimbal Stabilizer
---