Fender American Vintage II 1973 Stratocaster 6-String Electric Guitar (Right-Hand, Lake Placid Blue)
Fender American Vintage II 1973 Stratocaster 6-String Electric Guitar (Right-Hand, Lake Placid Blue)
Fender American Vintage II 1973 Stratocaster 6-String Electric Guitar (Right-Hand, Lake Placid Blue)
Fender American Vintage II 1973 Stratocaster 6-String Electric Guitar (Right-Hand, Lake Placid Blue)
Fender American Vintage II 1973 Stratocaster 6-String Electric Guitar (Right-Hand, Lake Placid Blue)
Fender American Vintage II 1973 Stratocaster 6-String Electric Guitar (Right-Hand, Lake Placid Blue)
Fender American Vintage II 1973 Stratocaster 6-String Electric Guitar (Right-Hand, Lake Placid Blue)
afc759e4b60a253310e81adffa953f206520afc030715a801bac494d6e3fd09c-5da44a811c782c4c.jpg
7393b1b6384d3c928c95fd6d793e20b0583f0f3f44821bda5eaa36cdee337635-5157f218c245e74e.jpg
Fender American Vintage II 1973 Stratocaster 6-String Electric Guitar (Right-Hand, Lake Placid Blue)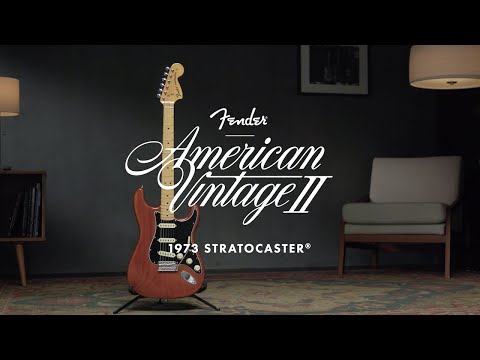 Product highlights:
6-string electric guitar
Ideal for right-handed use
Features an ash body
Features a gloss polyurethane finish
Pure vintage '73 single coil strat pickups
'C'-shaped neck profile
Pure vintage synchronized tremolo with bent steel saddles
Pure vintage single-line 'Fender deluxe' tuners
Trendy lake placid blue color
Round laminated rosewood fingerboard
Starting at $206/mo or 0% APR.
---
---
---
Need help deciding?
Contact us right now!
Call or chat with one of our experts.
In the box
Fender American Vintage II 1973 Stratocaster 6-String Electric Guitar (Right-Hand, Lake Placid Blue)
Fender American Vintage II 1973 Stratocaster 6-String Electric Guitar (Right-Handed, Lake Placid Blue)
Chrome Bridge Cover
Limited 2-Year Warranty
Fender American Vintage II 1973 Stratocaster 6-String Electric Guitar (Right-Hand, Lake Placid Blue)
The Fender American Vintage II series presents a remarkably accurate take on the revolutionary designs that altered the course of musical history. Built with period-accurate bodies, necks and hardware, premium finishes and meticulously voiced, year-specific pickups, each instrument captures the essence of authentic Fender craftsmanship and tone.
History of Stratocaster
By 1973, the now-classic CBS design cues had become standard spec and were widely used by rock, funk, fusion, and prog players around the world. Weekly late-night music television shows like Don Kirshner's Rock Concert, in concert, and Midnight Special provided more exposure than ever for Fender instruments, further cementing the Stratocaster's dominance as a pop culture phenomenon.
Unmatched Features and Quality
The American Vintage II 1973 Stratocaster exudes the spirit of the era and is outfitted with a trio of Pure Vintage '73 staggered pole pickups, a large headstock with dual string trees, a convenient 'Bullet' style truss rod nut, and a three-bolt neck plate with Micro-Tilt mechanism. The 'C'-shaped maple neck plays like a dream with a 7.25-inch radius rosewood or maple fingerboard and vintage tall frets. The guitar is offered in a classic Aged Natural color. Additional features include vintage-style 'F' stamped tuners and a synchronized tremolo with bent steel saddles and cold rolled steel block.
Vintage Fender Tone and Feel
The instruments in the American Vintage II series are direct descendants of the original Fenders- designed for players with a fine appreciation for vintage Fender tone and feel and built with unmatched quality, down to the last screw. These are Fender electrics in their purest form - Fender American Vintage II, the stuff of legends.
Ash Body
Ash is a warm-toned wood with clear, bright highs, defined midrange, focused lows, and a beautiful grain pattern.
7.25-Inch Radius Fingerboards in Round-Laminated Rosewood
The 7.25-inch radius fingerboard provides the comfortable playing feel of a vintage instrument, while vintage-tall frets make it easier to bend notes without fretting out.
Vintage Accurate 1973 'C'-Shape
In vintage years, the shape and thickness of Fender guitar necks varied tremendously. The American Vintage II Series offers a variety of authentic neck profiles from Fender's past.
Pure Vintage '73 Stratocaster Pickups
Specially voiced to reproduce the authentic sound and performance of individual model years, Pure Vintage pickups are constructed just like pickups from Fender's golden years. Materials include cloth-covered wire, fiber bobbins, and alnico magnets.
Vintage-Style Hardware
From the bridge to the string tree and tuning machines, every piece of American Vintage II hardware is manufactured to look, sound, and function just like it did on the originals. Much of the American Vintage II hardware is still manufactured on the original '50s and '60s era Fender factory machines.
Ratings and reviews
Fender American Vintage II 1973 Stratocaster 6-String Electric Guitar (Right-Hand, Lake Placid Blue)
Fender American Vintage II 1973 Stratocaster 6-String Electric Guitar (Right-Hand, Lake Placid Blue)
---