Fujifilm Instax Link 2 Nintendo Switch Special Edition Smartphone Printer
Fujifilm Instax Link 2 Nintendo Switch Special Edition Smartphone Printer
Fujifilm Instax Link 2 Nintendo Switch Special Edition Smartphone Printer
Fujifilm Instax Link 2 Nintendo Switch Special Edition Smartphone Printer
Fujifilm Instax Link 2 Nintendo Switch Special Edition Smartphone Printer
Fujifilm Instax Link 2 Nintendo Switch Special Edition Smartphone Printer
Fujifilm Instax Link 2 Nintendo Switch Special Edition Smartphone Printer
Fujifilm Instax Link 2 Nintendo Switch Special Edition Smartphone Printer
Fujifilm Instax Link 2 Nintendo Switch Special Edition Smartphone Printer
Fujifilm Instax Link 2 Nintendo Switch Special Edition Smartphone Printer
Fujifilm Instax Link 2 Nintendo Switch Special Edition Smartphone Printer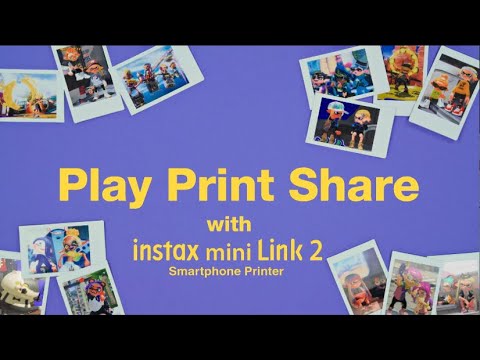 Product highlights:
Small and lightweight
Connects wirelessly via Bluetooth to your smartphone
For use with Instax Mini instant film only (sold separately)
Prints 2 x 3 inch Instax Mini photos
Requires free Instax Mini Link for the Nintendo Switch app
Print in-game screenshots of your favorite Nintendo characters
Add frames, filters, and sketches to your images
Print photos from your Smartphone videos
Add doodles and more using INSTAXAiR Augmented Reality
Record your drawing and print a QR code on your Instax image
Pay over time for orders over $300 with Affirm.
---
---
---
Need help deciding?
Contact us right now!
Call or chat with one of our experts.
In the box
Fujifilm Instax Link 2 Nintendo Switch Special Edition Smartphone Printer
Fujifilm Instax Link 2 Nintendo Switch Special Edition Smartphone Printer
USB Cable
Limited 1-Year Warranty
Fujifilm Instax Link 2 Nintendo Switch Special Edition Smartphone Printer
Unleash your creative side with the Fujifilm Instax Mini Link 2 Nintendo Switch Special Edition Smartphone Printer. Loaded with special templates and a range of other features, add a vibrant touch to any image. You can easily turn game battle screenshots to your liking. Simply use a themed frame around an INSTAX image of you and your friend's customized characters and surprise them to bits.
Experience Augmented Reality at its Best
Enter the world of interesting characters with the click of a download button. The free Instax Mini Link 2 for Nintendo Switch App lets you customize your app layout. Whether you are a Super Mario fan or an ardent follower of Splatoon3, there is no limit to your creativity with this app. Connect your smartphone wirelessly via Bluetooth to the Instax Mini Link 2 Special Edition Smartphone Printer to indulge yourself in the all-new Augmented Reality drawing App called INSTAXAiR. Unravel your creative side as you incorporate eye-catching symbols and characters ranging from hearts, bubbles, and trophies to Super Mario characters. Hold down the feature button to add these characters to your images by drawing them in mid-air. You may choose to add these drawings to your INSTAX image or even add an element of mystery by recording a secret video of your drawing and then adding it as a printable QR code to your INSTAX photo. Explore your options and have a gala time!
Small but Mighty
Take a simple match test with this smartphone printer to explore the host of features the small but mighty device has to offer for Nintendo Switch gamers. Simply answer some questions with your friends and print these results adorned by the screenshot of you and your friends' favorite online squad. Or explore the range of 'interesting' prints and add one to a treasured video to still print it as a photo.
Convenient Fingertip Controls
Use the downloaded app to control your smartphone's camera with the printer. The power button becomes your control one-click snap button for taking pictures, and you can zoom in and out by simply tilting the printer. Reprint your favorite images by tilting the printer upside down. Make way for this printer that will change the way you print and share pictures.
Ratings and reviews
Fujifilm Instax Link 2 Nintendo Switch Special Edition Smartphone Printer
Fujifilm Instax Link 2 Nintendo Switch Special Edition Smartphone Printer
---