Fujifilm MKX 50-135mm T2.9 Lens
Fujifilm MKX 50-135mm T2.9 Lens
Fujifilm MKX 50-135mm T2.9 Lens
Fujifilm MKX 50-135mm T2.9 Lens
Fujifilm MKX 50-135mm T2.9 Lens
Fujifilm MKX 50-135mm T2.9 Lens
Fujifilm MKX 50-135mm T2.9 Lens
Fujifilm FUJINON MKX 50-135mm T2.9 Lens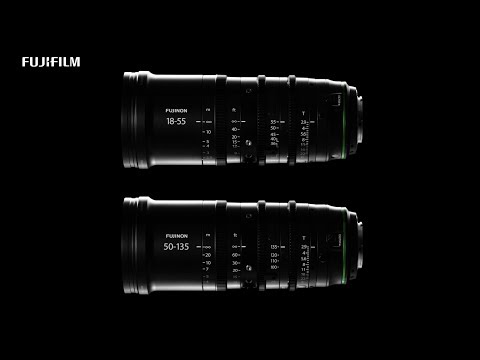 Product highlights:
Focal length: 50-135mm
Aperture range: T/2.9
X-mount lens
Covers 27mm-84mm focal range in Super 35mm format
Compatible with X Series cameras
Advanced optics with 22 glass elements in 17 groups
6 super ED lens elements and 2 ED lens elements
Short flange focal distance with adjustment function
Corrects distortion and color/brightness shading
Achieves various color expressions with Film Simulation modes
---
Need help deciding?
Contact us right now!
Call or chat with one of our experts.
In the box
Fujifilm FUJINON MKX 50-135mm T2.9 Lens
Fujifilm FUJINON MKX50-135mm T2.9 Lens
Tripod Collar Foot
Support Foot
Zoom Lever
Lens Cap FLCP-82
Lens Rear Cap RLCP-001
Lens Hood
Wrapping Cloth
Fujifilm FUJINON MKX 50-135mm T2.9 Lens
The MKX 50-135mm T2.9 cinema style lens is bringing the X Series of mirrorless digital cameras to new heights. Fujifilm has been designing and crafting superior lenses for 80 years and with the Fujinon MKX 50-135mm lens they have brought a fan favorite cinematic lens to the X-Mount format. With a sleek and lightweight design this lens covers a focal distance range from 76mm to 206mm for outstanding, cinematic, and professional videos and photos every time. Crafted to be the ultimate movie making tool, this lens minimizes shift while zooming and reduces lens breathing for amazing video every time.
Superbly Crafted
The MKX 50-135mm T2.9 utilizes an optical design comprising of 22 lens elements in 17 groups, with 2 ED (extra-low dispersion) lens elements and 2 Super ED elements. This helps reduce chromatic and spherical aberrations for cleaner pictures and videos.
It has T2.9 aperture that holds across the entire focal and zoom ranges to facilitate beautiful bokeh effects and eliminate the need to re-adjust lighting. The compact and lightweight body has been designed as the perfect partner for an X-Mount camera.
Superior Video Shooting
This lens has been designed to bring out broadcast and cinematic film style quality. To eliminate the need to re-focus after zooming in or out, the front focusing group of lens elements and the zooming group of lens elements are driven independently from one another to suppress focus shift while zooming. This unique optical and mechanical approach means there is no time lag as seen in an electrical control system. The use of the front inner-focusing system controls lens breathing (change of angle of view during focusing) to achieve smoother focusing.
Easy to Use
The Fujinon MKX 50-135mm T2.9 lens features three fully manual operation rings to enable independent adjustment of focus, zoom and iris (aperture). The focus ring features a rotation of a full 200 degrees to facilitate precise focusing. This enables intuitive operations which cannot be attained with an electrical mechanism.
Ratings and reviews
Fujifilm FUJINON MKX 50-135mm T2.9 Lens
Fujifilm FUJINON MKX 50-135mm T2.9 Lens
---