Garmin Lily Sport Smartwatch for Women (Rose Gold Bezel with Light Sand Case and Silicone Band)
Garmin Lily Sport Smartwatch for Women (Rose Gold Bezel with Light Sand Case and Silicone Band
Garmin Lily Sport Smartwatch for Women (Rose Gold Bezel with Light Sand Case and Silicone Band
Garmin Lily Sport Smartwatch for Women (Rose Gold Bezel with Light Sand Case and Silicone Band
Garmin Lily Sport Smartwatch for Women (Rose Gold Bezel with Light Sand Case and Silicone Band
Garmin Lily Sport Smartwatch for Women (Rose Gold Bezel with Light Sand Case and Silicone Band
Garmin Lily Sport Smartwatch for Women (Rose Gold Bezel with Light Sand Case and Silicone Band
Garmin Lily Sport Smartwatch for Women (Rose Gold Bezel with Light Sand Case and Silicone Band
Garmin Lily Sport Smartwatch for Women (Rose Gold Bezel with Light Sand Case and Silicone Band
Garmin Lily Sport Smartwatch for Women (Rose Gold Bezel with Light Sand Case and Silicone Band)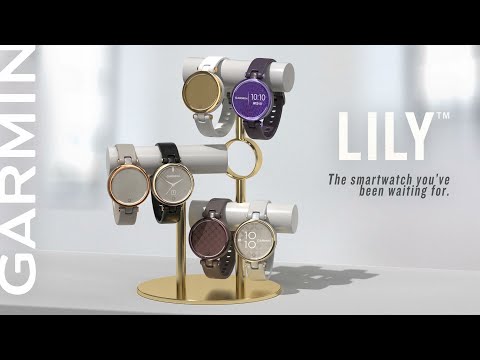 Product highlights:
Stylish patterned lens with smart touchscreen
Lightweight watch case that measures just 34mm
Fashionable smartwatch keeps track of your health stats
Pairs with your compatible smartphone
See texts, calls and calendar reminders on a watch
Tracks your steps, sleep, stress and energy levels
Apps for yoga, walking, cardio, mindful breathing and more
Sync and customize with Garmin Connect app
Offers up to 5 days of battery life
Pay over time for orders over $300 with Affirm.
---
---
---
Need help deciding?
Contact us right now!
Call or chat with one of our experts.
In the box
Garmin Lily Sport Smartwatch for Women (Rose Gold Bezel with Light Sand Case and Silicone Band)
Garmin Lily Sport Smartwatch for Women (Rose Gold Bezel with Light Sand Case and Silicone Band)
Charging Cable
Documentation
Garmin Lily Sport Smartwatch for Women (Rose Gold Bezel with Light Sand Case and Silicone Band)
The Garmin Lily Sport Smartwatch is classic enough to make a statement, while modern enough to keep you connected. You haven't seen a smartwatch this small that can do this much. With a flick of your wrist, the stylish patterned lens reveals a bright touchscreen display, and when you're done, the display disappears.
Small, Stylish and Smart
This stylish smartwatch is the first of its kind from Garmin with an incredibly small 34mm watch case and a stylish patterned lens. Just tap or twist your wrist to reveal the bright touchscreen display.
Body Battery Energy Monitoring
See your body's energy levels throughout the day so you can find the best times for activity and rest.
Wrist-Based Heart Rate
The watch constantly samples your heart rate and can be set to alert you if it stays too high or too low.
Stress Tracking
Find out if you're having a calm, balanced or stressful day. Relax reminders will even prompt you to do a short breathing activity when you're feeling stressed.
Women's Health Tracking
Use the Garmin Connect app to track your menstrual cycle or pregnancy. Log symptoms, get exercise and nutrition education and more. Even see and log details on your wrist.
Hydration Tracking
Log your daily fluid intake right on your watch. You can even set up hydration reminders, create goals and view your history and progress in the Garmin Connect app.
Respiration Tracking
See how you're breathing throughout the day, during sleep and during breathwork and yoga activities.
Pulse Ox Sensor
Use the Pulse Ox sensor to spot check your blood oxygen saturation at any point during the day, or for part of the night as you sleep, to show how well your body is absorbing oxygen.
Mindful Breathing
When you want to relax or focus, you can start a breathwork activity, and this watch will track your stress and respiration to help you get a better understanding of how you're breathing.
Advanced Sleep Monitoring
Get a full picture of how you're sleeping, with a breakdown of your light, deep and REM sleep stages as well as Pulse Ox and respiration data.
Smart Notifications
Receive emails, texts and alerts right on your watch when paired with a compatible smartphone. You can even respond to texts if you have an Android phone.
Safety and Tracking Features
When your watch and phone are paired, you can send an assistance alert with your live location to your selected contacts.
Calendar View
When paired with your compatible smartphone you can easily check what your day holds right from your wrist.
Sync with Garmin Connect
See your health and fitness information all in one place. The Garmin Connect app is a thriving online community where people on the go can connect, compete and share.
Fitness Tracking
While you get out and about, Lily tracks steps, calories burned, intensity minutes and more.
Sports Apps
Switch up your workout routine with activity profiles for yoga, Pilates, cardio, mindful breathing, strength training and more.
Connected GPS
Connect to your compatible smartphone's GPS so you can get accurate tracking during outdoor walks, rides and runs.
Battery Life
Stay on the move longer with a battery life that lasts up to 5 days in smartwatch mode.
Water Rating
This watch is swim-rated, making it perfect for a swim, shower or spa day.
Small, Light Design
With a lightweight watch case that measures just 34mm, you'll only notice it on your wrist because it looks so good.
Ratings and reviews
Garmin Lily Sport Smartwatch for Women (Rose Gold Bezel with Light Sand Case and Silicone Band)
Garmin Lily Sport Smartwatch for Women (Rose Gold Bezel with Light Sand Case and Silicone Band)
---