Glorious Workbench Working Console with Pull-Out Drawer and Revolvable Trays (Black) (Box 1 and 2)
Glorious Workbench Working Console with Pull-Out Drawer and Revolvable Trays (Black)
Glorious Workbench Working Console with Pull-Out Drawer and Revolvable Trays (Black)
Glorious Workbench Working Console with Pull-Out Drawer and Revolvable Trays (Black)
Glorious Workbench Working Console with Pull-Out Drawer and Revolvable Trays (Black)
Glorious Workbench Working Console with Pull-Out Drawer and Revolvable Trays (Black)
Glorious Workbench Working Console with Pull-Out Drawer and Revolvable Trays (Black)
Glorious Workbench Working Console with Pull-Out Drawer and Revolvable Trays (Black)
Glorious Workbench Working Console with Pull-Out Drawer and Revolvable Trays (Black) (Box 1 and 2)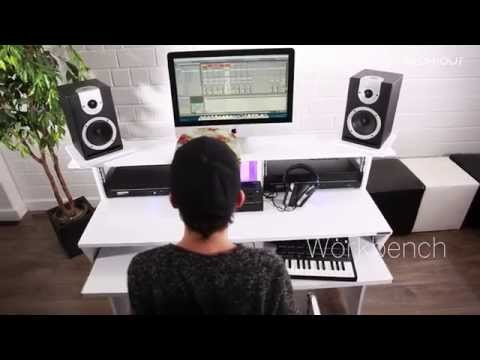 Product highlights:
Easily assembled and conveniently stored
Pull-out drawer for keyboards
Revolvable trays for monitor speakers
Convenient producing workstation for home and project studios
Available in a timeless black color
Features a sturdy wood construction
Features 2 x 4 RU 19-inch racks
Space for CDs, DVDs, books with cavities for cable guiding
Space for PC keyboard, mouse, studio mixer, and more
Second level for large displays
---
Need help deciding?
Contact us right now!
Call or chat with one of our experts.
Glorious Workbench Working Console with Pull-Out Drawer and Revolvable Trays (Black) (Box 1 and 2)
The Glorious Workbench Working Console in Black is the new working console for home and studio projects that comes with a clearly arranged design. The Glorious manufacturers have worked flat out thus creating a working station that is equally intended for producers, studio engineers, and hobby musicians. The construction is extremely robust, the assembly can be carried out in no time and the classy piece of furniture offers space for important objects from the producing daily routine. Whether an amplifier, a studio mixer, a microphone, a keyboard, headphones, or other equipment: Everything can be stored ergonomically and it all remains within reach.
Comfortable Workflow
The pull-out drawer is very convenient for placing a master keyboard on top. When no longer required the drawer can easily and comfortably be pushed back thus facilitating a comfortable workflow for the PC keyboard and equipment. Elaborate cavities for cable guides are self-evident and there is also enough space for DVDs, books, or accessories.
Revolvable Trays
On the elevated second level, it is possible to smoothly place large TFT displays. On the left and right sides of this monitor space, you can find two designated trays for studio monitor speakers. The chief attraction is that these trays are revolvable. This way it is possible to find the perfect position for the speakers.
Ratings and reviews
Glorious Workbench Working Console with Pull-Out Drawer and Revolvable Trays (Black) (Box 1 and 2)
Glorious Workbench Working Console with Pull-Out Drawer and Revolvable Trays (Black) (Box 1 and 2)
---