Godox AD100pro Pocket Flash
Godox AD100pro Pocket Flash
Godox AD100pro Pocket Flash
Godox AD100pro Pocket Flash
Godox AD100pro Pocket Flash
Godox AD100pro Pocket Flash
42149c5Godox AD100pro Pocket Flash05b6edc30a82a4f1f9c0b05222b48a14d5f0fc3f1b0d5e635dc0632ae-b36633f1cfeca2b2.jpg
Godox AD100pro Pocket Flash
Godox AD100pro Pocket Flash
Godox AD100pro Pocket Flash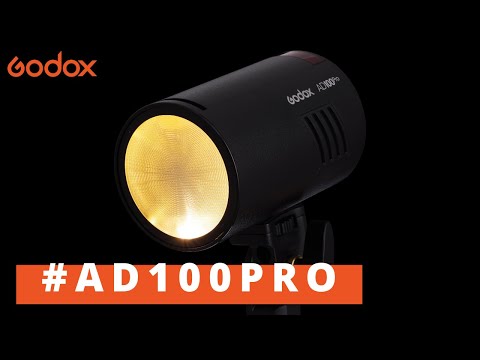 Product highlights:
100Ws strong power
1.5 second recycle tìme
Test button, System X, sync cord, optical triggering
Up to 360 full-power flashes
High-speed sync up to 1/8000 second
Powered via massive 2600mAh battery
3.5mm sync cord jack and Wireless control port
Pay over time for orders over $300 with Affirm.
---
---
---
Need help deciding?
Contact us right now!
Call or chat with one of our experts.
In the box
Godox AD100pro Pocket Flash
Godox AD100Pro Pocket Flash
Charger
Battery
USB Cable
Portable Bag
AD-E2 Bracket
Instruction Manual
Godox AD100pro Pocket Flash
The Godox AD100Pro Pocket Flash is a compact speedlight flash with a removable lithium-ion battery that will give you up to 360 full-power flashes and thousands of lower power flashes. Pocket Flash AD100Pro, inherits the advantages of Godox AD series and great compatibility with Godox wireless System X 2.4GHz. It is extremely compact and lightweight, relieving the burden of photographers when shooting on locations. The 100Ws strobe fills the gap of photographers` demand for an off-camera strobe at this power level.
Expanded Versatility
Its round and magnetic flash head delivers a natural circular flash spread, compatible with the various accessories and light shaping tools, achieving all light effects that you need.
Incredibly Small
AD100Pro adopts can-shaped design, making it super compact and portable. At just 524g with the battery included, you can throw it into your pocket or bag, making your photography journey a breeze.
Wireless Freedom
Being built-in the same Godox System X 2.4G like other AD members, AD100Pro can work with major camera brands by connecting with X1, X2, or Xpro trigger.
Compatibility
You'll also benefit from this flash with its wide range of light shapers, aspiring more possibilities in your creative photography journey.
AK-R1
Quick attaching the magnetic AK-R1 accessories kit maximizes the capabilities of its flash head.
Bowens
By attaching the flash to S2 bracket, the AD100Pro is able to work with various Bowens-mount modifiers.
Powerful Battery
Its massive 2600mAh battery gives you up to 360 full-power flashes on a charge, elevating your shooting experience.
Firmly Attached
There are two slots underneath the flash AD100Pro, so you can adjust the position of the flash to get the full use of the strobe when using it with an umbrella or hold it in hand.
Ratings and reviews
Godox AD100pro Pocket Flash
Godox AD100pro Pocket Flash
---