Godox Lux Junior Retro Flash
Godox Lux Junior Retro Flash
Godox Lux Junior Retro Flash
Godox Lux Junior Retro Flash
Godox Lux Junior Retro Flash
Godox Lux Junior Retro Flash
Godox Lux Junior Retro Flash
Godox Lux Junior Retro Flash
Godox Lux Junior Retro Flash
Godox Lux Junior Retro Flash
Godox Lux Junior Retro Flash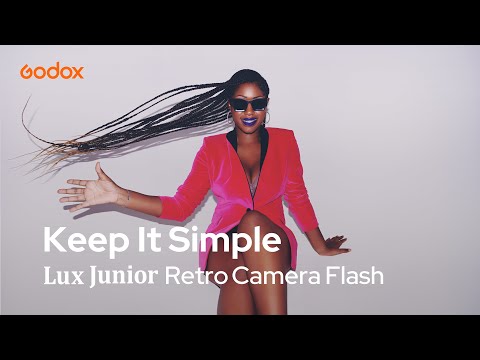 Product highlights:
Enjoyment and excitement of taking every shot
Pure classic design and function
Vintage style speak for itself
With M mode create your iconic style
Pay over time for orders over $300 with Affirm.
---
---
---
Need help deciding?
Contact us right now!
Call or chat with one of our experts.
In the box
Godox Lux Junior Retro Flash
Godox Lux Junior Retro Flash
Retro Camera Flash
Storage Bag
Triggering Cable
Godox Lux Junior Retro Flash
Godox Lux Junior Retro Flash is all about the pure enjoyment and excitement of taking every shot. Let's keep things simple and go rogue. Forget about the rule or the standard, just click the shutter and enjoy the moment.
Go with You
Lux Junior is a flash you are eager to take out wherever you go. It goes with you not only as it brings the pure pleasure of photography but also goes with you in style. Capture your impromptu moments or detect your kindred spirits with Lux Junior.
Timeless In Design
As a tribute to the timeless aesthetics that transcends time, Lux Junior presents the pure classic design and function to explore the essence of photography along with you and turn your nostalgia into tangible beauty.
Retro In Style
With a vintage style speak for itself, the Lux Junior can be part of your everyday outfit. When you capture art with Lux Junior, you become art yourself.
Keep It Easy
With the widely compatible A mode to help you calculate the proper exposure, you can immerse into the creative pleasure either with digital cameras or film cameras. Capture the present happiness with your hearts, and leave the rest to the Lux Junior.
Keep It Fun
With M mode, explore more creative possibilities, create your iconic style, or rediscover the pure pleasure when you take the first picture in life.
Ratings and reviews
Godox Lux Junior Retro Flash
Godox Lux Junior Retro Flash
---