Godox XProIIN TTL Wireless Flash Trigger Compatible with Nikon Cameras
Godox XProIIN TTL Wireless Flash Trigger Compatible with Nikon Cameras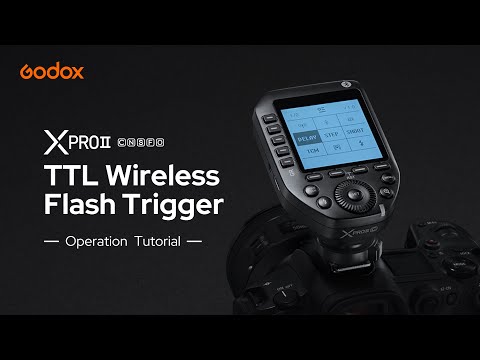 Product highlights:
TTL auto flash support
Godox wireless X system
Frequency: 2.4GHz
Transmission range: 328'
Extra-large backlit LCD panel
Bluetooth connectivity
High-speed sync with shutter speeds up to 1/8000s
Quick-release lock design
Compatible with Nikon Series Cameras (i-TTL autoflash)
Multi-shooting function
Instant TCM conversion from TTL to manual mode
Godox Flash App
Pay over time for orders over $300 with Affirm.
---
---
---
Need help deciding?
Contact us right now!
Call or chat with one of our experts.
In the box
Godox XProIIN TTL Wireless Flash Trigger Compatible with Nikon Cameras
Godox XProIIN TTL Wireless Flash Trigger Compatible with Nikon Cameras
Godox XProIIN TTL Wireless Flash Trigger Compatible with Nikon Cameras
More Efficient, More Professional
Inheriting all the professional functions of the Godox flash triggers, the XProll supports TTL auto flash across brands, stroboscopic flash, second-curtain sync mode, and allows for high-speed sync with shutter speeds up to 1/8000s. Moreover, it's designed with an extra-large LCD screen and intuitive display panel to enhance your working efficiency.
Stable and Seamless Connection
Thanks to the 2.4GHz Godox wireless X system, the XProll helps you achieve seamless and stable control of the Godox lighting system. It features multi-channel triggering with 16 groups on one of 32 channels and can then access 99 wireless ID settings, with stable signal transmission from up to 328′ away.
The highlight is the scanning function to automatic searching for the spare channels and IDs in a complex shooting environment, which will save you much time for preparation.
Godox Flash App
What also keeps evolving is Godox Flash App. To provide users with a more flexible and intuitive controlling process, the Xproll is built with Bluetooth connectivity so that the lighting parameters can be easily adjusted on your iPhone, Android smartphone, or tablet. The Goodx Flash App is designed with a clear and easy-to-use interface which will bring you unparalleled working
efficiency.
Join Hands with Sekonic Light Meter
The XProll established collaboration with Sekonic L-858, the light meter built-in with Godox 2.4G module. So you are able to adjust the flash parameter directly on L-858 after metering, ensuring a much more precise and convenient lighting process.
Quick-Release Lock
A quick-release lock was updated to a quick lever, ensuring the speedlight locked safely in place while used on camera. When off-camera, this design helps you unlock it easily and quickly.
Multi-shooting Function
The multi-shooting function of Xproll allows several cameras to control the same lighting scheme. Under this feature, it becomes easy for you to shoot one object from different camera positions at the same time or share the same lights with a group of photographers.
TCM Instant Conversion
The Godox innovative TCM function brings you smooth operation and lets you immerse into your creative passion. The two-way TCM allows for instant conversion from TTL mode to Manual mode with retained parameters and back again. This function helps you get the proper exposure value quickly and ensure every fire with an accurate and coherent expression of light.
Optional Single Contact Triggering
This TTL wireless flash trigger also provides an optional single
contact function, featuring more speedy and sensitive triggering. So when you shoot in burst mode, the single contact triggering will ensure the flash are triggered in rapid succession with much
shorter intervals.
Ratings and reviews
Godox XProIIN TTL Wireless Flash Trigger Compatible with Nikon Cameras
Godox XProIIN TTL Wireless Flash Trigger Compatible with Nikon Cameras
---