GVM SD600D Bi-Color LED Spotlight
GVM SD600D Bi-Color LED Spotlight
GVM SD600D Bi-Color LED Spotlight
GVM SD600D Bi-Color LED Spotlight
GVM SD600D Bi-Color LED Spotlight
GVM SD600D Bi-Color LED Spotlight
GVM SD600D High Power Color LED Studio Video Spotlight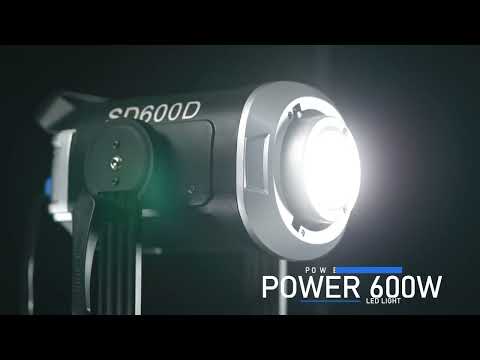 Product highlights:
Ultimate color powerful LED dual spotlight
Power up to 600W with standard lampshade
Features robust construction and efficient update capability
Light and compact design
2700 to 7500K Bi-color temperature step-less control
CRI 97+ restores the true colors of beauty
Offers 12 different light source types
Bluetooth APP control function
---
Need help deciding?
Contact us right now!
Call or chat with one of our experts.
In the box
GVM SD600D High Power Color LED Studio Video Spotlight
GVM SD600D High Power Color LED Studio Video Spotlight
Limited 1-Year Warranty
GVM SD600D High Power Color LED Studio Video Spotlight
The GVM SD600D High Power Color LED is an ultimate color-powerful LED dual spotlight. Easily control the fill light, allowing you to shoot the desired effect on the spot. Features robust construction and efficient update capability. Therefore, it can provide stable and consistent high output for a long time the long-term output.
High-Quality Bi-Color Temperature Lamp Beads
The GVM-SD600D has a wider range of color temperature than conventional spotlights. The CRI 97+ restores the true colors of beauty and has more realistic color reproduction. This light help capture vivid pictures wherein the colors are more realistic, and the texture of light and shadow is better. The cool and warm Bi-color mode lets your work have more color imagination and make creative videos easily. Consuming only 600W of power, this light produces a bright, daylight-balanced, uniform scene, about the same as the equivalent output of a 4000W+ tungsten lamp.
Powerful Primary Color COB Lamp Beads
The upgraded SD series adopts high-quality COB LED lamp beads specially developed for the photo and video industry. Delivers impressive ultra-bright, sun-like balanced output from a single 600W COB LED lamp bead. This enables accurate color rendering on-camera, the most realistic reproduction of object colors. To obtain professional results, it also provides you with natural and vivid shooting results. It can ensure that the color layout in the matrix system and the CCT mixing in the beam area is uniform without color separation.
Thousand Step Dimming Accuracy
The adjustment range of SD600D brightness is 0.1 to 100 percent with 0.1 brightness accuracy. The finer dimming accuracy can provide a smoother dimming process and more accurate color. With the new algorithm model of GVM, the light intensity can be adjusted step by step, and the dimming process can be completed quickly and smoothly.
Dimming Curve
The GVM-SD600D has four dimming curves (linear/logarithmic/exponential/S curves) that can be selected to meet the technical requirements of studio devices, such as TV news and entertainment production sets. High standard and professional light control technology is also the best choice for variety shooting and movie making.
Constant Power 600W
This conventional Bi-color temperature spotlight uses two different lamp beads to adjust the color temperature, which results in different powers for different color temperatures. While adjusting the color temperature of the two lamp beads, the SD600D device will also automatically calculate the appropriate power, so that the power of different color temperatures is consistent. While adjusting the color temperature, it also keeps the brightness unchanged. In the case of maximum brightness, the constant power of 600W can be kept unchanged.
CCT Mode
White light color temperature adjustment mode, adjustable light intensity, and color temperature. CCT (Related Color Temperature) mode allows accurate color temperature adjustment from a comfortable warm color of 2700K to a dark sky blue of 7500K to match any lighting conditions, such as warm shades of a terrible sunset, cool shades of bright sunlight in summer, or blue moonlight in a clear, dark sky. The green/magenta correction function in CCT mode allows fine-tuning matching with other HMI, LED, or fluorescent lamps or accurate color balancing for different camera sensors.
Light Matching Mode
This mode offers 12 different light source types and saves a lot of adjustment time when you need a particular light source.
White Light Effect Mode
This mode provides eight white light effects: lightning, CCT cycle, candle, bad light bulb, TV, paparazzi, explosion, and breathing light.
APP Intelligent Control System
The SD600D device has a mobile phone Bluetooth APP control function and can be controlled using your smartphone. One or more SD600D devices can be controlled simultaneously. The app can also control the lighting effects. This saves a lot of time and effort when operating multiple SD600D LED Lights in the field.
DMX-512 Interface
Using the built-in industry standard DMX-512 interface, the SD600D unit can be integrated into more complex studio installations that require standardized remote control methods, such as news sets, talk shows, or entertainment production. The unit is equipped with two XLR-3P DMX ports (input/output crews provide a loop) that allow the panel to be connected to the DMX lighting console. The GVM-SD600D LED provides DMX control mode with 8-bit and 16-bit precision.
Intuitive User Interface
The GVM SD600D LED Light uses an intuitive panel control interface to operate the lights quickly and easily. The digital display shows all the useful information for the user to adjust and customize the desired values. Three large selection knobs can be easily handled (even with gloves) to fine-tune the required parameters.
Excellent Brightness
An ultra-high color rendering index of 97+ helps restore the truest colors. It can enrich the cold and warm light and provide the most natural light perception. Make this luminaire suitable for studio and large-scale film crews' on-site use. It provides you with vivid shooting effects and provides users with a hassle-free experience.
Ratings and reviews
GVM SD600D High Power Color LED Studio Video Spotlight
GVM SD600D High Power Color LED Studio Video Spotlight
---