Kanto PDX650 Full Motion Articulating TV Mount
Kanto PDX650 Full Motion Articulating TV Mount
Kanto PDX650 Full Motion Articulating TV Mount
Kanto PDX650 Full Motion Articulating TV Mount
Kanto PDX650 Full Motion Articulating TV Mount
Kanto PDX650 Full Motion Articulating TV Mount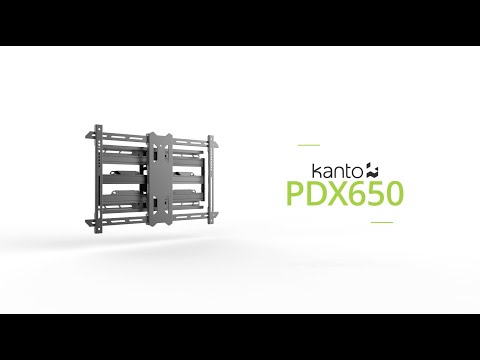 Kanto PDX650 Full Motion Articulating TV Mount
Product highlights:
Fits most flat panel TVs from 37" to 75"
Supports TVs up to 125 lb (57 kg)
Accommodates VESA sizes from 200x100 to 600x400
Accessible tilt mechanism provides a +15° to -3° tilt angle
80° of swivel in either direction, dependent on screen size
Sits 2" (5cm) from wall; extends up to 21.8" (55.3cm) from wall
Integrated cable management and adjustable horizontal leveling
22" (56cm) dual stud wall plate accommodates 16" stud spacing
Solid steel construction with durable powder coated finish
Includes installation manual and all mounting hardware
Pay over time for orders over $300 with Affirm.
---
---
---
Need help deciding?
Contact us right now!
Call or chat with one of our experts.
In the box
Kanto PDX650 Full Motion Articulating TV Mount
Kanto PDX650 Full Motion Articulating TV Mount
Paper wall template
Installation Manual
Mounting hardware
5-year warranty
Kanto PDX650 Full Motion Articulating TV Mount
This is probably what you imagined before you started shopping for a mount. The PDX650 from Kanto is a full motion TV wall mount that allows your flat screen TV to sit a mere 2″ from the wall, providing options galore. Its generous tilt and swivel capabilities are complemented by 21.8" of extension, making it easy to place your TV in the most optimal position. This mount is a winner through and through and will meet even your highest expectations. Exceptionally strong yet lightweight enough to make installation a breeze - it comes pre-assembled for a simple installation - this TV wall mount will ensure your TV remains safe and secure.
Highlights of the PDX650 include:
TV Size 37" - 75"
Max Weight 125 lb (57 kg)
Supports VESA 200x100 - 600x400
Extends 2" - 21.8" (5cm - 55.3cm)
Low Profile Design
With a unique tilt head designed to nestle into the frame, the PDX650 TV wall mount will let you push your flat screen TV within 2" of the wall. The H frame assembly provides maximum access for cable connections.
Fits VESA Sizes to 600 x 400
With its adjustable bracket arms, the PDX650 accommodates VESA sizes from 200x100 to 600x400.
Supports Up to 125 Pounds
With its solid steel construction, this durable TV wall mount is designed and tested to hold up to 125 pounds. Even at maximum weight and full extension, your TV will remain in place with no sag.
Extends Almost 22 Inches
Even with its low-profile design the PDX650 can extend almost 22" from the wall, giving you plenty of room for tilting and swiveling your TV or for reaching out from alcoves.
Tilt Mechanism
The accessible tilt mechanism makes it easy to angle your TV up to 15° forward or 3° backward. Once you've found the best viewing angle, tighten the nuts to secure your TV in place.
Swivels 80 Degrees in Either Direction
The articulating arms allow you to pivot your TV up to 80° in either direction, depending on your TV size, allowing you to achieve the perfect viewing angle and a wide range of swivel.
Sleek Cable Management
Four cable management raceways are attached to the bottom of the wishbone arms. These are easily accessed by loosening a screw, twisting them to the side, laying in the cable, and re-inserting the screw. Route multiple cables down one side, or power and HDMI down opposite sides - whatever works best.
Everything You Need
Kanto supplies you with everything except a toolbox to ensure that your installation goes smoothly. Instruction manuals are provided in English, French, and Spanish, as well as the parts you need to mount your TV safely and securely. Easy-to-follow online videos and phone support are available to assist you along the way.
Convenient Bolt Pack
The PDX650 includes a labeled bolt pack with a variety of bolt diameters and lengths, as well as several spacers to allow a custom fit. Lag bolts and concrete anchors are provided so you can mount to wood studs and concrete walls.
Ratings and reviews
Kanto PDX650 Full Motion Articulating TV Mount
Kanto PDX650 Full Motion Articulating TV Mount
---