abfd80f3f54ddfb3f12a35bd6b1998aeb1b48c6f681cadb31b80014e02127e3b-a41e89ecbad9d558.jpg
KORG B2SP 88-Key Natural Weighted Hammer Action Digital Piano with Stand and Three-Pedal Unit
Knox Gear Furniture Style Flip-Top Piano Bench (Black)
Knox Gear Rechargeable Music Stand Light (Black)
Focus on Piano - A Concise Approach to Learning & Playing (with CD)
Knox Gear Rechargeable Music Stand Light (Black)
Knox Gear Rechargeable Music Stand Light (Black)
Knox Gear Rechargeable Music Stand Light (Black)
Knox Gear Rechargeable Music Stand Light (Black)
KORG 88Key Piano w/ Stand + 3 Pedal bundle w/ Knox Bench, Light & Piano Book/CD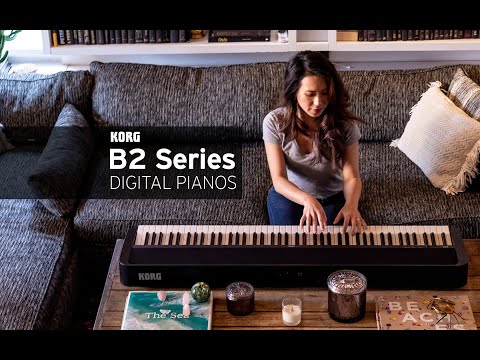 Product highlights:
88-Key (A0-C8) Natural Weighted Hammer Action Keyboard
Piano sound engine with 12 carefully selected sounds
Keyboard that reproduces the touch of an acoustic piano
Elegantly designed dedicated stand
Three-pedal unit attaches to the stand
Spacious music rest for sheet music and mobile devices
Equipped with versatile I/O for a range of connectivity
Generous bundle of software for practicing or creative work
Convenience and functionality with simplicity of a real piano
Listen to recorded performance via built-in speakers
---
Need help deciding?
Contact us right now!
Call or chat with one of our experts.
In the box
KORG B2SP 88-Key Natural Weighted Hammer Action Digital Piano with Stand and Three-Pedal Unit
KORG B2SP 88-Key Natural Weighted Hammer Action Digital Piano
AC Adapter
Music Stand
Damper Pedal
Owner's Manual
Knox Gear Furniture Style Flip-Top Piano Bench (Black)
Knox Gear Rechargeable USB Clip-On Music Stand Light (Black)
Knox Gear Rechargeable Music Stand Light (Black)
3' Micro USB Cable
User Manual
Knox Gear 1-Year Warranty
Focus on Piano - A Concise Approach to Learning and Playing (with CD)
KORG 88Key Piano w/ Stand + 3 Pedal bundle w/ Knox Bench, Light & Piano Book/CD
This model includes everything you need to enjoy playing the piano seriously. Focus Camera bundles this piano with LED music light, a flip-top piano bench, and a piano tutorial book.
KORG B2SP 88-Key Natural Weighted Hammer Action Digital Piano with Stand and Three-Pedal Unit
Packed with everything a pianist needs, the KORG B2SP is a full piano setup for home or classroom. This set packages the B2 Digital Piano with an easily assembled stand and a three-pedal unit that gives you the experience of playing a real grand piano. It includes everything you need to enjoy playing the piano seriously.
Perfect for Beginners and Experts
The B2 Digital Piano focuses on accessibility and ease of use. Perfect as a first piano for a new player, special attention has been paid to give you an experience of playing a real piano. It comes packed with carefully selected sounds, starting with legendary grand pianos from around the world. Software and a variety of connectors come standard for a truly modern piano experience.
Elegantly Designed Dedicated Stand
A dedicated stand that matches the color of the B2 is included. Two horizontal boards act as beams to securely join both legs. The elegant design conceals the player's feet and has the look of a refined upright piano.
Three-Pedal Unit Attaches to the Stand
The B2SP comes with a three-pedal unit. This pedal unit attaches easily to the included stand, so that you can focus on playing in comfort.
Sound Engine with 12 Carefully Selected Sounds
The B2 provides a total of 12 sounds that cover a diverse range of genres, starting with five pristine piano sounds from its new piano engine, and also providing richly distinctive electric piano, organ, harpsichord, and strings. In addition to capturing the enormous tonal range of a grand piano, the meticulously-sampled sounds created for the B2 Digital Piano also reproduce the sympathetic string vibrations and damper resonances that give the piano its character.
German Piano Sounds
This world-famous German-made piano is beloved by countless pianists for its diverse range of expressive power. With stunning sonic dynamism and vibrance, its palette ranges from brilliant highs to chillingly detailed lows. The provided sounds include the majestic German concert piano and a Classic piano noted for its delicate and complex tone.
Italian Piano Sounds
An Italian-made piano with beautifully bright expression and satisfying sustain. Pianists around the world are enraptured by its rich resonance and sensitive responsiveness. The sounds provided are Italian concert piano, a bright-toned Jazz piano, and a beautifully resonant Ballad piano.
Electric Piano Sounds
An e-piano reproduces the differences in tone that arise from your playing dynamics and even simulates the sound of a key-off. Conjure electric piano sounds that are instantly recognizable from decades of great music.
Organ Sounds
Sounds appropriate for rock and jazz are provided, as well as the sublime sound of a real recorded pipe organ.
Reproduces the Touch of an Acoustic Piano
This instrument uses a Natural Weighted Hammer Action (NH) keyboard that reproduces the same feel that results from the hammers on a real acoustic piano, where the low register is heavier and the high register is lighter. The keybed is sensitive and responds to nuanced touch at the tip of your fingers.
Versatile I/O for a Range of Connectivity
The B2 provides connectors that allow using the instrument in conjunction with a variety of software and music hardware. This opens new possibilities for enjoying a digital piano that helps users create great music. You can use a USB cable (sold separately) to connect this instrument's USB port to your smartphone, tablet, or computer, and use the B2 Piano as a MIDI keyboard to play an external sound module.
Listen to Recorded Performance via Built-in Speakers
Your performance on the piano can be recorded as music data on your smartphone, and sound from your smartphone can be heard through built-in speakers. You can also output your favorite music smartphone through the piano speakers and enjoy playing along. Just connect it to the smartphone's headphone jack. Even when you're not playing the piano, you can use the B2 as a home speaker system for enjoying music.
Convenient Design with Easy Functions
The metronome can be turned on/off with one touch. There's a touch control function that gives you three levels of adjustment for how your playing dynamics affect the sound (light, normal, heavy), letting you perform with a response that suits your own style. It also gives you two effects setting: reverb and chorus.
Included Music Rest for Sheet Music and Mobile Devices
The removable music rest features a wide, spacious design. There's enough space to spread out several sheets of music, reducing your need to turn pages while performing. You can also place sheet music beside your iPad or other tablet.
Knox Gear Furniture Style Flip-Top Piano Bench (Black)
Sit comfortably while you practice and master your instrument with the Knox Gear Flip-Top Piano Bench. Our deluxe design combines a 1.5" padded cushion with a flip-top seat, providing extra storage space for music books and accessories. Keep your sheet music handy and within easy reach during practice and performance.
Features & Benefits
1.5" Ultra-Soft Padded Cushion
Flip Top Storage Lid
Spacious Hidden Storage
Adjustable Leg Levelers
Height: 19"
Flip-Top Storage Compartment
The flip-top compartment is easy to open with a high-quality locking hinge that keeps the top upright in a vertical position as you remove or return items from storage. Safely store sheet music, books, metronome, tuner, dust cloths, cleaning supplies, and more.
Padded Comfort & Professional Style
Progress requires practice, and spending hours in front of the piano can be difficult on a hard and stiff stool. Our ultra-soft padded seat cushions tailbone and backside for continuous comfort and optimal support during long hours of practice. Black leather on black metal legs offers stylish charm and a professional appearance.
High-Quality All-Metal Construction
The legs are made from metal for extra sturdiness and stability. 19-inch height comfortably supports up to 250 lbs with adjustable leg levelers for uneven surfaces. Rubber footpads prevent bench rocking and scooting and protect floors from scratches. You can also use the bench as a proper vanity stool when applying makeup and for other instrument practice. Perfect for small spaces and cramped quarters.
Easy DIY Assembly
We've included a tool and easy-to-follow instructions that make assembly a breeze. No experience or extra tools required.
Knox Gear Rechargeable USB Clip-On Music Stand Light (Black)
Fine-tune your lighting with the Knox Gear Rechargeable Music Stand Light. Perfect for a sheet music stand for a piano or other orchestral instrument, this versatile music light will illuminate your performance space or practice area according to your needs.
Nine Brightness + Color Temperature Settings
Use this convenient light during music lessons, rehearsals, and performances to light up sheet music notes and the performance space. The light source is stable with no flickering or blinking. Easily change temperature and brightness with one button: short press to change brightness, long press to adjust the temperature. Choose between gentle white light, natural daylight, and eye-friendly amber to reduce eye strain and vision fatigue.
Professional Anti-Glare Beam Direction
19 LEDs create a wider illumination area to illuminate up to four A4 pages at once. The anti-glare shield design directs bright light away from the audience's view and backs down to the sheet music.
Flexible and Versatile
Thanks to its flexible neck and padded adjustable clamp, the light can be adjusted and moved in an endless number of ways. The 11-inch gooseneck can be twisted and bent to the precise direction you need, and the clamp attaches to most stands and desks.
USB Wireless Performance
Adding to its versatility is the USB cable-free configuration, so clutter and cable management are no longer an issue. When it needs a charge, simply detach the light and plug it into any USB port. A single charge delivers up to 5 ½ hours of continuous lighting.
Focus on Piano - A Concise Approach to Learning and Playing (with CD)
This approach to playing the piano is intuitive and concise. Here you have everything you need to start playing like a pro! This book makes learning to play the piano approachable and fun for anyone. It contains everything from lessons and theory to technique and solos. It splits learning down into simple chunks of information that make learning practical and natural. Whether you are a novice, or simply want to brush up on your basics, this book has something for you.
About the Arranger
Jonathon Robbins grew up in a traditional family where he was the youngest of three children. Music was always present in the home since all three children played multiple instruments. Jonathon began studying the piano at age seven and studied privately with a focus in classical literature. At age of twelve, he supplemented his piano studies by learning to play the trumpet. Although piano was still his main instrument, at seventeen years old, he traveled to Europe to tour and play the trumpet with a nationally recognized ensemble. When it came time for college, family values led him away from the study of music, but after a year of college, Jonathon realized that his interests did not lie elsewhere. Jonathon chose a path that led him to Florida where he continued studying piano and began teaching students of all ages. While in Florida, he played and toured with a local stage band led by Fred Dean, a veteran of the "Big Band" era. After three years, Jonathon auditioned at several world-class institutions and chose the New England Conservatory, in Boston, where his studies included Piano Performance, Music Theory, Piano Pedagogy, and Music History. Jonathon spent many years teaching and performing in Boston while attending school. Later, armed with a world-class music education, he attended the Berklee College of Music to study writing, arranging, and film scoring. Soon after, Jonathon co-produced many music videos and live concerts, and served as the Music Director for the popular local television show, "Night Time with Tom Sage."
Ratings and reviews
KORG 88Key Piano w/ Stand + 3 Pedal bundle w/ Knox Bench, Light & Piano Book/CD
KORG 88Key Piano w/ Stand + 3 Pedal bundle w/ Knox Bench, Light & Piano Book/CD
---