Korg Nu:Tekt NTS1 DIY Digital Synthesizer Kit
Korg Nu:Tekt NTS1 DIY Digital Synthesizer Kit
Korg Nu:Tekt NTS1 DIY Digital Synthesizer Kit
Korg Nu:Tekt NTS1 DIY Digital Synthesizer Kit
Korg Nu:Tekt NTS1 DIY Digital Synthesizer Kit
Korg Nu:Tekt NTS1 DIY Digital Synthesizer Kit
Korg Nu:Tekt NTS1 DIY Digital Synthesizer Kit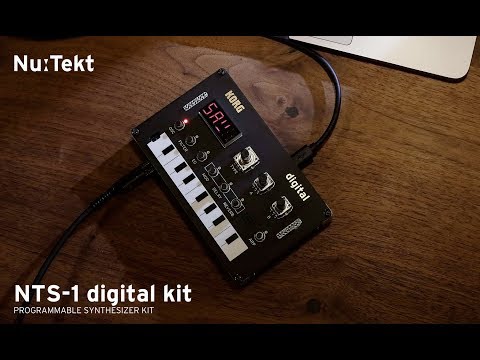 Korg Nu:Tekt NTS1 DIY Digital Synthesizer Kit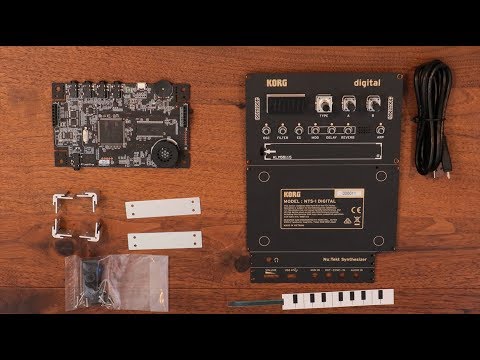 Product highlights:
Monophonic synthesizer and multi-effect engine
Ribbon keyboard
Display with combinations of buttons/knobs
Wide selection of filters
Easy to assemble with the included tool
Three onboard effects
Complete with audio input, sync I/O, and MIDI input
Compatible with the Korg logue-SDK
Pay over time for orders over $300 with Affirm.
---
---
---
Need help deciding?
Contact us right now!
Call or chat with one of our experts.
In the box
Korg Nu:Tekt NTS1 DIY Digital Synthesizer Kit
Korg Nu:Tekt NTS1 DIY Digital Synthesizer Kit
USB Cable
Screwdriver
Owner's Manual
Korg Nu:Tekt NTS1 DIY Digital Synthesizer Kit
The Korg Nu:Tekt NTS-1 digital KIT is a unique, flexible, and easy DIY synthesizer that you can easily assemble yourself (tool included), without any soldering. The first of its kind from Korg's DIY-focused Nu:Tekt brand, NTS-1 packs a powerful synth and multi-effects engine into a compact and highly portable form factor. Its DIY nature means it's also very customizable. Explore the possibilities!
A Wide Range of Sonic Possibilities
Belying its size, the Nu:Tekt NTS-1 features a digital oscillator inspired by the MULTI engine as found on the acclaimed prologue and minilogue xd, along with an extremely capable arpeggiator including multiple ranges, scales, and modes, plus dedicated spatial, modulation, and delay sections, each with multiple settings to explore. The NTS-1 is a powerful, flexible, fun-to-explore synth with a single monophonic digital oscillator, one multimode filter, on EG, three LFOs, three stereo effect processors, and full arpeggiator.
Benefits
The main oscillator can produce Sawtooth, Triangle, Square, and VPM waveforms, and can load custom oscillators created from Korg's logue SDK, which means it's compatible with content created for prologue and minilogue xd. These waveforms can be easily re-shaped and adjusted just by simply turning a couple of knobs.
Filters
A wide selection of filters (Low pass 2/4-pole, High pass 2/4-pole, Bandpass 2/4-pole, and OPEN mode, all with resonance) give you control over the overall tone of the oscillator.
Onboard Effects
The three onboard effects units are inspired by those on KORG's minilogue xd, which itself took onboard effects to a whole new level. Numerous reverbs, modulation effects, and delays are available to blend and edit at will, to finish out your sound creations.
Features
NTS-1 also offers a fun and practical arpeggiator with several patterns available. Scales and numerous note orders including a Random mode are also available to create new and original ideas on the fly. The pattern length can be adjusted (from 1 to 24 steps) and, when synced externally, the step duration can also be adjusted (16th to 64th notes)
Compatibility
NTS-1 is also completely compatible with the logue-SDK, making it possible to create custom oscillators and effects or upload any of the content available for minilogue xd and prologue.
Interface
Thanks to its ribbon controller, simple interface, and display, the NTS-1 can be played and enjoyed very intuitively. Deeper parameter changes are also possible with several combinations of buttons/knobs, furthering the possibilities. Don't let its size fool you; NTS-1 goes deep but keeps it all easily accessible.
Customize the Experience
The fun isn't over after you finish building the NTS-1. The screws on the side panels are long enough to let you easily attach custom side panels. Get creative and use the NTS-1 in a wide variety of setups. Equipped with audio in, sync in, sync out and midi in connectors, the NTS-1 can easily be used in combination with other hardware and software.
Versatile
It's also USB micro-B powered so you can plug it directly into a portable battery and take it anywhere with you! You can also connect to your computer's USB port or directly to the power supply using a standard USB power plug.
Ratings and reviews
Korg Nu:Tekt NTS1 DIY Digital Synthesizer Kit
Korg Nu:Tekt NTS1 DIY Digital Synthesizer Kit
---