Korg TM-60 Tuner and Metronome Combo with Clip on Microphone (Red)
TM60CRD_Alt5.jpg
Korg TM-60 Tuner and Metronome Combo with Clip on Microphone (Red)
Korg TM-60 Tuner and Metronome Combo with Clip on Microphone (Red)
Korg TM-60 Tuner and Metronome Combo with Clip on Microphone (Red)
Korg TM-60 Tuner and Metronome Combo with Clip on Microphone (Red)
Korg TM-60 Tuner and Metronome Combo with Clip on Microphone (Red)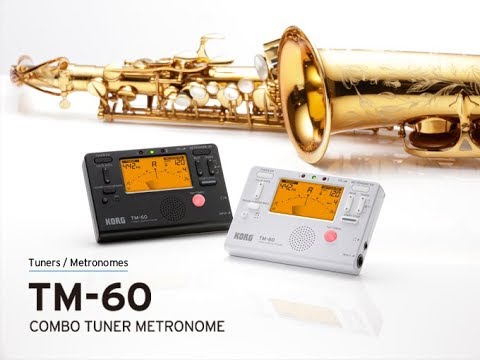 Product highlights:
High precision, simultaneous use tuner and metronome
Large, backlit LCD display great for low light situations
Korg technology instant pitch detection response
C1-C8 detection range for broad instrument range
CM-200 clip on mic accurate tuning every time
Adjustable calibration, marked third intervals
15 rhythm variations and 3 types of tempo settings
Memory backup, auto shut off and long battery life
Pay over time for orders over $300 with Affirm.
---
---
---
Need help deciding?
Contact us right now!
Call or chat with one of our experts.
In the box
Korg TM-60 Tuner and Metronome Combo with Clip on Microphone (Red)
Korg TM-60 Tuner and Metronome Combo with Clip on Microphone (Red)
2 x AAA batteries
Korg TM-60 Tuner and Metronome Combo with Clip on Microphone (Red)
The Korg TM series that lets you use a tuner and metronome simultaneously, has been revamped. The TM-60 is the newest model and features a larger display that can show the tuner and metronome simultaneously. The battery life has also been dramatically improved. With the all-new TM-60, you'll be able to enjoy pitch training and rhythm training without having to switch functions or be concerned with battery life.
Convenient and Easy to Use
Tuning and rhythm training are indispensable for brass band or orchestral practice. In addition to letting you use the tuner and metronome simultaneously, the TM-60 features a display that's approximately 1.3 times larger than the previous model, allowing easy viewing even when the unit is placed on your music stand, and also allowing the tuner and metronome functions to both be viewed simultaneously. No longer will you have to switch between functions; you'll be able to use practicing techniques that are idiomatic to orchestral instruments, such as keeping a consistent pitch over the course of a long note while varying the tone to add vibrato in time with the tempo, or checking the pitch of chords while using the metronome. Additionally, with the battery life of 130 hours, there's no need to worry about the battery life even during extended practices or performances.
Excellent Response Meter
Korg's proprietary technology accurately detects the pitch without any time lag. The pitch drift that is prone to occur during long tones played on a wind instrument can be detected before it happens, letting you train yourself to produce unwavering tone with stable pitch.
Wide Detection Range
The TM-60 can detect note names and pitches for a variety of orchestral and other instruments. The range from C1 to C8 can easily be detected. Even acoustic instruments that are difficult to detect because their sound contains a significant amount of low-frequency energy or a large number of partials, such as guitar and ukulele, can be tuned easily and accurately. By attaching the CM-200 clip on microphone to your instrument, the vibrations can be sent directly to the tuner for more accurate tuning.
For Beautiful Harmonies
In an ensemble such as a brass band or orchestra, harmonies of third intervals are easily perceived as out of tune, and can be made to sound better by slightly adjusting the pitch to a pure major or minor third. The TM-60's meter scale provides marks that indicate pure major and minor thirds, and simply by tuning so that the needle coincides with these marks allows you to play in beautiful harmony with an ensemble. This is convenient not only for orchestral instruments but also for vocal music or a cappella practice.
Wide Tempo Range
Metronome features a wide tempo range from 30 to 252 beats/minute. Choose from three types of tempo settings and 15 rhythm variations.
Ratings and reviews
Korg TM-60 Tuner and Metronome Combo with Clip on Microphone (Red)
Korg TM-60 Tuner and Metronome Combo with Clip on Microphone (Red)
---