Kurzweil PC4 SE 88-Key Performance Controller and Synthesizer Workstation with FlashPlay Technology
Kurzweil PC4 SE 88-Key Performance Controller and Synthesizer Workstation with FlashPlay Technology
Kurzweil PC4 SE 88-Key Performance Controller and Synthesizer Workstation with FlashPlay Technology
Kurzweil PC4 SE 88-Key Performance Controller and Synthesizer Workstation with FlashPlay Technology
Kurzweil PC4 SE 88-Key Performance Controller and Synthesizer Workstation with FlashPlay Technology
Kurzweil PC4 SE 88-Key Performance Controller and Synthesizer Workstation with FlashPlay Technology
Kurzweil PC4 SE 88-Key Performance Controller and Synthesizer Workstation with FlashPlay Technology
Kurzweil PC4 SE 88-Key Performance Controller and Synthesizer Workstation with FlashPlay Technology
Kurzweil PC4 SE 88-Key Performance Controller and Synthesizer Workstation with FlashPlay Technology
Kurzweil PC4 SE 88-Key Performance Controller and Synthesizer Workstation with FlashPlay Technology
Kurzweil PC4 SE 88-Key Performance Controller and Synthesizer Workstation with FlashPlay Technology
Kurzweil PC4 SE 88-Key Performance Controller and Synthesizer Workstation with FlashPlay Technology
Kurzweil PC4 SE 88-Key Performance Controller and Synthesizer Workstation with FlashPlay Technology
Kurzweil PC4 SE 88-Key Performance Controller and Synthesizer Workstation with FlashPlay Technology
Kurzweil PC4 SE 88-Key Performance Controller and Synthesizer Workstation with FlashPlay Technology
Kurzweil PC4 SE 88-Key Performance Controller and Synthesizer Workstation with FlashPlay Technology
Kurzweil PC4 SE 88-Key Performance Controller and Synthesizer Workstation with FlashPlay Technology
Kurzweil PC4 SE 88-Key Performance Controller and Synthesizer Workstation with FlashPlay Technology
Kurzweil PC4 SE 88-Key Performance Controller and Synthesizer Workstation with FlashPlay Technology
Kurzweil PC4 SE 88-Key Performance Controller and Synthesizer Workstation with FlashPlay Technology
Kurzweil PC4 SE 88-Key Performance Controller and Synthesizer Workstation with FlashPlay Technology
Kurzweil PC4 SE 88-Key Performance Controller and Synthesizer Workstation with FlashPlay Technology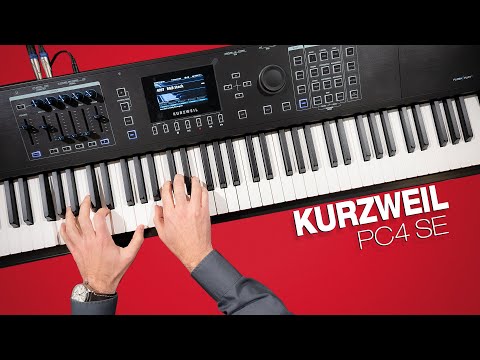 Product highlights:
88-key hammer-action keyboard
Features FlashPlay technology
Easily store your most needed 250 programs
Features a 6-operator FM engine
Dedicated -/+ transpose controls
Features 16 simultaneous MIDI CC step sequencers
4.3-inch 480 x 272 widescreen color LCD display
KSR allows enhanced acoustic resonance
16-track internal sequencer to record, edit, and mix tracks
Full-time on-screen help tips at the bottom
Starting at $154/mo or 0% APR.
---
---
---
Need help deciding?
Contact us right now!
Call or chat with one of our experts.
In the box
Kurzweil PC4 SE 88-Key Performance Controller and Synthesizer Workstation with FlashPlay Technology
Kurzweil PC4 SE 88-Key Performance Controller and Synthesizer Workstation with FlashPlay Technology
Power Cable
Switch Pedal
USB Cable
Owner's Manual
Limited 1-Year Warranty
Kurzweil PC4 SE 88-Key Performance Controller and Synthesizer Workstation with FlashPlay Technology
A new member of the family, the PC4 SE 88-Key Performance Controller and Synthesizer Workstation, Kurzweil's newest and most affordable performance controller, brings amazing sound quality and many of the performance control features of the enormously successful PC4, within reach of more musicians than ever before.
256 Voices of V.A.S.T. Polyphony
It features some serious polyphony horsepower from the acclaimed V.A.S.T. engine.
2 Gigabytes of Factory Sounds
1500 hand-crafted factory presets organized into 10 categories featuring the optimized German 9 featuring and vintage Japanese 7 featuring concert grand pianos (with KSR - Kurzweil String Resonance). Also included is a wide selection of sounds from the K2700, PC4, and PC3 Series as well as the KORE 64 expansion.
Patented FlashPlay Technology
Flash-Play provides the PC4 SE with a staggering amount of horsepower; 2 GB sample content with zero-loading time, and ultrafast performance.
6-Operator FM Engine
Features the 6 Operator FM Engine with the ability to load original FM SysEx files.
CC Sequencers
Add sonic animation to your sounds via 5 simultaneous MIDI CC Step Sequencers for modulation sequencing.
KB3 ToneReal Organs
Modeled after classic tonewheel organs, KB3 mode offers control over 9 drawbars, rotary speed, chorus/vibrato, brake, percussion, and more.
Powerful FX Engine
Awesome FX Chains featuring award-winning reverbs, delays, choruses, flangers, phasers, distortions, rotary speakers, compressors, and more. The PC4 SE also offers a global Master FX section featuring 3-band EQ and Compression.
K.S.R. – Kurzweil String Resonance
Piano string resonance modeling offers enhanced acoustic piano performance.
88-Note Hammer-Action Keyboard
The PC4 SE features a Real Piano Hammer Action (RPHA), 88-key, fully weighted hammer-action with velocity-sensitive, adjustable keys.
5-Zone Multi Controller Mode
With 5 zones of unparalleled MIDI controller capabilities, create your own sonic split/layer combinations using Kurzweil's renowned Multi mode.
Quick Splits/Layers
Dedicated Split and Layer buttons provide on-the-fly split and layer combinations.
16-Track Sequencer
Record, edit, mix and produce your own tracks – all in the box with the PC4 SE 16-track internal sequencer. Import MIDI (.mid) files as well as Kurzweil PC3/PC4/Forte-family songs.
5 Simultaneous RIFF Generators
Trigger and manipulate up to 5 simultaneous MIDI sequences on the fly. Select from an internal library of patterns or record/import your own!
5 Simultaneous Arpeggiators
Activate up to 5 independent Arps (1 per program, 5 per Multi) and discover the 'Step Sequencer' environment.
Front Panel Master Transport Controls
Use the TRANSPORT section to control the recording and playback of the onboard 16-track sequencer.
23 Programmable Physical Controllers
5 sliders, 5 knobs, 6 buttons, 2 wheels, 2 switch pedals (1 sustain/switch pedal is included; half-damper pedal sold separately) dual inputs (which support half-damper for pianos), and 1 continuous control pedal input.
Easy Access Transpose Controls
Dedicated -/+ transpose controls are conveniently located right above the pitch/modulation wheels.
Widescreen Color Display
Navigate the PC4 SE with a 4.3-inch 480 x 272 widescreen color LCD display with adjustable brightness.
Categorized Sound Selection
Easy Category and Program and Multi-selection featuring customizable category defaults.
Pick Your Favorites
Easily store and recall your most needed 250 Programs, Multis via 5 dedicated Favorites buttons, organized into 50 banks. Each entry conveniently displays the Favorite's name and type (Program or Multi).
Quick-Tips
Full-time on-screen help tips are displayed at the bottom of every page showing you how to use the currently selected page or parameter.
Ratings and reviews
Kurzweil PC4 SE 88-Key Performance Controller and Synthesizer Workstation with FlashPlay Technology
Kurzweil PC4 SE 88-Key Performance Controller and Synthesizer Workstation with FlashPlay Technology
---