Kurzweil SP6 88-Key Stage Piano with LENA Processor, FlashPlay Technology and KSR
Kurzweil SP6 88-Key Stage Piano with LENA Processor, FlashPlay Technology and KSR
Kurzweil SP6 88-Key Stage Piano with LENA Processor, FlashPlay Technology and KSR
Kurzweil SP6 88-Key Stage Piano with LENA Processor, FlashPlay Technology and KSR
Kurzweil SP6 88-Key Stage Piano with LENA Processor, FlashPlay Technology and KSR
Kurzweil SP6 88-Key Stage Piano with LENA Processor, FlashPlay Technology and KSR
Kurzweil SP6 88-Key Stage Piano with LENA Processor, FlashPlay Technology and KSR
Kurzweil SP6 88-Key Stage Piano with LENA Processor, FlashPlay Technology and KSR
Kurzweil SP6 88-Key Stage Piano with LENA Processor, FlashPlay Technology and KSR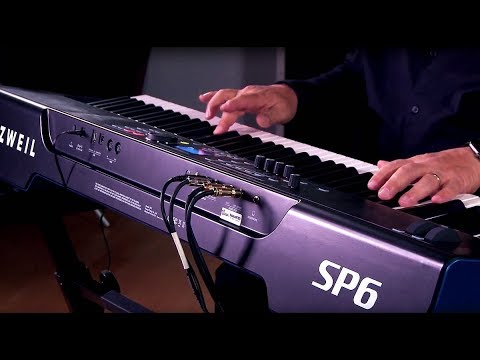 Product highlights:
88-key stage piano
Powered by LENA processor
Features 2GB of HD sounds
Superfast FlashPlay technology for fast booting
One-button access to favorites
Easy access controls on the front panel
Features per-program instant demos
Has 32FX units of horsepower
Enhanced acoustic piano performance with KSR
Features a lightweight design
---
Need help deciding?
Contact us right now!
Call or chat with one of our experts.
In the box
Kurzweil SP6 88-Key Stage Piano with LENA Processor, FlashPlay Technology and KSR
Kurzweil SP6 88-Key Stage Piano with LENA Processor, FlashPlay Technology and KSR
Power Cable
Switch Pedal
USB Cable
Owner's Manual
Limited 1-Year Warranty
Kurzweil SP6 88-Key Stage Piano with LENA Processor, FlashPlay Technology and KSR
Following the standard of sonic excellence established by the Forte, Forte SE, and PC3 series, the Kurzweil SP6 88-Key Stage Piano is powered by the new LENA processor. It takes your performance to new heights with its astonishing sound quality, lightweight, depth of control, and simple operation - all within easy reach.
2 Gigabytes of Sounds
Hear the new High-Definition Japanese Grand and German D Grand, each optimized especially for the SP6 and featuring 'KSR' - Kurzweil String Resonance. The SP6 offers all of the sample content from the Forte SE and features a wide selection of tailored sounds from the acclaimed Forte and Forte SE (EP, Clav, Celeste, Crotales, Harpsichord), as well as PC3 Series and KORE 64 expansions, all handcrafted to deliver more control over these sounds than ever presented before.
Patented FlashPlay Technology
Powered by Flash-Play, the SP6 boots in 11 seconds with 2 GB of onboard sample content, zero-loading time, loads of powerful DSP, and ultrafast performance. Load programs from the Forte, Forte SE, and PC3 families (some restrictions apply).
Powerful FX Engine
Experience more simultaneous FX in your performance multis and external sequencing and tweak away with dedicated knob assignments. Featuring 32 FX units of horsepower, enjoy award-winning Reverbs, Delays, Choruses, Flangers, Phasers, Distortions, Rotary Amplifiers, Compressors, and more.
K.S.R. - Kurzweil String Resonance
Piano string resonance modeling for enhanced acoustic piano performance!
KB3 ToneReal Organs
Modeled after classic organs. Featuring real-time performance controls.
Gig-Lite
The SP6 is Kurzweil's lightest professional 88-note model ever!
88-Note Hammer-Action Keyboard
Every sound within the SP6 is perfectly matched to its 88-note fully weighted hammer-action keyboard. Further, tailor the SP6 response to your playing style via 10 selectable key velocity maps.
4 Arpeggiators
Activate up to 4 independent Arps (1 per program, 4 per Multi) with dedicated on/off and tap tempo buttons.
20 MIDI Controllers
Maximize your real-time control over every preset via the SP6's 4 Knobs (configured as 4 x 3 = 12 virtual controls), 1 Switch, 2 Wheels, 2 Dual-Switch Pedal Inputs (support for a half-damper pedal for pianos or up to 4 standard switches pedals/1 standard sustain/switch pedal is included), and 1 Continuous Control Pedal Input.
Easy Access Controls
Pitch/Modulation wheels along with dedicated-/+ Transpose and sound Variation controls are conveniently located right on the front panel.
Sound Selection
Easy Category and Program/Multi selection and assignment. Enjoy per-program instant demos to quickly audition each sound.
Favorites Section
Access your Favorite sounds with one button press! Conveniently located right below the SP6's display.
Software Editors
Get deeper into editing your SP6 using free external software editors for Mac OS X, Windows PC, and iOS devices (coming soon)!
Ratings and reviews
Kurzweil SP6 88-Key Stage Piano with LENA Processor, FlashPlay Technology and KSR
Kurzweil SP6 88-Key Stage Piano with LENA Processor, FlashPlay Technology and KSR
---