Leica CL Mirrorless Camera (Silver)
Leica CL Mirrorless Camera (Silver)
Leica CL Mirrorless Camera (Silver)
Leica CL Mirrorless Camera (Silver)
Leica CL Mirrorless Camera (Silver)
Leica CL Mirrorless Camera (Silver)
Leica CL Mirrorless Camera (Silver)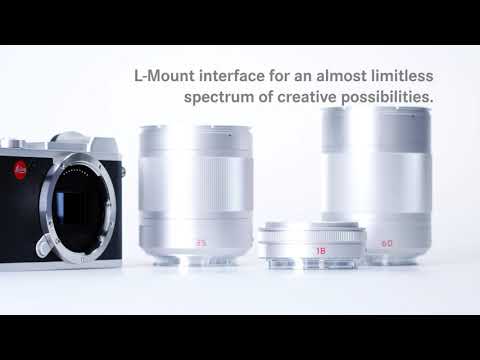 Product highlights:
24 MP APS-C Sensor System
Maestro II Image Processor
Continuous shooting up to 10fps
Ultra HD 4K video recording at 30/60fps
3.0" 1.04m-dot touchscreen LCD
EyeRes 2.3m-dot electronic viewfinder
Built-in WiFi connectivity
49-point AF system
ISO range of 100-50,000
---
Need help deciding?
Contact us right now!
Call or chat with one of our experts.
In the box
Leica CL Mirrorless Camera (Silver)
Leica CL Mirrorless Camera Body (Silver Anodized Finish)
Leica CL Mirrorless Camera (Silver)
In every perfect picture, the individual elements complement each other and come together to create a greater whole. The Leica CL Mirrorless Camera is here to help you achieve those perfect pictures thanks to the high-resolution 24 MP APS-C format sensor and Maestro II series processor. Combined, the sensor and processor combo deliver photos and video of the highest quality. A lightning fast autofocus with 49 metering points bring you precise focusing on all subjects within the frame. Video recording capabilities with a resolution of up to 4K at 30 frames per second means you'll be filming at cinematic quality. Whatever your expectations, the Leica CL fulfills them all with distinction.
Intuitive Tool
The Leica CL is an intuitive camera that you can use immediately, and one that impresses with its quality. All essential elements for photography can be found on the top plate of the camera. With two dials for setting the aperture, shutter speed ISO value and exposure compensation, this mirrorless camera gives you unparalleled control. All of these controls are located in an easily accessible position that enable you to take photographs without removing the camera from the eye. A top display instantly provides information about all relevant parameters. The shutter button impresses with a perfectly defined release pressure point. The Leica CL gives you the feeling of being in complete control over every photo you take.
EyeRes Viewfinder
The Leica CL camera features an EyeRes electronic viewfinder that delivers superior image quality than optical viewfinders. The sensor-activated viewfinder has a 0.8x magnification that always shows pictures in their final form. The effects of all decisive parameters like exposure, depth of focus, and white balance are simulated and can thus be assessed before pressing the shutter release. Electronic functions like a dual-axis leveling aid, various grids, or Focus Peaking can be displayed in the electronic viewfinder to help you get the very best from your subjects. With a latency time below the threshold of perception, a resolution of 2.36 million dots and the largest possible viewfinder image, the EyeRes Viewfinder was developed specially for the Leica CL to ensure that you always have complete control over every picture you take.
Connectivity
The integrated Wi-Fi connectivity of your Leica CL enables you to wirelessley transfer images to your smartphone, tablet or computer. The Leica CL App for iOS and Android enables you to share your images via email or social media with a simple touch. With the remote function of the CL App, you can use your mobile device as an off-camera viewfinder, change exposure parameters or take pictures with your Leica CL by remote control.
Compact Design
The compact, light and handy Leica CL is the perfect picture partner. A sleek, compact design define the look and feel of this lightweight mirrorless camera. Always at hand and ready to capture the essence of every special moment, the Leica camera works easily and unobtrusively. A stylish silver anodized coating simultaneously protects your camera's body and looks as great as ever.
Ratings and reviews
Leica CL Mirrorless Camera (Silver)
Leica CL Mirrorless Camera (Silver)
---