Lorex 4K Spotlight Indoor Outdoor Wi-Fi 6 Security Camera with Smart Security Lighting
Lorex 4K Spotlight Indoor Outdoor Wi-Fi 6 Security Camera with Smart Security Lighting
Lorex 4K Spotlight Indoor Outdoor Wi-Fi 6 Security Camera with Smart Security Lighting
Lorex 4K Spotlight Indoor Outdoor Wi-Fi 6 Security Camera with Smart Security Lighting
Lorex 4K Spotlight Indoor Outdoor Wi-Fi 6 Security Camera with Smart Security Lighting
Lorex 4K Spotlight Indoor Outdoor Wi-Fi 6 Security Camera with Smart Security Lighting
Lorex 4K Spotlight Indoor Outdoor Wi-Fi 6 Security Camera with Smart Security Lighting
Lorex 4K Spotlight Indoor Outdoor Wi-Fi 6 Security Camera with Smart Security Lighting
Lorex 4K Spotlight Indoor Outdoor Wi-Fi 6 Security Camera with Smart Security Lighting
Lorex 4K Spotlight Indoor Outdoor Wi-Fi 6 Security Camera with Smart Security Lighting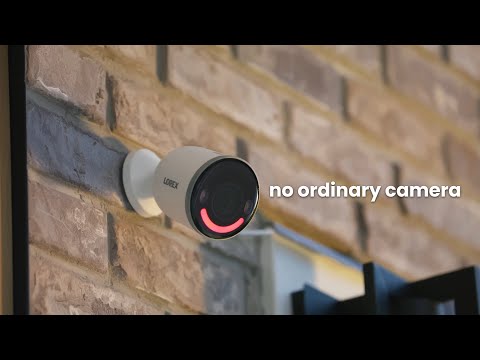 Product highlights:
4K UHD 8MP camera with 140-degree field-of-view
Color night vision booster
Smart security lighting with 16.7m color to choose
Features smart motion detection plus
Features the latest Wi-Fi 6 technology
IP65 weatherproof from -20 to 55-degree-C
Amazon Alexa and Google Home compatibility
Allows 32GB MicroSD storage
140-degree field-of-view
Mobile push notifications
Pay over time for orders over $300 with Affirm.
---
---
---
Need help deciding?
Contact us right now!
Call or chat with one of our experts.
In the box
Lorex 4K Spotlight Indoor Outdoor Wi-Fi 6 Security Camera with Smart Security Lighting
Lorex 4K Spotlight Indoor Outdoor Wi-Fi 6 Security Camera with Smart Security Lighting
Wall Mounting Bracket
Mounting Plate
Power Adapter
Mounting Template
MicroSD Card
Wrench
8 x Anchors and Screws
4 x Cable Clips
Quick Start Guide
Limited 1-Year Warranty
Lorex 4K Spotlight Indoor Outdoor Wi-Fi 6 Security Camera with Smart Security Lighting
See the finest detail with the Lorex 4K Spotlight Indoor Outdoor Wi-Fi Security Camera. With smart security lighting, you can customize your camera's LED band to the color of your choice. Know what is happening faster with Smart Motion Detection Plus (Person, Vehicle, Animal, and Package Detection) and the next-generation Wi-Fi 6 Technology. Hear and speak instantly with 2-Way Talk and Quick Response. Build your security the way you want with Fusion - create a Smart Home Ecosystem by pairing this camera with additional Lorex Wi-Fi and Wired cameras and devices.
Impressive Clarity Day and Night
Get the best view of your property around-the-clock with stunning 4K clarity and vivid Color Night Vision.
Experience the Promise of 4K
At the core of this camera is an 8MP image sensor. 8MP means there are more than 8 million pixels, which results in exceptionally sharp 4K video, realistic color representation, and superior digital zoom capabilities. The 140-degree field-of-view also allows your camera to monitor a broader area so you see more and detect motion earlier.
Nighttime Clarity with Color Night Vision
Experience the best night vision on the market. Color Night Vision works best with the help of ambient lighting. In conditions that are too dark, however, this camera will use its infrared LEDs to record crisp black-and-white video footage. This camera also features our revolutionary Color Night Vision (CNV) Booster, which can be activated to produce our most vivid and longest-range full-color nighttime video yet.
Customize Light Colors with Smart Security Lighting
The customizable smart LED light band comes with 16.7 million color options to choose from. Colors can be assigned to pre-set camera modes, such as a 'Welcome' or 'Panic' mode.
Proactive Security
Get an added layer of security with the motion-activated LED warning lights and remote-triggered siren to deter uninvited visitors.
No Matter the Weather
Enjoy robust security year-round with the camera's IP65 weather-resistant rating. With durable housing, the camera can withstand a range of conditions, from rain and windy weather to hot and humid temperatures.
Answer Instantly
Listen and speak to anyone on your property with 2-Way Talk. If you're busy, use Quick Response to answer for you.
Get Alerts That Matter
Smart Motion Detection will deliver mobile push notifications to tell you exactly what kind of motion the camera has detected.
Security That Fits Your Lifestyle
This camera can be used with Fusion Recorders or to create a custom Lorex Smart Home ecosystem. With a Fusion Recorder, you can combine the ultimate reliability of wired security cameras and the versatility of wireless smart home cameras on the same system. This also allows you to record Wi-Fi cameras continuously on the recorder's hard drive. You can also simply add other Lorex Smart Home cameras, doorbells, floodlights, and sensors to create your perfect security setup built just for you.
Remote Viewing from Your Mobile with Lorex Home
Your Lorex devices will always be within reach with help from the Lorex Home App. This versatile app allows you to remotely access your Lorex cameras so you can easily view live videos, customize your system settings, playback recorded motion events, and more.
Privacy is a Priority
Keep video recordings secure on the local 32GB MicroSD storage. Access all smart features with no additional monthly fees or recurring costs.
Next-Generation Wi-Fi 6 Technology
Experience the smoothest and clearest 4K resolution live viewing and playback without impacting your overall network performance.
Smart Home Compatibility
Get faster access to your security system with hands-free voice control. Use simple voice commands to activate camera features with Amazon Alexa and Google Assistant.
Ratings and reviews
Lorex 4K Spotlight Indoor Outdoor Wi-Fi 6 Security Camera with Smart Security Lighting
Lorex 4K Spotlight Indoor Outdoor Wi-Fi 6 Security Camera with Smart Security Lighting
---