Mackie Onyx12 12-Channel Premium Analog Mixer with Multi-Track USB
Mackie Onyx12 12-Channel Premium Analog Mixer with Multi-Track USB
Mackie Onyx12 12-Channel Premium Analog Mixer with Multi-Track USB
Mackie Onyx12 12-Channel Premium Analog Mixer with Multi-Track USB
Mackie Onyx12 12-Channel Premium Analog Mixer with Multi-Track USB
Mackie Onyx12 12-Channel Premium Analog Mixer with Multi-Track USB
Mackie Onyx12 12-Channel Premium Analog Mixer with Multi-Track USB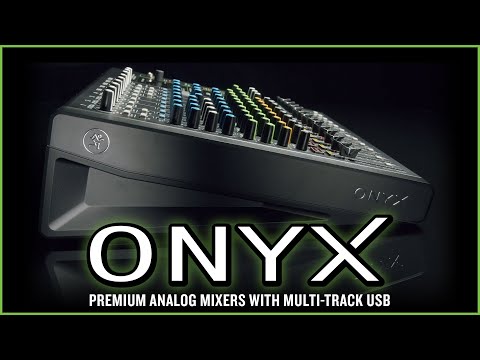 Product highlights:
14 x 4 analog mixer with 8 low-noise Onyx preamps
3-band Perkins EQ with On/Off hard bypass switch
High-resolution multitrack recording
Stereo recording directly to an SD card
'Built-Like-A-Tank' rugged steel chassis for added protection
Professional, customizable Dynamic FX
Full-color LCD for easy FX control and SD card management
Waveform OEM professional software bundle included
Bluetooth for streaming music directly into any channel
Switchable Hi-Z inputs for guitars, bass and others
---
Need help deciding?
Contact us right now!
Call or chat with one of our experts.
In the box
Mackie Onyx12 12-Channel Premium Analog Mixer with Multi-Track USB
Mackie Onyx12 12-Channel Premium Analog Mixer with Multi-Track USB
Waveform OEM Professional Software Bundle
Owner's Manual
Limited 1-Year Warranty
Mackie Onyx12 12-Channel Premium Analog Mixer with Multi-Track USB
Give your project studio or mobile rig the analog mixer it deserves. The Mackie Onyx12 12-Channel Premium Analog Mixer with Multi-Track USB is optimized for multitrack recording and live sound. Experience impeccable sound quality, a flexible FX engine, and a seamless workflow for your home recording or live shows.
Professional Sound for Studio and Stage
Level up your rig with a versatile 12-channel mixer designed by engineers who know that great sound lives in the details. Every element of the Mackie Onyx12 is geared towards recording at a professional level, from our award-winning Onyx preamps to the Perkins 'British Style' EQs inspired by classic desks from the '60s and '70s.
Onyx Preamps
Record ultra-clean, transparent sound with incredible accuracy. Our award-winning Onyx Mic Preamps are designed for maximum studio-quality performance. Create podcasts, live stream gameplay, or produce the next hit. No matter what you do, Mackie wants to make sure you sound great.
Perkins EQ
The Mackie Onyx12 features an enhanced 3-Band 'British Style' EQ based on the same circuit used on classic mixing consoles from the '60s and '70s. This version designed by Mackie has greater filter control, and minimum phase shift and allows you to pinpoint specific frequency ranges. To create the Perkins EQ, Cal Perkins started with the Wien Bridge circuit topology inspired by the hallowed 'British' desks of the '60s and '70s. This design essentially trades boost/cut capability for a wider, highly musical Q filter. After a mind-numbing amount of math, Cal was able to specify capacitor and resistor values that would give the EQ an extra 6dB of control (±15 dB) without excessively narrowing the 'Q' or bandwidth of the filters. It's what Mackie calls a win-win.
Quickgrip Side Handles
Tired of fumbling with your gear? Mackie has got you covered. Carry and transport your Mackie Onyx12 mixer effortlessly with our QuickGrip side handles. Whether you're moving gear around your home studio or heading to rehearsal, the rugged design of our steel chassis and sealed rotary will protect your investment wherever you go.
Built-In FX
The more plugins the better, right? Get creative and customize your sound with professional built-in effects. The professional high-resolution FX processor gives you limitless control over a robust collection of unique digital effects, including a dedicated equalizer to shape your mix to perfection.
Studio Command
There's nothing like feeling in control of your workstation. The Mackie Onyx12 features powerful full-color LCDs with dedicated physical transport controls. Apply FX and recall up to six customizable presets using an intuitive single-knob interface. Record a stereo mix, browse files and play music direct to/from an SD card, all via Studio Command.
Bluetooth Streaming
Bluetooth is a game-changer on an analog mixer. Pair a compatible device via Bluetooth to stream audio through aux sends or the main mix. Bluetooth compatibility allows you to compare and mix reference tracks or play background music when you need it.
A Light in the Dark
Mackie knows the struggle-nobody like squinting at a mixing board when the lighting is dim. The Mackie Onyx12 is equipped with vibrant buttons and a full-color display for improved visibility, even in the darkest venues. On top of that, the backlit Mute and Solo buttons provide clear visibility so you'll always know what's going on in the mix.
Waveform OEM DAW
Waveform OEM is a multi-award-winning workstation, featuring powerful and creative tools to inspire the modern musician. Unlike typical 'Lite' versions, it does not impose any restrictions – you get unlimited track count, powerful features, compatibility with all popular plug-ins, and efficient performance on Mac OS, Windows, and Linux operating systems.
DAW Essentials Collection
Introducing a collection of 16 contemporary FX plug-ins for use with any DAW. These plug-ins utilize algorithms and coding techniques to deliver extraordinary sound quality in an extremely efficient package, allowing the plug-ins to be used liberally across a wide range of native computer systems.
Ratings and reviews
Mackie Onyx12 12-Channel Premium Analog Mixer with Multi-Track USB
Mackie Onyx12 12-Channel Premium Analog Mixer with Multi-Track USB
---