Nektar 61 note USB keyboard controller
Nektar 61 note USB keyboard controller
Nektar 61 note USB keyboard controller
Nektar Impact LX 61+ 61-Key USB MIDI Keyboard Controller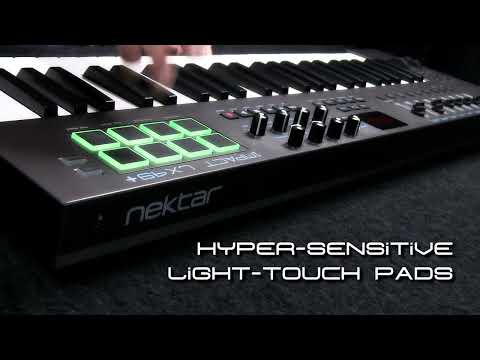 Product highlights:
61-note velocity sensitive full-size keyboard
Works with all MIDI music applications
26 fully-programmable real-time controls, 5 user presets
Smart controller functionality with Nektar DAW Integration
Connect via USB to Windows, OSX, Linux or Apple iOS devices
Pay over time for orders over $300 with Affirm.
---
---
---
Need help deciding?
Contact us right now!
Call or chat with one of our experts.
In the box
Nektar Impact LX 61+ 61-Key USB MIDI Keyboard Controller
Nektar Impact LX 61+ 61-Key USB MIDI Keyboard Controller
Nektar Impact LX 61+ 61-Key USB MIDI Keyboard Controller
The Impact LX61+ MIDI controller keyboard delivers unrivaled control, features and options that make it fun to create music and easy to set up. It works with any computer music application as well as offering comprehensive smart controller functionality, not even available on many premium products. With this instrument you are ready to make music in seconds: Plug in the included MIDI cable and let your Windows, OSX or iOS operating system take care of the rest. What's more, Impact LX+ hooks up automatically to your DAW: The included Nektar DAW Integration software turns Impact controllers into fully configured remote controls for 11 popular DAWs. Take control of mixer functions, tweak virtual instruments and navigate your projects. With Impact LX+ the hard work is done, so you can focus on your creativity!
Keyboard
The Impact LX+ has a 61 note, full-size velocity sensitive keyboard and lets you choose between 4 velocity curves that cater for different playing styles including a soft and hard touch. Dynamic and expressive, it is calibrated for all styles of music. Dedicated buttons for octave and transpose buttons as well as pitch bend & modulation wheels are within reach, so you can quickly shift the keyboard or apply additional articulation as needed. Better still, the 4 buttons can be assigned to control additional functions such as Global MIDI channel, MIDI program or LX+ user preset select.
Powerful Control Center
Impact LX61+ features 26 programmable real-time controls: 9x 30mm faders, 9x MIDI buttons and 8x potentiometers. Each control is fully programmable to send unique MIDI messages and can be stored in any of the 5 user presets. So you can control up to 5 different devices and switch between them seamlessly, in addition to DAW integration. If you switch Null on, any parameter values are stored when you change presets so you avoid parameter jumping. Used with Nektar DAW integration, the control options increase substantially, providing flexible pre-mapped DAW control giving you the best of both worlds.
Pads for Beats and Grooves
The 8 pads are great to play. Dynamic and sensitive, they are ideally suited for finger drumming. Assign sounds or MIDI notes to the pads is quick and easy with Impact's unique Pad Learn feature: Activate, just hit a pad to select, and press a key on the keyboard to assign the MIDI note. You can save your setups in 4 Pad Maps for recall at any time. With Nektar DAW Integration active, the pads are automatically mapped in Reason or Bitwig for instance and provide a true drum machine feeling, including visual feedback using the pads' colors.
Nektar DAW Integration
Nektar DAW Integration takes Impact LX+ way beyond the functionality normally offered by USB MIDI controller keyboards: Give the mouse or trackpad a break and navigate projects, control the mixer or tweak plugins directly from Impact LX+. To help you make the most out of your screen real estate, LX+ also has shortcuts for opening and closing your DAW's mixer window. And the best is, that there is no complicated setup or programming: Our powerful pre-configured setups take care of mapping everything for you. DAW internal devices are pre-mapped, and factory maps for many popular 3rd party instrument plugins are also included. Simply install and start making music!
Transport and Navigation
Navigate your projects: The 6 dedicated transport buttons are always within reach and mapped to control Cycle, Rewind, Forward, Stop, Play and Record. Dedicated Track up/down and Patch up/down buttons are located below the display.
Mixer Control
Press Mixer and the first 8 Impact LX+ faders are assigned to control 8 DAW mixer channels. The alternate Bank up/down function moves assignments to the next or previous group of 8 channels. Channel mute and solo can be controlled from the buttons under the faders. Pan for the selected group of 8 channels is handled by the 8 pots. Fader 9 adjusts volume for the currently selected mixer channel as well as master volume. There are even shortcuts to open and close your DAW's mixer window from Impact LX+, so you can make the most out of your screen real estate and instantly see what's going on.
Instrumental Control
In "Instrument" mode, you can control virtual instruments directly from the hardware. Nektar mapping takes care of assignments automatically. Many DAW devices and plugins are pre-mapped to match the screened blue control labels, so you can start tweaking right away. The knobs are assigned to typical oscillator and filter parameters, and the faders let you tweak amp and filter ADSR envelopes. In many DAWs, the Page button gives access to a second page of knob assignments.
Ratings and reviews
Nektar Impact LX 61+ 61-Key USB MIDI Keyboard Controller
Nektar Impact LX 61+ 61-Key USB MIDI Keyboard Controller
---