Nikon NIKKOR Z 85mm f/1.8 S Lens
Nikon NIKKOR Z 85mm f/1.8 S Lens
Nikon NIKKOR Z 85mm f/1.8 S Lens
Nikon NIKKOR Z 85mm f/1.8 S Lens
Nikon NIKKOR Z 85mm f/1.8 S Lens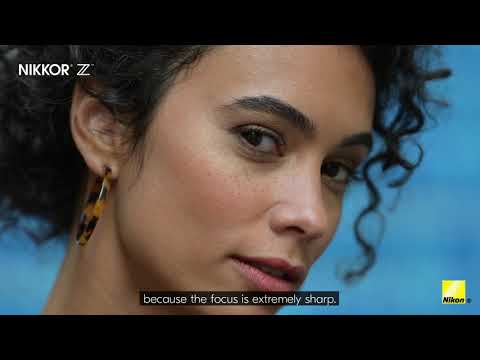 Product highlights:
Focal length: 85mm
Aperture range: f/1.8-16
Nikon Z mount lens
For FX and DX camera sensors
Dual detect 5-Axis VR
ED (Extra-Low Dispersion) glass
9-Blade rounded diaphragm
Edge-to-edge brightness
Eye-detection AF
Nano crystal coating
Starting at $72/mo or 0% APR.
---
---
---
Need help deciding?
Contact us right now!
Call or chat with one of our experts.
In the box
Nikon NIKKOR Z 85mm f/1.8 S Lens
Nikon NIKKOR Z 85mm f/1.8 S Lens
LC-67B 67mm Snap-On Front Lens Cap
LF-N1 Rear Lens Cap
HB-91 Bayonet Lens Hood
CL-C1 Lens Case
Limited 1-Year Manufacturer's Warranty
Nikon NIKKOR Z 85mm f/1.8 S Lens
Elevated by advancements of the revolutionary Z mount, the NIKKOR Z 85mm f/1.8 S is a premium S-Line lens that blends optical ingenuity and artistic nuance. At the top of the ever-expanding NIKKOR Z lens lineup, S-Line lenses push Nikon's tradition of optical excellence and innovation to unprecedented new heights. This 85mm prime lens will thrill and inspire those who shoot portraits, headshots, fashion, weddings, tight video shots, street photography or any situation that highlights the human form. It offers superior performance and resolution with sophisticated features and operability.
Pure Natural Beauty
Few subjects showcase the strengths and shortcomings of a lens more clearly than the human face. Our eyes are so adept at detecting focus issues, facial shape distortion, unnatural skin tone—nearly any imperfection. The NIKKOR Z 85mm f/1.8 S captures the human form in breathtaking clarity and sharpness.
Flattering Perspective
The shape of a face is greatly affected by focal length. The lenses' 85mm perspective is within the sweet spot for portraits and fashion, rendering faces naturally and beautifully, free of distortion.
Eye-Detection AF
Z series' outstanding Eye-AF and the NIKKOR Z 85mm f/1.8 S's extreme sharpness ensure your portraits and headshots will have tack-sharp focus right where you want it—on the eyes of your subject.
Extreme Sharpness
The extreme sharpness and resolution of the NIKKOR Z 85mm f/1.8 S makes it particularly well suited for capturing the subtlety and nuances of facial expressions and the emotions they convey.
Edge-to-Edge Brightness
One of the many advantages of the larger Z mount is its ability to retain even illumination, especially at the corners of the frame. This results in bright, even exposures with minimal vignetting.
9-Blade Rounded Diaphragm
Beautifully blurred backgrounds naturally, and sometimes dramatically, direct your viewer's eyes to the main subject. The nine rounded aperture blades of the NIKKOR Z 85mm f/1.8 S give defocused points of light a soft, round consistent shape. Plus, the transition from tack-sharp foreground to dreamy background is smooth and natural.
ED (Extra-Low Dispersion) Glass
The lens' optical construction utilizes two Extra-low Dispersion (ED) elements that correct chromatic aberrations (optical color defects) producing high quality with true color reproduction. Optical advancements of the Z mount and S-Line render point-light sources sharper than ever without the usual diamond-shaped distortion—perfect for nightscapes, starscapes, and more.
Nano Crystal Coating
Nano Crystal Coat is an anti-reflective coating that virtually eliminates internal lens element reflections across a wide range of wavelengths. It solves ghost effects caused by red light and effectively reduces ghost and flare caused by light entering the lens diagonally.
Super Integrated Coating
Nikon Super Integrated Coating is Nikon's term for its multilayer coating of the optical elements in NIKKOR lenses.
Electromagnetic Diaphragm Mechanism
An electromagnetic diaphragm mechanism in the lens barrel provides highly accurate electronic diaphragm or aperture blade control when using auto exposure during continuous shooting. With conventional D/G type lenses, the diaphragm blades are operated by mechanical linkage levers.
Multi-Focus System
Finely detailed high resolution photography can sometimes be susceptible to lens aberrations, such as color fringing, especially at close ranges. The NIKKOR Z 85mm f/1.8 S incorporates an all-new multi-focusing system, consisting of two AF drive units precisely synchronized to deliver fast, accurate autofocusing and drastically reduce aberrations.
Dual Detect 5 Axis VR
The lens uses the Z cameras' superior in-camera image stabilization system for up to 5 stops of pitch, roll, yaw, X and Y shake correction.
Ratings and reviews
Nikon NIKKOR Z 85mm f/1.8 S Lens
Nikon NIKKOR Z 85mm f/1.8 S Lens
---