Nikon Z8 Mirrorless Camera with 24-120mm f/4 Lens
Nikon Z8 Mirrorless Camera with 24-120mm f/4 Lens
Nikon Z8 Mirrorless Camera with 24-120mm f/4 Lens
Nikon Z8 Mirrorless Camera with 24-120mm f/4 Lens
Nikon Z8 Mirrorless Camera with 24-120mm f/4 Lens
Nikon Z8 Mirrorless Camera with 24-120mm f/4 Lens
Nikon Z8 Mirrorless Camera with 24-120mm f/4 Lens
Nikon Z8 Mirrorless Camera with 24-120mm f/4 Lens
Nikon Z8 Mirrorless Camera with 24-120mm f/4 Lens
Nikon Z8 Mirrorless Camera with 24-120mm f/4 Lens
Nikon Z8 Mirrorless Camera with 24-120mm f/4 Lens
Nikon Z8 Mirrorless Camera Body
Nikon Z8 Mirrorless Camera Body
Nikon Z8 Mirrorless Camera Body
3aa13e87b27f8b1bf5db5df9e162a3781f7e7dc62cbd4ce9983b1ec94efa8be0-3def01e19b581395.jpg
04de952b84cfff85d7932e7437d9724b7d390d5440ce72ecadd5f6e23206bd1b-ffe56db70052b075.jpg
Nikon Z8 Mirrorless Camera Body
f579c92dfbd9871eff85aae823da8bd063cbc33edbd7a09d050615526a09c84c-efd4333f0c929c06.jpg
f2c07d63f8c2f32ca8eaa06273ba7c5cfa55504df475fa6aa55b3858dfde964a-09a83a76ac6cabd2.jpg
bc54f6f5f1ce50487df4a3b94b89feea9c09fb78b8c6c1b4dee5a1ec4cb296e2-c9ff71de120974e8.jpg
35222da43f0175db3d4193e29806a15a29c5f4b384629f0cf741bb5164f482ef-f210ddc9dabff224.jpg
8d275c332eb5a93243eb68f1bda445cafd29c74c4d82e5bda2bc6ff4b9da1170-91165ef027d01eca.jpg
541a44dff15f8ac032d80a9d86394880633b4d1939f3d44ca94acfebe9a9ba12-52ae466ddd4664ce.jpg
712f99283bc73c8c73e8de7fd016024e33c0a05b4d3a93f01460555ae9f9fad2-c5e09f9ae4a30a72.jpg
7537431a13c443e89c3e266c1f78be3f1332e64cb993a780fe1e3be43f0be567-b0b7eae65883db14.jpg
0a87ad557dbbd469659902f13e9cac6f984b5cd60c91d2cca65418a19a9842fb-646a1371bf10120c.jpg
6e97c2311ac05c2283da82b00543acc2fe49d5d20383fc6562deee4977460ed7-700e2ada7252a796.jpg
383e0485d5dcce258987fe55de1448ef43eb65dc4c5ea8baa235f5da6a56f6c9-bda3d6a3b6b6c643.jpg
4d38060e51e46f1d95c372f838e9dd33dc5287370b610206339cc472b1738299-1e35c951699ebbbe.jpg
d44051154d4d2a6856632eb94d69552096542348690eef4e2d9c2763b41febc2-4db8dcc07d1823a5.jpg
fe7c16084434b381d65e07131ec966b2d6f354ce7c459d8ba55004e202714431-cfec12ff69f2bd1d.jpg
Nikon Z8 Mirrorless Camera with 24-120mm f/4 Lens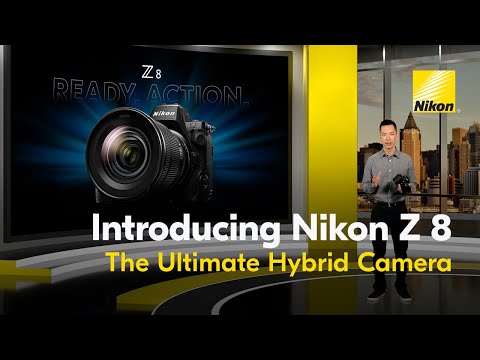 Nikon Z8 Mirrorless Camera with 24-120mm f/4 Lens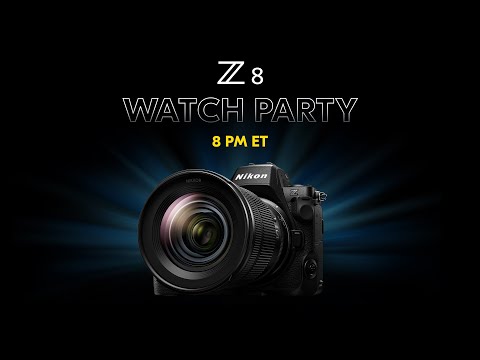 Product highlights:
45.7MP stills with beautiful colors
Unrivaled in-camera 8K UHD video capabilities
Burst speeds up to 120 fps for stills
Our most advanced image-processing engine
All-electronic shutter with the world's least rolling shutter distortion
Autofocus with subject detection developed from deep learning
Real-Live Viewfinder with zero blackout
Internal 12-bit N-RAW and ProRes RAW recording
NIKKOR Z 24-120mm f/4 S all-purpose zoom lens
Flexible still image file formats. RAW 14-bit, High-Efficiency RAW, 10-bit HEIF, and JPEG 8-bit
Blazing fast continuous shooting. 20, 30, 60, and 120 fps shooting options
Beautiful portraits made easy. Skin Softening, Portrait Impression Balance, and Improved White Balance features
---
Need help deciding?
Contact us right now!
Call or chat with one of our experts.
In the box
Nikon Z8 Mirrorless Camera with 24-120mm f/4 Lens
Nikon Z8 Mirrorless Camera with 24-120mm f/4 Lens
Nikon Z8 Mirrorless Camera Body

Z 8 FX-format Mirrorless Camera Body
EN-EL15c Rechargeable Li-ion Battery
MH-25a Battery Charger
UC-E24 USB Cable
HDMI/USB Cable Clip
BS-1 Accessory Shoe Cover
AN-DC26 Strap
BF-N1 Body Cap

DK-33 Rubber Eyecup

NIKKOR Z 24-120mm f/4 S
LC-77B Front Lens Cap
LF-N1 Rear Lens Cap
HB-102 Lens Hood
CL-C2 Lens Case
Nikon Z8 Mirrorless Camera with 24-120mm f/4 Lens
Experience ultimate hybrid performance with the Z 8 and NIKKOR Z 24-120mm f/4 S all-purpose zoom lens. Remarkably compact and lightweight, the Z 8's video capabilities include 12-bit 8K/60p and 4K/120p RAW internal recording as well as 10-bit ProRes 422 HQ. Photography features include a 45.7MP stacked CMOS sensor, a silent, vibration-free electronic shutter, 120 fps burst shooting and a blackout-free viewfinder. Fast, accurate AF with subject detection powered by deep learning, plus Nikon's superior ergonomics and build quality. The NIKKOR Z 24-120mm f/4 S lens provides sharpness across the entire 24-120mm zoom range with a constant f/4 maximum aperture.
A powerhouse for video. Internal 8K/60p and 4K/120p video
Up to 8K/60p and 4K/120p: All the depth and detail of 12-bit RAW in a file half the size of ProRes RAW HQ files.
Up to 4K/60p: A professional go-to for its flexibility, consistency, and practicality when editing footage taken by different types of cameras all using this codec.
Up to 4K/60p: An industry standard for its rich depth and detail, easy grading, and flexibility to edit on-the-go from a laptop.
Full HD Proxy Files: Simultaneously created in-camera when shooting in ProRes RAW and N-RAW, making editing footage a quicker and smoother process
N-Log Profile: Utilizes extensive color depth and dynamic range to give more control over the look of your final footage.
Compact & Lightweight
Hold the camera more comfortably and move around more smoothly. Take advantage of a lighter camera system when shooting on a gimbal, with fewer cables and less setup time.
Pro Audio
Capture 24 bit linear PCM sound right to the memory card alongside your footage. Compatible with professional XLR microphones using Tascam's digital adapter CA-XLR2d-AN (sold separately).
Expandable with Accessories
Nikon proudly partners with leading innovative brands to minimize the gear you need for a shoot and bring the best experience to the Z 8.
A dream for photography. 45.7MP stills, more flexible than ever.
RAW 14-bit: Capture the full dynamic range, color and image information captured by the Z 8's exceptional 45.7MP full-frame sensor.
High Efficiency RAW 14-bit: Retain the outstanding image quality of traditional RAW with approximately 1/3 smaller file size.
HEIF 10-bit: Richer tonal gradation than JPEG with increased luminance at a comparable file size. Great for stills and creating 8K HLG time-lapse videos in-camera.
Blazing fast frame rates.
With unrivaled burst speeds and a seemingly bottomless buffer the Z 8 gives you the edge when photographing birds, sports, weddings and once-in-a-lifetime moments. Features 20 fps RAW and JPEG, 30 fps JPEG Fine, 60 fps JPEG Normal DX Crop Mode and 120 fps 11MP JPEG.
All-electronic shutter with no moving parts.
Performs at lighting-fast speeds with no vibration, noise or wear and tear and virtually no rolling shutter distortion.
Recover the shots you missed with Pre-Release Capture. The Z 8 can record the moments before and after you actually press the shutter release button, saving shots that would otherwise have been missed.
Beautiful portraits made easy.
Skin Softening
Easily make skin look its best while keeping eyes and hair tack-sharp. Works for up to 3 subjects in a shot.
Portrait Impression Balance
Simple, precise control over the hues and brightness, all optimized for skin tones.
Improved White Balance
Manual adjustments are faster and more intuitive, and Auto WB has been optimized for human subjects.
Taking a shot in the dark is no longer a shot in the dark.
Illuminated Buttons
Major buttons are softly illuminated for easier operation in the dark.
Image Frame Display
Easily confirm your composition with a thin line indicating the image frame.
Viewfinder Brightness
Optimize the brightness of the EVF with Lo1 or Lo2 to reduce eye strain.
Warm Display Colors
Preserve your night vision with warm red menu tones and reduced brightness
Starlight View
AF detection range expands to -9.0 EV* and the display optimizes for confirming point light sources.
Ratings and reviews
Nikon Z8 Mirrorless Camera with 24-120mm f/4 Lens
Nikon Z8 Mirrorless Camera with 24-120mm f/4 Lens
---