Nord Grand 88-note Kawai Hammer Action with Ivory Touch
Nord Triple Pedal
1da9fffNord Grand 88-note Kawai Hammer Action with Ivory Touchc6a2ae00bc08519282eb7cda356787ed270216fa7c56bfc3fb6d4729f-d90a044f1dbf1a0c.jpg
Nord Grand 88-Note Kawai Hammer Action with Ivory Touch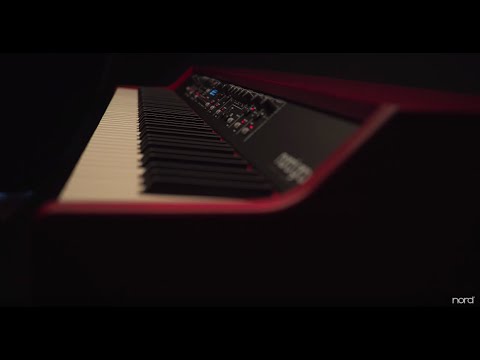 Product highlights:
88-note Kawai responsive hammer keybed with Ivory Touch
Dedicated knobs and buttons for all essential functions
Seamless transitions when changing programs while playing
Includes 10 Grands, 9 Uprights, and many more
Piano section features dedicated piano filters
Effect section has a wide range of high-quality stereo effects
Nord grand monitor input to play along or jam recorded music
Nord Piano Monitor speakers are compatible with Nord Grand
---
Need help deciding?
Contact us right now!
Call or chat with one of our experts.
In the box
Nord Grand 88-Note Kawai Hammer Action with Ivory Touch
Nord Grand 88-Note Kawai Hammer Action with Ivory Touch
Nord Triple Pedal
User Manual
Power Cord
Dust Cover
Limited 1-Year Warranty
Nord Grand 88-Note Kawai Hammer Action with Ivory Touch
The Nord Grand features a premium weighted 88-note Kawai hammer-action keybed with Ivory Touch. It has advanced triple sensors that capture the movements of the hammers with exceptional precision, delivering the smooth and natural feel of an acoustic grand piano. The well-balanced and responsive triple sensor keybed features an advanced mechanism providing extraordinary control both when playing percussively as well as pianissimo with fluent repetitions and retriggering without lifting the key completely. The addition of an Ivory Touch surface gives the keybed an optimal feel and authenticity. With amazing features and hands-on user interface the lightweight Nord Grand not only provides an extraordinary playing experience but is also an elegant new approach to the stage piano series.
Performance
The Nord Grand Keyboard has dedicated knobs and buttons for all essential functions required in a live performance situation. Creating Layers and Splits, adding effects or transposing the instrument can be accomplished on the fly.
Layers and Advanced Split Points
Two sound sections can be combined in a layer or split over the keyboard. Each of the sound sections can have specific effects, Volume Pedal and/or Sustain Pedal assigned to them. The Nord Grand has 7 Split Points indicated with LED lights and the Split Point Crossfades offers smooth transitions between two split zones. Choose from 3 different crossfade widths (small, large or off) as indicated by different LED colors.
Piano Section
The Nord Grand contains a wide selection of unique Grand, Upright, Electric and Digital pianos from the exclusive Nord Piano Library.
Factory Bank
The Nord Grand factory bank includes 10 Grands, 9 Uprights, 10 Enhanced Electric Pianos, Clavinet, Digital Pianos, and more from the exclusive Nord Piano Library - all handpicked for their unique character! Nord's sampling techniques capture the extraordinary nuances and real character of the source instruments with breathtaking realism. All sounds can easily be replaced using the Nord Sound Manager. An exclusive Nord Piano Library is constantly updated with new unique world-class sounds - always free of charge.
Advanced String Resonance
The unique Advanced String Resonance reproduces the intricate interplay of piano strings resonating at their fundamental or harmonic frequencies when other notes are played on Grand and Upright piano sounds. It also adds the rich resonant ambiance of a real piano when playing with the pedal down.
Creative Piano Filters
Providing an additional level of sonic control, the Piano Section features dedicated piano filters for Acoustic and Electric pianos accentuating softness, mid, or brilliance. The EP filters also include unique Dyno filters based on the legendary preamp delivering the characteristic punchy, bell-like sound that was an essential part of the classic West Coast sound during the 70s and 80s.
Nord Triple Pedal with Dynamic Pedal Noise
The included Nord Triple Pedal features Soft and Sostenuto Pedals in addition to a unique Dynamic Sustain Pedal. The Triple Pedal also enables our Pedal Noise feature that dynamically simulates the mechanical sounds of lifting and releasing the damper mechanism.
Soft Release
A Soft Release-mode adds a slightly longer release, more suitable for legato playing, emulating a looser damper tension in an acoustic or an electromechanical instrument.
Keyboard Touch
Three dynamic curves are available to suit your playing style, from Light to Heavy.
Sample Synth Section
The Sample Synth Section features a broad selection of Strings, Brass, Synths, Choirs and many other high quality sounds from the Nord Sample Library 3.0. The extensive selection of sounds from the Nord Sample Library 3.0 includes the exclusively licensed sounds of the legendary Mellotron and Chamberlin. All sounds can be quickly replaced using the Nord Sound Manager. The Sample Synth is equipped with essential controls for attack, decay/release and dynamics (filter/velocity) and dedicated Category buttons for quick navigation and selection of sample sounds. It is possible to create your own samples using the free Nord Sample Editor software for Windows and Mac.
Effect Section
The Effect section has a wide range of instantly tweakable high-quality stereo effects modeled after classic stompboxes. All effects can be assigned freely to the Piano or Sample Synth section.
Monitor Input
Connect your MP3 or CD player to the rear panel Nord Grand monitor input to play along, rehearse to, or jam with previously recorded music without the need for an external mixer or sound system. The signal is also routed to the main outputs.
Compatible with Nord Piano Monitor
The optional Nord Piano Monitor speakers can be connected directly to the Nord Grand (using the optional Monitor Brackets) for the ultimate nearfield listening experience.
Ratings and reviews
Nord Grand 88-Note Kawai Hammer Action with Ivory Touch
Nord Grand 88-Note Kawai Hammer Action with Ivory Touch
---