key_panel_130 (1).jpg
alternateviews2_36.jpg
alternateviews3_33.jpg
alternateviews5_34.jpg
alternateviews8_19.jpg
alternateviews7_24.jpg
alternateviews6_28.jpg
Olympus LS-P4 Linear PCM Recorder (Black)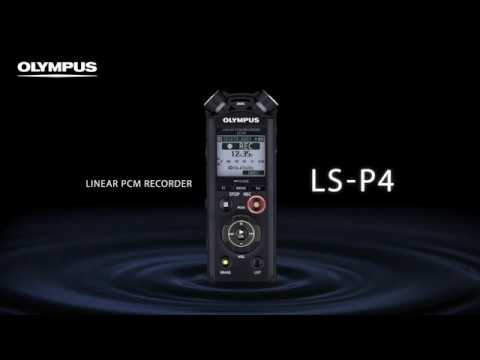 Product highlights:
FLAC digital voice recorder
Superior sound with TRESMIC system
Overdub recording
7 preset templates developed
Fade-in/Fade-out feature
Bluetooth technology for wireless connection
High quality, compact metal design
Built-in USB PC/Mac connector
8GB of memory which stores up to 253 hours of audio
Pay over time for orders over $300 with Affirm.
---
---
---
Need help deciding?
Contact us right now!
Call or chat with one of our experts.
In the box
Olympus LS-P4 Linear PCM Recorder (Black)
Olympus LS-P4 Linear PCM Recorder (Black)
Olympus LS-P4 Linear PCM Recorder (Black)
The LS-P series makes high-resolution audio recording possible. Olympus' LS-P4 is the first linear PCM recorder compatible with FLAC format reducing High Resolution audio file size with no reduction in audio quality. With greater depth and fullness in high resolution audio these rich recordings bring listeners closer to the original sound. The stylish compact LS-P4 is the recorder you carry with you for every song, every session, every season.
FLAC Format
The Olympus LS-P4 introduces the world's 1st FLAC digital voice recorder to record and playback in FLAC format. FLAC format maintains high-resolution audio through compression without any loss in quality. With FLAC go beyond the quality of music CDs, record longer and in greater detail.
TRESMIC System
The LS-P4 offers three microphones for superior sound with Olympus' TRESMIC system. Designed to mimic the function of human ears using two directional microphones to create a stereo effect providing depth and space to the overall recording. The third omni-directional microphone is positioned between the other two, turn it on to pick up lower frequency bass sounds. Using this full array of microphones to record provides an expanded frequency response of 20 Hz to 20 kHz when the center microphone is on and 60 Hz to 20 kHz when off.
Overdub
With the LS-P4, record an original performance on top of audio files previously saved on the recorder. The LS-P4 will combine the two to provide an original final mix.
7 Recording Scenes
The LS-P4 comes with 7 preset templates developed for common recording situations. Users select the optimum setting from the menu and the LS-P4 will adjust the recorders applications to capture the best recording. Try 'Music' for recording across a wider bandwidth or 'NoisySituation' for clear voice-only recordings in noisy surroundings. With seven modes including 'Meeting', 'Dictation' and 'Lecture', the LS-P4 is designed to meet the needs of every recording scenario.
Fade-In/Fade-Out Functionality
The new Fade-in/Fade-out feature adds a smooth beginning and ending to your recordings. The volume will gradually adjust, increasing from the first second of the sound signal and decreasing over the last second to silence at its end.
Bluetooth Compatibility
Enjoy wireless playback on compatible headphones and speakers. The LS-P4 is equipped with Bluetooth technology for wireless connection.
Install the OLYMPUS Audio Controller BT app on your smartphone to use as a remote control for the recorder. OLYMPUS Audio Controller BT App available for Android devices only.
High Quality Body
With a robust design, that exudes a strong, classy style and a compact size that fits in your pocket the LS-P4 is suitable for a wide range of situations from outdoor activities to concerts, you'll never miss a sound.
Direct Connection
With the built-in USB PC/Mac connector all operations of recording, saving, sharing, and charging can be performed on this smart, easy-to-use recorder.
Additional Features
The recorder has 8GB of memory which can store up to 253 hours of audio. There is a microSD external memory slot if more recording space is needed. After a full charge, the recorder has 39 hours of battery life.The recorder compresses the audio in MP3 and PCM file formats.
Ratings and reviews
Olympus LS-P4 Linear PCM Recorder (Black)
Olympus LS-P4 Linear PCM Recorder (Black)
---