Olympus TOUGH TG-6 Digital Camera (Red)
Olympus TOUGH TG-6 Digital Camera (Red)
Olympus TOUGH TG-6 Digital Camera (Red)
Olympus TOUGH TG-6 Digital Camera (Red)
Olympus TOUGH TG-6 Digital Camera (Red)
Olympus TOUGH TG-6 Digital Camera (Red)
Olympus TOUGH TG-6 Digital Camera (Red)
Olympus Tough TG-6 Digital Camera (Red)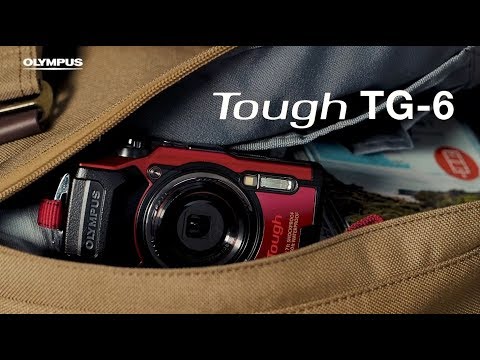 Product highlights:
12MP BSI CMOS sensor
Dual quad core TruePic VIII image processor
20 fps in full resolution RAW shooting
Ultra HD 4K and Full HD 120 fps high speed video recording
1.04 million dot resolution LCD screen
Built-in Wi-Fi and GPS connectivity
Waterproof, crushproof, shockproof, freezeproof and dustproof
Anti-fog dual pane protective lens glass
GPS, compass, thermometer sensor and manometer/barometer
Bright F2.0 high speed lens
---
Need help deciding?
Contact us right now!
Call or chat with one of our experts.
In the box
Olympus Tough TG-6 Digital Camera (Red)
Olympus TOUGH TG-6 Digital Camera (Red)
LI-92B Li-ion Battery
F-5AC Li-ion Battery Charger
Micro USB Cable
Hand Strap
Instruction Manual
Warranty Card
Olympus Tough TG-6 Digital Camera (Red)
With stunning image quality, weatherproof construction, and unique shooting modes, the new Tough TG-6 is ready to capture any adventure.
Tough Performance
The Tough TG-6 is waterproof, shockproof, dustproof, crushproof and freezeproof, fully equipped to handle extreme conditions and keep shooting. Thanks to a system of seals and double lock construction, water, dust, dirt, snow and cold stay outside where they belong.
Anti-Fog
The lens features hermetically sealed, dual pane protective glass. This anti-fogging design prevents condensation from forming inside the lenses.
F2.0 Lens
The Tough TG-6's high resolution, high-speed F2.0 lens delivers bright, richly detailed images even in low light settings.
TruePic VIII
The Dual Quad Core TruePic VIII Image Processor ensures all your stills and video have rich, true-to-life color. The same technology is used in Olympus' pro cameras.
8x Zoom
Shoot sharp stills and video from astonishing distances with a 4x optical zoom and 2x Digital Teleconverter that achieves a maximum 8x zoom.
RAW Capture
If you plan on importing your images into photo editing software like Olympus Workspace, the Tough TG-6 lets you save in RAW format to make post-production processing easier.
Anti-Reflective Coating
Anti-Reflective coating means sharper images. Applied to the image sensor's sealing glass, advanced Anti-Reflective coating minimizes ghosts and flares.
Action Track Sensors
While you're out shooting, use the TG-6's Action Track Sensors that use the built-in GPS, thermometer, manometer (barometer) and compass to record environmental data. Captured data field like location, temperature, and altitude or water depth can be viewed in real time or in post-production. Use the free Olympus Image Track app to sync Action Track data with your photos and video on a smartphone.
Pro Capture
Pro Capture effortlessly takes razor sharp stills of split second action with the press of a button.
4K Ultra HD Video
Use 4K Ultra HD Video to shoot scenery in extreme high resolution that delivers spectacular, lifelike detail and vibrant color.
Date Imprint
The Tough TG-6 gives you the option to date and time stamp your photos. An ideal feature for law enforcement, construction or any business that requires proof of when a photo was taken or needs to catalog large numbers of stills.
Wi-Fi
The Tough TG-6 has built-in Wi-Fi for easy sharing. Use the free Olympus Image Share app to import photos and video to your phone or to remotely control the camera.
Easy to Hold and Operate
The compact Tough TG-6 handles easily. The rear LCD monitor features 1.04 million dot resolution for brilliant clarity and visibility in any condition. The dials can be turned and the buttons pressed even while wearing gloves. Two custom modes are instant shortcuts to your favorite settings. The micro USB connector lets you plug in a smartphone cable to charge while shooting.
Macro System
The Tough TG-6 features four macro modes to produce artistic, richly detailed images. Two modes feature microscopic magnified shooting as close as 1cm from the front of your lens. Focus Stacking and Bracketing modes shoot images of insects and tiny objects with dramatic depth of field.
Underwater Shooting Modes
Capture your underwater adventures with five shooting modes covering everything from macro images to wide-angle shots. Fill your underwater images with vivid color. Underwater White Balance Mode improves red and blue tones in shallow waters and down to 50 ft (15 meters).
Ratings and reviews
Olympus Tough TG-6 Digital Camera (Red)
Olympus Tough TG-6 Digital Camera (Red)
---