Oyen Digital Mobius 5-Bay Thunderbolt 2 External Hard Drive Array
Oyen Digital Mobius 5-Bay Thunderbolt 2 External Hard Drive Array
0f4b0dc90a6db338cfe0b32bba6c2ea255b6df6884983996f6ff6b37c958dd07-db94847d13fdbd16.jpg
Oyen Digital Mobius 5-Bay Thunderbolt 2 External Hard Drive Array
Oyen Digital Mobius 5-Bay Thunderbolt 2 External Hard Drive Array
Oyen Digital Mobius 5-Bay Thunderbolt 2 External Hard Drive Array
Oyen Digital 40TB Mobius 5-Bay Thunderbolt 2 External Hard Drive Array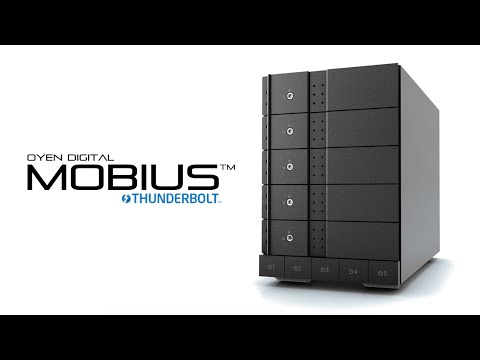 Oyen Digital 40TB Mobius 5-Bay Thunderbolt 2 External Hard Drive Array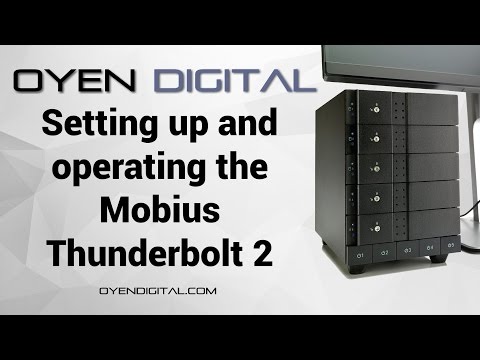 Product highlights:
Interface: Thunderbolt 2
LED indicators provide information on system status
Non-RAID system, 5 independent drives
Easy installation and removal
Thermally efficient aluminum maintains optimal temperature
Quick and easy set up
Compatible with Windows and Mac
---
Need help deciding?
Contact us right now!
Call or chat with one of our experts.
In the box
Oyen Digital 40TB Mobius 5-Bay Thunderbolt 2 External Hard Drive Array
Oyen Digital 40TB Mobius 5-Bay Thunderbolt 2 External Hard Drive Array
Thunderbolt Cable
Power Adapter
Key Set
3 Year Limited Manufacturer Warranty
Oyen Digital 40TB Mobius 5-Bay Thunderbolt 2 External Hard Drive Array
The Oyen Digital Mobius 5-bay Thunderbolt 2 system is a powerful desktop storage management hard drive array. The exceptional performance of Thunderbolt 2 provides the perfect solution for high-resolution video editing and multimedia applications. Using the drive is simple and easy. The Mobius Thunderbolt 2 is a non-RAID system with 5 independent drives. LED indicators provide easy verification of operating status and drive health/activity.
Optimum Temperature
Airflow is maximized due to the quiet fan that exhausts air away from the internal HDDs, dramatically enhancing internal air flow. The thermally efficient aluminum also maintains optimal HDD operating temperature, prolonging the life of the HDDs.
Easy Set Up
Setting up the Oyen Digital hard drive system is simple and easy. Once the drives are inserted, connect the unit to your computer using the Thunderbolt cable, and connect the power cable to a power source, switch the power on and enjoy the massive capacity and speed of the Mobius. Each drive has an independent power button should you want to turn one off.
Compatibility
The Mobius is a 5-drive system offering connection to ports via a Thunderbolt 2 cable. The unit includes two Thunderbolt ports for flexibility via daisy chaining with other Thunderbolt devices, including displays and external drives. The unit can support daisy-chaining of up to 6 additional devices. Compatible with Windows and Mac, The Mobius Thunderbolt is backed by an Oyen Digital 3 year warranty and includes lifetime technical support.
Ratings and reviews
Oyen Digital 40TB Mobius 5-Bay Thunderbolt 2 External Hard Drive Array
Oyen Digital 40TB Mobius 5-Bay Thunderbolt 2 External Hard Drive Array
---