Panasonic LUMIX G X VARIO 35-100mm F2.8 II ASPH Power O.I.S. Mirrorless Lens
Panasonic LUMIX G X VARIO 35-100mm F2.8 II ASPH Power O.I.S. Mirrorless Lens
Panasonic LUMIX G X VARIO 35-100mm F2.8 II ASPH Power O.I.S. Mirrorless Lens
Panasonic LUMIX G X VARIO 35-100mm F2.8 II ASPH Power O.I.S. Mirrorless Lens
Panasonic LUMIX G X VARIO 35-100mm F2.8 II ASPH Power O.I.S. Mirrorless Lens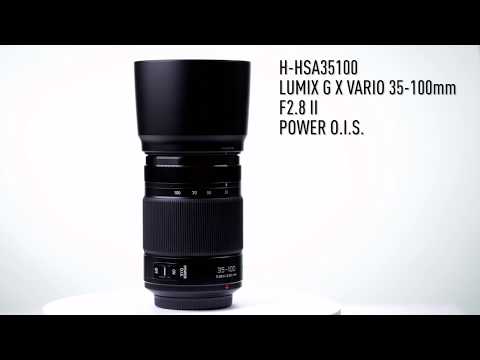 Product highlights:
Focal length: 35-100mm
Aperture range: f/2.8-22
Micro four thirds mount lens
Power O.I.S. (Optical image stabilization)
Aspherical lens prevents spherical aberrations
Faster focus tracking via 240 fps linear motor
Nano surface coating reduces aberrations and glare
Splash-Proof, Dustproof and Freeze-proof
Various video support features optimize filming experience
---
Need help deciding?
Contact us right now!
Call or chat with one of our experts.
In the box
Panasonic LUMIX G X VARIO 35-100mm F2.8 II ASPH Power O.I.S. Mirrorless Lens
Panasonic LUMIX G X VARIO 35-100mm f/2.8 II ASPH Power O.I.S. Mirrorless Lens
Lens Cap
Lens Rear Cap
Lens Hood
Lens Storage Bag
Panasonic LUMIX G X VARIO 35-100mm F2.8 II ASPH Power O.I.S. Mirrorless Lens
The Panasonic H-HSA35100 G X VARIO 35-100mm F2.8 II ASPH Mirrorless Lens is a durable, high-performance lens that will provide you with HD-quality photos each time. Easy to use, the G X VARIO is as great for beginners as it is for professionals. The special Nano Surface Coating and X Series optics combine to offer incredibly sharp image capture. You'll snap photos in even the worst weather conditions thanks to its durable body; it's splash-proof, dustproof, and freeze-proof – so you can use it anywhere without worry of damage. The G X VARIO also features Power O.I.S. with 5-Axis Dual I.S. 2.0 compatibility for optimal image stabilization when you're on the move or using your camera as a hand-held.
High-Quality Optics
The advanced optics of the H-HSA35100 combines aspherical lens elements with extra-low and ultra extra-low dispersion lenses to eliminate spherical and chromatic aberrations that cause image distortion. This creates beautiful high-contrast pictures with consistent quality from edge to edge. These elements also make the lens lighter and smaller than others, ensuring it's easy to hold and adding almost no additional weight to your camera when you're ready to shoot.
Versatile Shooting Applications
Enjoy a wide range of photography options without needing to swap lenses. The H-HSA35100's incredibly long 35-100mm focal length allows it to cover anything from standard to wide-angle shots. High shutter speeds also enable you to easily capture to fast-moving subjects in action and sports shots. Whether you take wide-spanning landscape shots of the great outdoors or focused close-ups of family and friends, you'll capture images of the highest quality.
Fewer Aberrations and Glare
Panasonic's ultra-thin Nano Surface Coating has been applied to the lenses to reduce reflections and glare across the entire light spectrum. This effectively eliminates aberrations, and flare errors that would otherwise distort the image. Capture sharp, error-free pictures in any lighting thanks to this special lens coating.
Advanced Image Stabilization
Capture scenes carefree or at the spur of the moment. The optical image stabilization (O.I.S.) technology built directly into the lens ensures your photos will look great, with sharp blur-free contours across the entire picture. Taking highly popular MEGA O.I.S. further, this advanced technology immediately compensates even large camera shake and vibrations that may occur in photography. So you can capture true-to-life scenes without the need for a tripod. In the end, you'll enjoy wonderfully crisp images.
Durable, Travel-Ready Construction
Take your G X VARIO with you on any shoot in any weather. It's built to be completely splash-proof, dustproof, and freeze-proof—so you can capture stunning images in outdoor settings that would normally be too risky for maintaining the integrity of your equipment. Venture to record and snap photos in areas with heavy rain and confidently engage in shoots on the beach or in a desert without ever risking damage to your lens.
Video Support
Create videos and short films effortlessly with the G X Vario's video support functions. They include smoother aperture changes to avoid jumps in exposure for consistently steady picture and a silent design that ensures clear, accurate capture of the scene's audio. H-HSA35100 is also capable of capturing 4K video with the help of its advanced autofocus.
Ratings and reviews
Panasonic LUMIX G X VARIO 35-100mm F2.8 II ASPH Power O.I.S. Mirrorless Lens
Panasonic LUMIX G X VARIO 35-100mm F2.8 II ASPH Power O.I.S. Mirrorless Lens
---