Panasonic LUMIX G7 Mirrorless Camera with 14-42mm f/3.5-5.6 Lens (Black)
Panasonic LUMIX G7 Mirrorless Camera with 14-42mm f/3.5-5.6 Lens (Black)
Panasonic LUMIX G7 Mirrorless Camera with 14-42mm f/3.5-5.6 Lens (Black)
Panasonic LUMIX G7 Mirrorless Camera with 14-42mm f/3.5-5.6 Lens (Black)
Panasonic LUMIX G7 Mirrorless Camera with 14-42mm f/3.5-5.6 Lens (Black)
Panasonic LUMIX G7 Mirrorless Camera with 14-42mm f/3.5-5.6 Lens (Black)
Panasonic LUMIX G7 Mirrorless Camera with 14-42mm f/3.5-5.6 Lens (Black)
Panasonic LUMIX G7 Mirrorless Camera with 14-42mm f/3.5-5.6 Lens (Black)
Panasonic LUMIX G7 Mirrorless Camera with 14-42mm f/3.5-5.6 Lens (Black)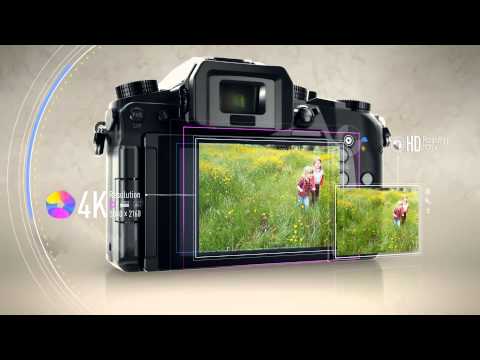 Panasonic LUMIX G7 Mirrorless Camera with 14-42mm f/3.5-5.6 Lens (Black)
Product highlights:
16MP Live MOS sensor
Venus Engine 9 image processor
4K UHD video recording at 30/24 fps
Up to 8 fps shooting with AF and ISO 25600
2.36m-dot OLED viewfinder
3-inch 1.04m-Dot Free-Angle Touchscreen
Built-in Wi-Fi connectivity
DFD AF system, 4K photo modes
Micro Four Thirds System
Includes 14-42mm f/3.5-5.6 lens
---
Need help deciding?
Contact us right now!
Call or chat with one of our experts.
In the box
Panasonic LUMIX G7 Mirrorless Camera with 14-42mm f/3.5-5.6 Lens (Black)
Panasonic LUMIX G7 Mirrorless Camera (Black)
LUMIX G Vario 14-42mm f/3.5-5.6 II APSH. MEGA O.I.S. Lens (Black)
Front Lens Cap
Rear Lens Cap
Lens Hood
Rechargeable Lithium-ion Battery
Battery Charger
Body Cap
Hot Shoe Cover
Shoulder Strap
USB Connection Cable
AC Cable
Software DVD-ROM
Manufacturer's Warranty
Panasonic LUMIX G7 Mirrorless Camera with 14-42mm f/3.5-5.6 Lens (Black)
The revolutionary Panasonic LUMIX G7 offers over 24 compact lens options built on the next generation interchangeable lens camera standard (Micro Four Thirds) pioneered by Panasonic. Its mirrorless design enables a lighter, more compact camera body, while also offering cutting-edge video, audio, creative controls, wireless, intelligent-focusing, and exposure technologies not possible with traditional DSLRs. And with the exclusive LUMIX 4K Ultra HD video pause and export as a 4K Photo mode, you'll never again miss that one shot that perfectly captures a scene.
A Better Choice for High Image Quality
The LUMIX G7's 16 megapixel sensor operates much like the larger sensors found in traditional DSLR cameras. The G7, however, also features a next-generation intelligent image processor that produces video and photos free from artifacts that degrade image quality. You can even capture stunning, high-quality images in low light conditions up to an amazing ISO 25,600. The LUMIX G7 also compensates for common image-quality problems caused by shooting with a small lens aperture.
4K PHOTO Function — Never Miss that Perfect Moment
Those once-in-a-lifetime special moments are often missed due to slow focusing, slow burst modes, or simply not pressing the shutter button at the right time. The LUMIX G7 features exclusive 4K Ultra HD video technology you can use to pause and extract that perfect photo moment in time as a high resolution photo (up to 8 megapixels). With 4K Ultra HD video at 30 frames per second, you'll never miss a photo again.
4K Video — 4x More Detail Than Full HD
4K Ultra HD video delivers a far more intense viewing experience when compared to Full HD, with 4 times the number of pixels. Whether shared through social media in 4K or resized to Full HD TV, your video files will feature superior definition and crisper detail than those originally filmed in Full HD with a camcorder.
Intuitive Controls
Featuring a retro modern design, the LUMIX G7 is smaller and lighter than traditional DSLRs yet still provides intuitive, easy access to common functions. Easily control aperture and shutter settings with the front and rear dials while making white balance and ISO adjustments on the fly. You can also assign favorite settings to any of the six function buttons, or simply capture the shot by activating the exclusive 4K PHOTO Mode from the feature drive mode dial.
High-Visibility View Finder
A high-resolution (2,360k-dot) OLED Live View Finder on the LUMIX G7 features 10,000:1 contrast and perfect framing, so you'll enjoy high visibility—even under direct sunlight. Plus, the tilt/swivel touch-display lets you further adjust the screen for optimum clarity.
Fast and Precise Auto Focus Tracking
Intelligent auto focusing (AF) tracks the color, size, and motion vector of the subject, enabling quick and precise focus lock. So you'll shoot with confidence without worrying about blurry results.
High Speed Auto-Focusing with DFD Technology
The LUMIX G7 utilizes Panasonic's exclusive Depth-From-Defocus (DFD) Auto Focus (AF) technology which instantly calculates the distance to subjects, then quickly adjusts the focus. Enjoy AF speeds up to 0.07 seconds and burst shooting speeds with Continuous Auto Focus (AFC) of 6 frames per second. Our DFD AF technology also enhances focus stability when shooting video.
Unwire Your Creativity via Wi-Fi
With the Panasonic Image App and a Wi-Fi connection, you can control various functions on the LUMIX G7 using a smartphone or tablet device, such as view, focus, shutter release, or geotagging. Then, share your photos on your favorite social networks directly from your mobile device.
Ratings and reviews
Panasonic LUMIX G7 Mirrorless Camera with 14-42mm f/3.5-5.6 Lens (Black)
Panasonic LUMIX G7 Mirrorless Camera with 14-42mm f/3.5-5.6 Lens (Black)
---