Sony FE 35mm f/1.4 GM Full-Frame Large-Aperture Wide Angle G Master Lens
Sony FE 35mm F1.4 GM Full-frame Large-aperture Wide Angle G Master Lens
Sony FE 35mm F1.4 GM Full-frame Large-aperture Wide Angle G Master Lens
Sony FE 35mm F1.4 GM Full-frame Large-aperture Wide Angle G Master Lens
Sony FE 35mm F1.4 GM Full-frame Large-aperture Wide Angle G Master Lens
60c4363b21a2b4e443d860a348c531230ceba1c927aaaae274a13d84fa3b8fe6-21402c0c565566b6.jpg
Sony FE 35mm F1.4 GM Full-frame Large-aperture Wide Angle G Master Lens with Hood
Sony FE 35mm F1.4 GM Full-frame Large-aperture Wide Angle G Master Lens with Hood
Sony FE 35mm F1.4 GM Full-frame Large-aperture Wide Angle G Master Lens with Hood
Sony FE 35mm F1.4 GM Full-frame Large-aperture Wide Angle G Master Lens-Diagram
Sony FE 35mm F1.4 GM Full-frame Large-aperture Wide Angle G Master Lens - Diagram
Sony FE 35mm F1.4 GM Full-frame Large-aperture Wide Angle G Master Lens - Size and Weight
Sony FE 35mm F1.4 GM Full-frame Large-aperture Wide Angle G Master Lens
Sony FE 35mm F1.4 GM Full-frame Large-aperture Wide Angle G Master Lens
Sony FE 35mm F1.4 GM Full-frame Large-aperture Wide Angle G Master Lens
Sony FE 35mm F1.4 GM Full-frame Large-aperture Wide Angle G Master Lens
Sony FE 35mm F1.4 GM Full-frame Large-aperture Wide Angle G Master Lens
Sony FE 35mm f/1.4 GM Full-Frame Large-Aperture Wide Angle G Master Lens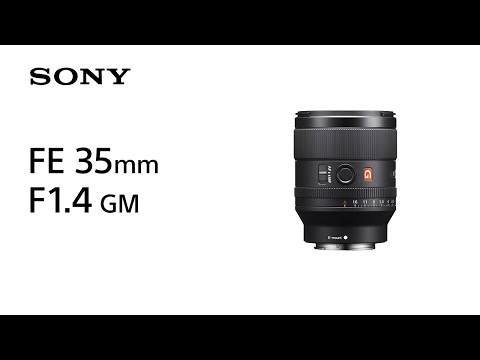 Product highlights:
Focal length: 35mm
Aperture: f/1.4-16
Sony E-mount lens
APS-C camera format
ED (Extra-low dispersion) glass element
Two XD Extreme Dynamic Linear motors for precise autofocus
Nano Anti-reflective coating II suppresses reflections
11-blade circular aperture contributes to gorgeous bokeh
Linear Response MF (manual focus)
Dust and moisture resistant
---
Need help deciding?
Contact us right now!
Call or chat with one of our experts.
In the box
Sony FE 35mm f/1.4 GM Full-Frame Large-Aperture Wide Angle G Master Lens
Sony FE 35mm f/1.4 GM Full-Frame Large-Aperture Wide Angle G Master Lens
Lens Hood ALC-SH164
Lens Front Cap ALC-F67S
Lens Rear Cap ALC-R1EM
Soft Case
Limited 1-Year Manufacturer's Warranty
Sony FE 35mm f/1.4 GM Full-Frame Large-Aperture Wide Angle G Master Lens
Packed with Sony's most advanced technology, this FE 35mm f/1.4 GM is a high-performance E-mount lens, delivering eye-opening G Master resolution and bokeh with extraordinary AF speed and precision. Ideal for any occasion, this lens has a compact and lightweight design weighing just 1.155 lb with superb image quality. Its portable design enhances mobility when used with compact E-mount Full-frame or APS-C bodies and makes up a well-balanced system, which is ideal for use on gimbals or accessory grips. The Sony FE 35mm f/1.4 GM Full-Frame Large-Aperture Wide-Angle G Master Lens uses two XA (extreme aspherical) elements, an ED (Extra-low Dispersion) glass element, and Nano Anti-reflective coating II that contribute to high-contrast, high-resolution results with corner-to-corner sharpness and dramatically reduce chromatic aberration, flea, and ghosting.
Spectacular Resolution in a Compact Design
The lens' compact design is contributed through an advanced optical technology that takes advantage of the short mirrorless flange-back distance to reduce overall length and diameter while delivering amazing contrast and resolution. Plus the two XA (extreme aspherical) elements incorporated in the optical design suppress sagittal coma flare so you can capture your subjects with extraordinary sharpness and clarity.
Refined Bokeh and Broad Versatility
The Sony FE 35mm f/1.4 GM Lens can really make portrait and other subjects stand out. Its XA elements effectively suppress onion ring bokeh, while the 11-blade circular aperture mechanism, and painstaking spherical aberration control gives you smooth, beautiful bokeh.
Versatile Close-Up Capability
The XA lens elements and innovative optical design help achieve a minimum focusing distance of just 0.89 feet and maximum magnification of 0.23x, making it suitable for shooting impressive close-ups with smooth, creamy background bokeh.
Clean, Natural Color
This compact lens is not only mobile and manageable, but performs admirably in difficult lighting as well. An ED (Extra-low Dispersion) glass element and other optical refinements effectively suppress chromatic aberration and purple fringing for clean, natural-looking images and fast, easy post-shoot editing.
Nano Anti-Reflective Coating II Cuts Flare and Ghosting
The mobility of this compact 35mm lens means that it is likely to be used in a wide variety of situations, including strong sunlight and backlighting. Sony's new Nano Anti-Reflective Coating II is evenly applied to entire element surfaces, effectively minimizing flare and ghosting for clear, crisp imagery even in challenging light.
XD Linear Motors Ensure Fast, Precise, Quiet AF and Tracking
Sony's small-but-powerful XD Linear Motors contribute to fast, precise autofocus and tracking, maximizing the AF performance capabilities of advanced E-mount bodies to capture meaningful moments in street snapshots, fleeting expressions in portraits, and much more. AF operation is quiet with minimal vibration.
Natural, Linear Manual Focus Response
Linear Response MF ensures that the focus ring responds directly and linearly for subtle control when focusing manually. Focus ring rotation translates directly to a corresponding change in focus, so control feels immediate and precise. Linear Response MF is ideal for creative focusing effects when shooting stills and movies.
Easy Manual Focus/Autofocus Switching
A focus mode switch that allows instant switching between auto and manual focus mode can be a great advantage when shooting subjects or situations that require fine manual focus adjustment.
Dust and Moisture-Resistant Design
A dust- and moisture-resistant design provides the reliability needed for outdoor use in challenging conditions.
Fluorine Front-Element Coating
The front lens element features a fluorine coating that repels water, oil, and other contaminants while making it easier to wipe off any contaminants or fingerprints that do become attached to the lens surface.
Ratings and reviews
Sony FE 35mm f/1.4 GM Full-Frame Large-Aperture Wide Angle G Master Lens
Sony FE 35mm f/1.4 GM Full-Frame Large-Aperture Wide Angle G Master Lens
---