Fender American Vintage II 1960 4-String Precision Bass Guitar (Right-Handed, Black)
Fender American Vintage II 1960 4-String Precision Bass Guitar (Right-Handed, Black)
Fender American Vintage II 1960 4-String Precision Bass Guitar (Right-Handed, Black)
Fender American Vintage II 1960 4-String Precision Bass Guitar (Right-Handed, Black)
Fender American Vintage II 1960 4-String Precision Bass Guitar (Right-Handed, Black)
Fender American Vintage II 1960 4-String Precision Bass Guitar (Right-Handed, Black)
Fender American Vintage II 1960 4-String Precision Bass Guitar (Right-Handed, Black)
Fender American Vintage II 1960 4-String Precision Bass Guitar (Right-Handed, Black)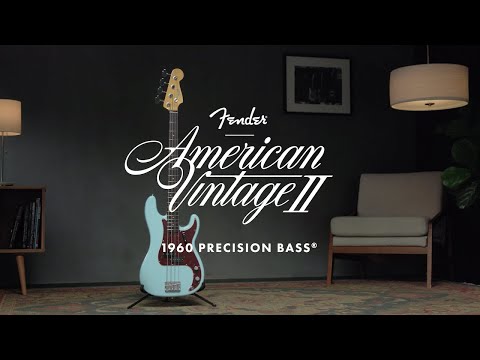 Product highlights:
4-string guitar for right-handed usage
Gloss nitrocellulose lacquer finish
Pure vintage 1960 split-coil precision bass pickups
Provides a C-shaped neck profile
Has slab rosewood fingerboard
Pure vintage reverse open-gear tuners
Gloss nitrocellulose lacquer finish
Offers vintage-style hardware
Direct descendant of the original Fender
Premium alder body with a well-balanced tone
---
Need help deciding?
Contact us right now!
Call or chat with one of our experts.
In the box
Fender American Vintage II 1960 4-String Precision Bass Guitar (Right-Handed, Black)
Fender American Vintage II 1960 4-String Precision Bass Guitar (Right-Handed, Black)
Vintage Style Brown case, orange Interior
Limited 2-Year Warranty
Fender American Vintage II 1960 4-String Precision Bass Guitar (Right-Handed, Black)
The Fender American Vintage II Guitar has a remarkably accurate take on the revolutionary designs that altered the course of musical history. Built with period-accurate bodies, necks, and hardware, premium finishes, and meticulously voiced, year-specific pickups, each instrument captures the essence of authentic Fender craftsmanship and tone.
Fender's Magical History
The late 1950s to the early 1960s was a watershed period in the development of the Precision Bass, a time of transition that would see the introduction of many new appointments that would become synonymous with the P-Bass. By 1960, the design of the P-bass had eclipsed the earlier cues culled from the Telecaster. The P-bass had a Strat-style headstock shape, comfort contours, pickguard-mounted electronics, and a 4-saddle bridge. Adorned in black and topped with a 4-ply tortoiseshell pickguard, the 1960 Precision Bass represented a more refined, enduring aesthetic for the model.
Alder Body
It features a premium alder body with a well-balanced tone, beefy mids, and a robust low-end. Also, it offers Pure Vintage 1960 Split-Coil P-Bass pickup and a substantial C shape hard rock maple neck mated with a 7.25-inch radius slab rosewood fingerboard; the American Vintage II 1960 Precision Bass reproduces the quintessential tone and feel of the original.
Descendants Of Original Fenders
This American Vintage II Guitar is a direct descendant of the original Fenders. Designed for players with a fine appreciation for vintage Fender tone and feel and is built with unmatched quality, down to the last screw. These are Fender electrics in their purest form: Fender American Vintage II, the stuff of legends.
Gloss Nitrocellulose Lacquer Finish
Nitrocellulose lacquer, used on the 1950s and 1960s Fender instruments, is a premium finish that reveals the instrument's true tonal character.
7.25-Inch Radius Slab-Rosewood Fingerboard
The 7.25-inch radius fingerboard provides the comfortable playing feel of a vintage instrument, while vintage-tall frets make it easier to bend notes without fretting out.
1960 C-Shape Neck
In vintage years, the shape and thickness of Fender guitar necks varied tremendously. The American Vintage II offers a variety of authentic neck profiles from Fender.
Fender's Vintage 1960 Split-Coil Precision Bass Pickups
Specially voiced to reproduce the authentic sound and performance of individual model years, Pure Vintage pickups are constructed like pickups from Fender's golden years. Materials include cloth-covered wire, fiber bobbins, and alnico magnets.
Vintage-Style Hardware
From the bridge to the string tree and tuning machines, every piece of American Vintage II hardware is manufactured to look, sound, and function just like it did on the originals. Much of the American Vintage II hardware is still manufactured on the original 1950s and 1960s-era Fender factory machines.
Ratings and reviews
Fender American Vintage II 1960 4-String Precision Bass Guitar (Right-Handed, Black)
Fender American Vintage II 1960 4-String Precision Bass Guitar (Right-Handed, Black)
---