Fender American Vintage II 1966 Jazz Bass 4-String Guitar (Right-Handed, 3-Color Sunburst)
Fender American Vintage II 1966 Jazz Bass 4-String Guitar (Right-Handed, 3-Color Sunburst)
Fender American Vintage II 1966 Jazz Bass 4-String Guitar (Right-Handed, 3-Color Sunburst)
Fender American Vintage II 1966 Jazz Bass 4-String Guitar (Right-Handed, 3-Color Sunburst)
Fender American Vintage II 1966 Jazz Bass 4-String Guitar (Right-Handed, 3-Color Sunburst)
Fender American Vintage II 1966 Jazz Bass 4-String Guitar (Right-Handed, 3-Color Sunburst)
Fender American Vintage II 1966 Jazz Bass 4-String Guitar (Right-Handed, 3-Color Sunburst)
Fender American Vintage II 1966 Jazz Bass 4-String Guitar (Right-Handed, 3-Color Sunburst)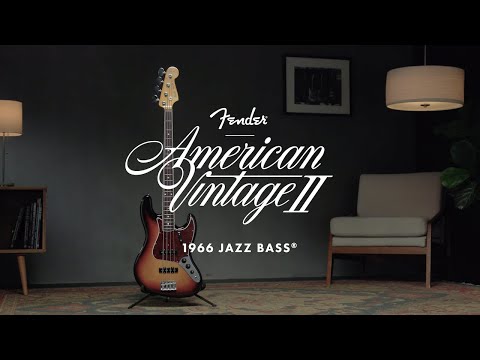 Product highlights:
4-string jazz bass electric guitar
Suitable for right-handed use
Has a gloss nitrocellulose lacquer finish
Alder body produces beefy mids and a robust low-end
Features a 1966 'U'-shape neck
Features pure vintage '66 single-coil jazz bass pickups
Classic looking vintage-style hardware
Bound round-lam rosewood fretboard
Pure vintage 'Lollipop' tuners
---
Need help deciding?
Contact us right now!
Call or chat with one of our experts.
In the box
Fender American Vintage II 1966 Jazz Bass 4-String Guitar (Right-Handed, 3-Color Sunburst)
Fender American Vintage II 1966 Jazz Bass 4-String Guitar (Right-Handed, 3-Color Sunburst)
Vintage Style Black case, orange Interior
Limited 2-Year Warranty
Fender American Vintage II 1966 Jazz Bass 4-String Guitar (Right-Handed, 3-Color Sunburst)
The Fender American Vintage II 1966 Jazz Bass 4-String Guitar presents a remarkably accurate take on the revolutionary designs that altered the course of musical history. Built with period-accurate bodies, necks and hardware, premium finishes and meticulously voiced, year-specific pickups, each instrument captures the essence of authentic Fender craftsmanship and tone.
History of the Jazz Bass
When Don Randall at Fender Sales requested a more sophisticated, high-end bass model, the now iconic Jazz Bass was the result. The neck was narrower at the nut, providing a faster and more effortless feel and the sleek new body style mirrored the offset contoured style of the Jazzmaster. By 1966, the evolution of the instrument reached new heights with striking new features.
Classic Features
The American Vintage II 1966 Jazz Bass features a comfortable 'U' shape hard rock maple neck, and it plays like a dream with a 7.25-inch radius round-lam rosewood fingerboard and vintage tall frets. Characteristic of production in 1966, this J-Bass is offered with white neck binding, pearl dots, two volume controls with the master tone, matching painted headstock, and a 4-ply tortoiseshell pickguard. The 4-saddle bridge with threaded saddles, vintage-style 'lollipop' tuners, and Pure Vintage '66 Jazz Bass pickups deliver classic thump and style. The instruments in the American Vintage II series are direct descendants of the original Fenders - designed for players with a fine appreciation for vintage Fender tone and feel and built with unmatched quality, down to the last screw. These are Fender electrics in their purest form - Fender American Vintage II, the guitar of legends.
Gloss Nitrocellulose Lacquer Finish
Nitrocellulose lacquer, as used on the '50s and '60s Fender instruments, is a premium finish that reveals the instrument's true tonal character.
Alder Body
Alder has a well-balanced tone with beefy mids and a robust low-end.
7.25-Inch Radius Bound Round-Laminated Rosewood Fingerboard
The 7.25-inch radius fingerboard provides the comfortable playing feel of a vintage instrument, while vintage-tall frets make it easier to bend notes without fretting out.
1966 'U'-Shape Neck
In vintage years, the shape and thickness of Fender guitar necks varied tremendously. The American Vintage II Series offers a variety of authentic neck profiles from Fender's past.
Pure Vintage '66 Single-Coil Jazz Bass Pickups
Specially voiced to reproduce the authentic sound and performance of individual model years, Pure Vintage pickups are constructed just like pickups from Fender's golden years. Materials include cloth-covered wire, fiber bobbins, and alnico magnets
Vintage Style Hardware
From the bridge to the string tree and tuning machines, every piece of American Vintage II hardware is manufactured to look, sound, and function just like it did on the originals. Much of the American Vintage II hardware is still manufactured on the original '50s and '60s era Fender factory machines.
Ratings and reviews
Fender American Vintage II 1966 Jazz Bass 4-String Guitar (Right-Handed, 3-Color Sunburst)
Fender American Vintage II 1966 Jazz Bass 4-String Guitar (Right-Handed, 3-Color Sunburst)
---